We know your donors want their gifts to support your mission and change the world! Donor Paid Costs allow your donors to cover any additional fee, so their gift makes the biggest impact.
Donor Paid Costs give your organization the option to ask donors to cover the processing cost of their gift on top of the donation amount they give. This means your donors can increase their gift to cover the credit card processing fee, so the full gift amount goes toward your project!
If your org is using Virtuous Payments to processing online gifts, you'll find a Project created for you in Virtuous called "Donor Paid Costs". The option to cover fees for a gift is up to the supporter, but you're able to add this feature on when creating a Giving Form in Virtuous Giving.
Why Do I Need This Project?
This Project was created to help you reconcile your bank deposits from Payments and what you see in Virtuous Projects. With this, you will be able to accurately report on the amount raised for the specific Project the donor chose to give to by splitting the processing cost from gift. When the gifts come in, you'll see the Project split.

The fee amount is split out because your organization never actually receives that money, so Virtuous will not show more than your projects have actually raised. The fee amount is tax-deductible for your donor though, so we want to capture that and be able to accurately receipt each gift.
Can I Change or Edit This Project?
While you cannot change the overall Project the credit card processing fees go to or the code of this Project, you are able to change the name and external accounting code! To do so, select the square edit icon

by the Project.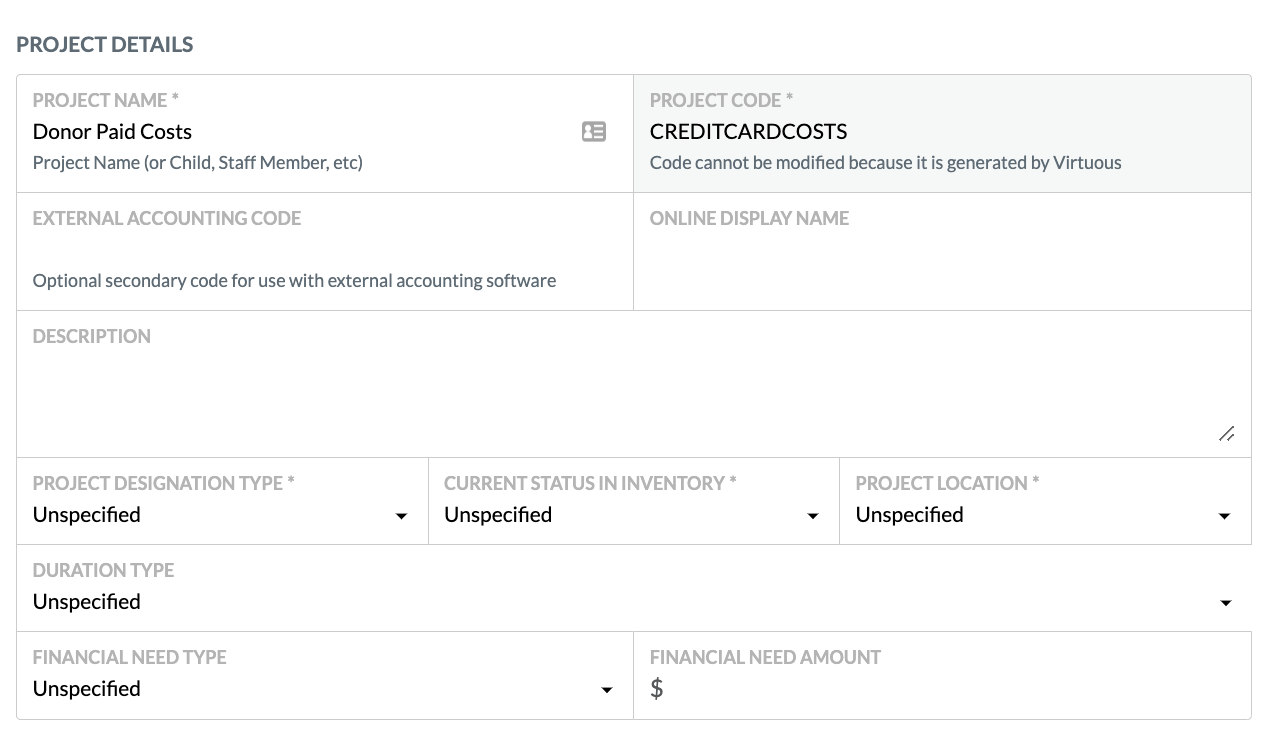 How Can I Make Sure This is Enabled on my Giving Page?
To enable this on your Giving Form, navigate to the Build tab of your Form. Here, you'll find the optional box to ask donors to cover processing fees.

When included in your form, you'll be able to edit the label and help text to display a message to your donors. It is recommended that you include information about the purpose of this checkbox option to encourage your supporters to cover these fees.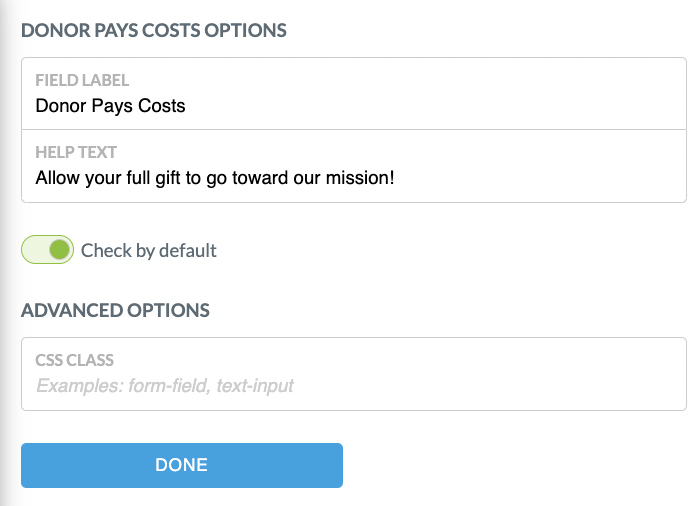 When embedded into your website, the help text box will display your message.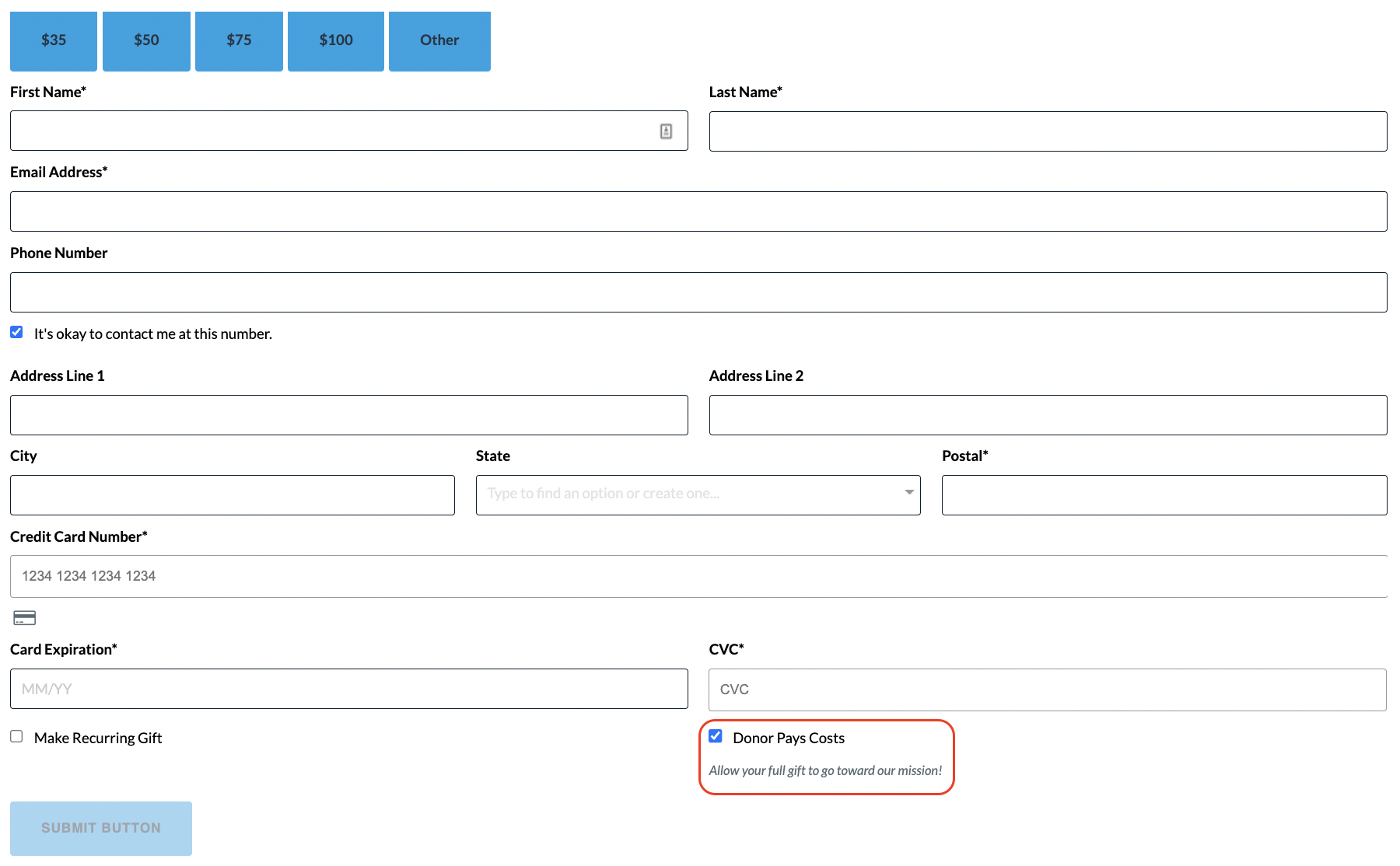 What Does My Donor Receipt Show?
You want a donor's receipt to reflect their experience. If they give to your "Where Needed Most" Project and choose to not cover the processing fee cost, we still show the full amount going to your "Where Needed Most" project on their receipt. For example, if your donor gives a $25 gift, the tax receipt would show $25 to "Where Needed Most."
When a donor chooses to cover the costs, then we show their gift as both the project amount AND the fee amount in the receipt. For example, their gift of $25 to "Where Needed Most" and $1.03 to Donor Paid Costs would show on their receipt because that reflects their experience. The fee amount is tax-deductible, and so we want to capture that and be able to accurately receipt all parts of this gift.
Can I Choose Not to Use This Project?
While you have the option to manually edit every single gift that comes in to remove the gift split, we STRONGLY recommend you allow the split to be imported. You cannot opt-out of using this Donor Paid Cost Project altogether. So, any changes would not only require manual changes on each gift (recurring and one-time) but it also would impact your reporting. Using Reconciliation in Virtuous, it is essential that you use this Donor Paid Costs project for accurate reporting on the amounts designated to your other particular projects.