Sending receipts is a huge piece of the donor's journey. Ideally, you'll be sending Receipts daily! This will make sure the donors who prefer to receive a receipt for each incoming gift, will indeed receive those receipts. To check out a detailed walkthrough for Receipting Groups and the Daily Recepting process, check out this Support Article.
But there may be a time when a donor requests a duplicate of a receipt you've already delivered via Receipting Groups. How can we make that happen?
First, for any Annual Giving Statements previously sent with the option "Show In Donor Portal" enabled, the Donor will be able to access a copy of their receipt at anytime via their Donor Portal login.
For any daily receipts or Annual Giving Statements that have not been pushed to the Donor Portal when initially receipted, you can send a single receipt diretly from a Contact Record.
Regardless of what type of receipt you are sending/printing, you will first navigate to the specific Contact record and select the "Giving" tab of the record.
To Send/Resend a Single Annual Giving Statement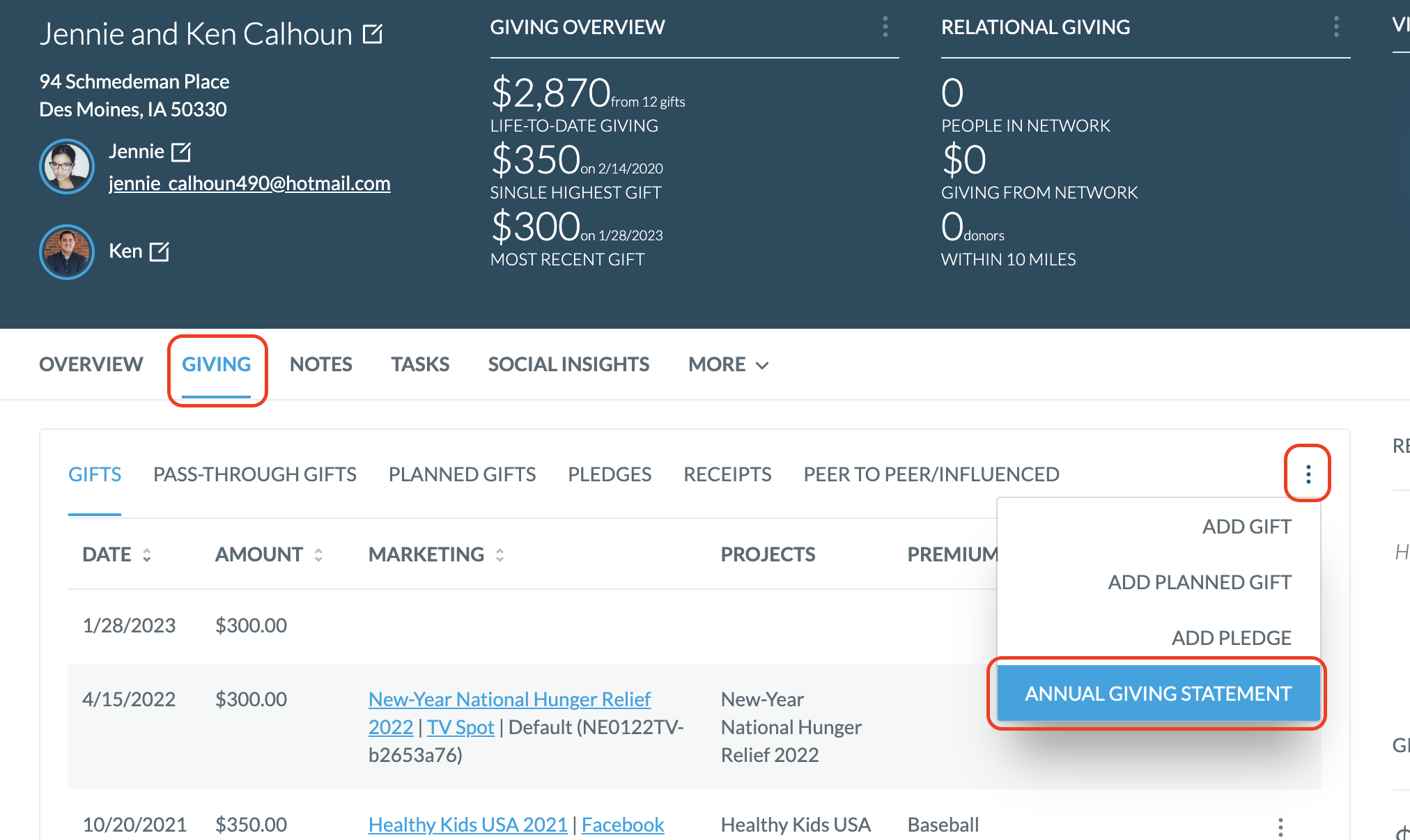 From the Giving Tab, select the three dots to the right and then select "Annual Giving Statement".
In the pop-out window, select the appropriate Receipt Format, Template Name, and Statement Year. By choosing the statement year, Virtuous will gather all the gifts from the specified year for the Annual Statement. You'll notice you have the option to "Show In Donor Portal". This means after running this receipt once, the donor can now log in to their Donor Portal and view/reprint the same receipt whenever they'd like.
If you will be pushing this to the Donor Portal add a "Statement Title" and the "Date of Issue" to wrap up the final items needed.
Once all the details are entered, select "Run". Email receipts will send immediately and paper receipts will be available to download shortly.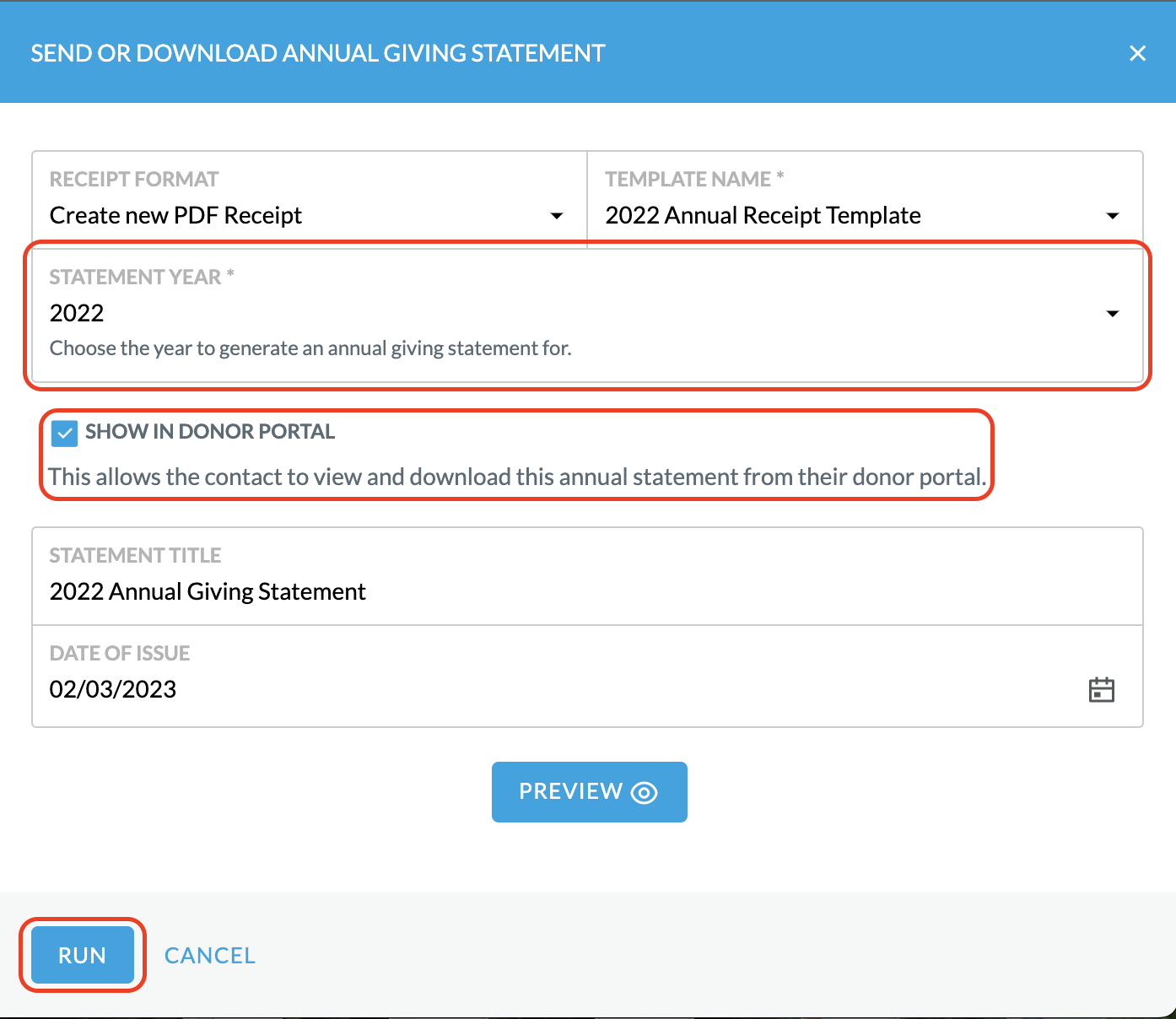 To Send/Resend a Single Gift Receipt
From the Giving tab on a Contact record, locate the sigle gift that will be receipted. Select the three dots to the right of the gift. In the pop-out menu select "Receipting.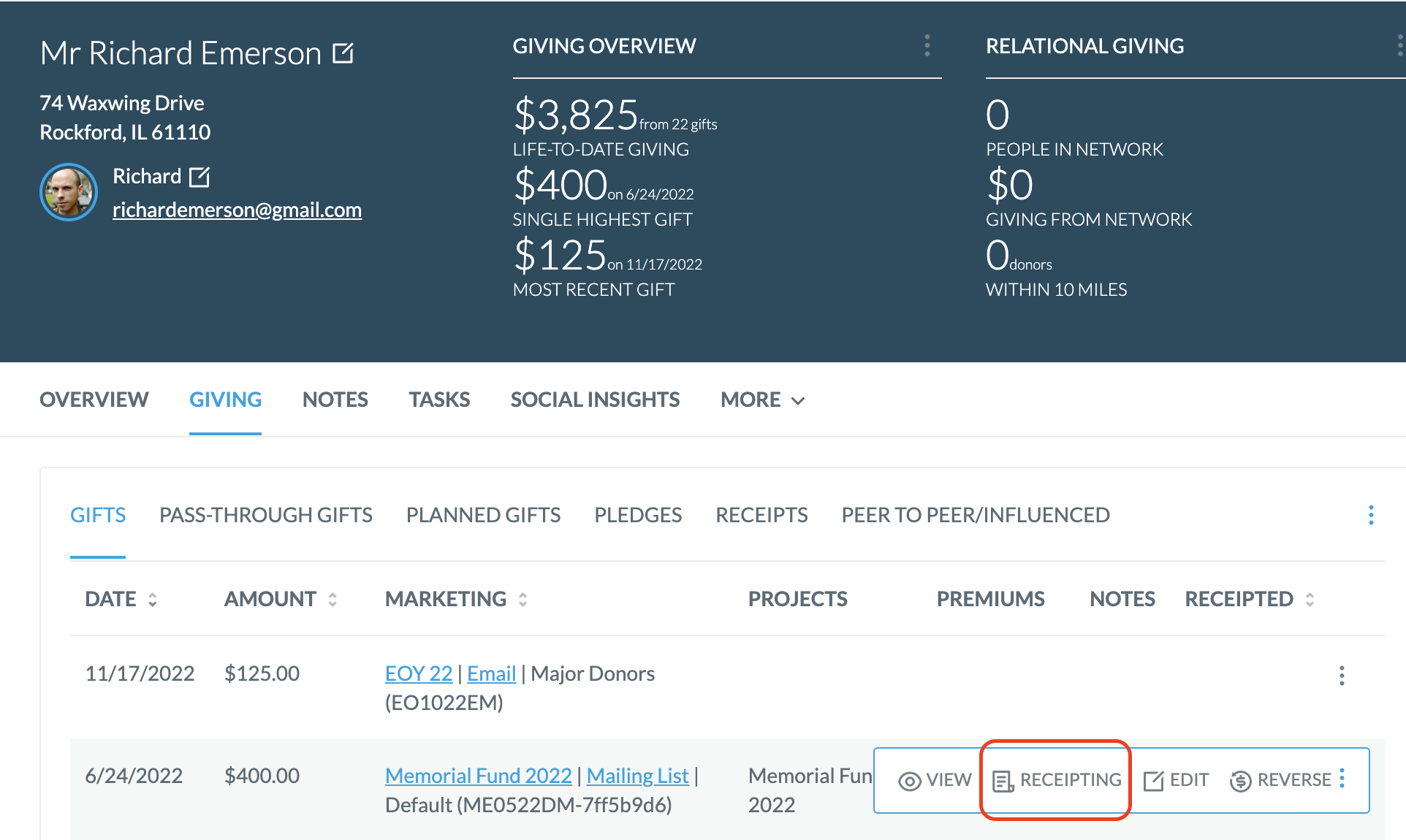 In the pop-out window, select the appropriate Receipt Format and Template Name. Just as with the Annual Giving Statement, you have the option to push this receipt to the Donor Portal. Once all details are entered appropriately, select "Run" to immediately send/download the single receipt.