One of the more challenging things to tackle in Virtuous is your campaign structure. The reason for this is actually pretty simple: we built campaigns to be flexible enough to fit many different types of organizations. Why is that a problem? Well, it means we can't say that there is a "right" way to build campaigns. Instead, we can give you some guidelines to help make sense of your data and how it should fit into the campaign structure.
This method of campaign planning is helpful because it is really easy to adjust as you're having discussions about what will work best for your organization. If you wait until you build it in your database and already have gifts attributed to it, it will be a lot harder to rework the structure.
Getting Started
Before we can even begin talking about building campaigns, it's really important that you understand the structure of campaigns AND projects in Virtuous and how that is indicated in the CRM. This infographic is a great, simple, breakdown of that structure. For more a more in-depth dive, head over to the academy to go through the Campaigns and Projects course.
The word campaign can be problematic for some people as well because everyone comes at that word differently depending on their background. Instead of focusing on "campaigns" let's actually focus on communications. Because, in Virtuous, a campaign is simply a group of communications.
3 definitions to focus on prior to jumping into this work (this article has more in-depth definitions with examples if needed):
Campaign:

Campaigns in Virtuous allow you to track your outbound marketing and fundraising efforts, connect these efforts to gifts received, and track their effectiveness

Campaign Communication:

A single campaign in Virtuous may have one or more campaign communications associated with it. These may all be different messaging, delivered through different channels, that are all part of one single campaign effort.

Segment: Segments may be the most visible aspect of the Campaign hierarchy. Just as each campaign may have one or more campaign communications, each communication may in turn have one or more segments.
Step 1
Now that everyone is on the same page for understanding campaigns it's time to start the process of building a campaign. For now, we're going to toss out the word campaign and focus only on the communications. The first thing you should do is list out (or even better, put on sticky notes) all of the communications that you send out that have a potential for a response (maybe signing up for something or making a donation). Don't forget passive opportunities- even if the communication is not a direct appeal, if it has an opportunity to make a donation- INCLUDE IT! This kind of passive opportunity might be a newsletter- the goal of the newsletter is not to make an ask but there is an opportunity to donate.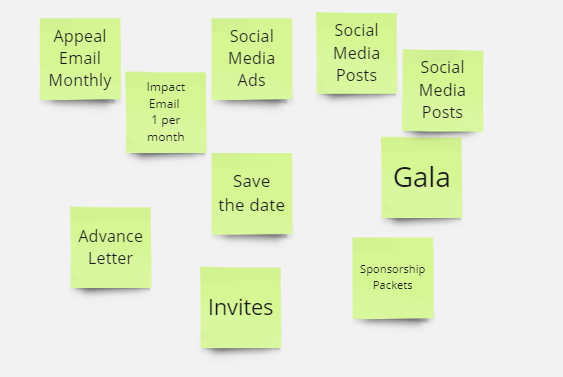 Step 2
Now, start thinking through all of the ways money comes into your organization. Do you apply for grants? Do you have a recurring giver program? How about planned giving? Do your board members fundraise? Do you receive unsolicited gifts? All of these should be included in your campaign structure.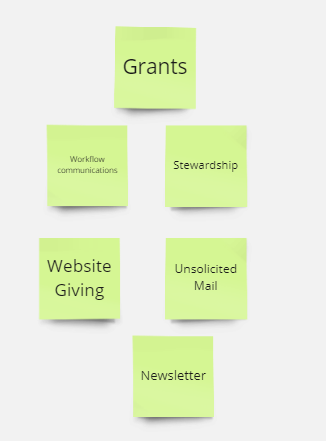 Step 3
All of your communications (don't forget your events too!) should now be listed out. At this point, get with your team and decide which of those communications belong together. If you have an event and you send out 3 emails, 2 flyers and have the event itself, all of those communications might be grouped together. When you're grouping these communications together, also consider what items might need to be reported on together- if you typically report on all your fundraising by quarter rather than by content, then perhaps your communications need to be grouped by quarter.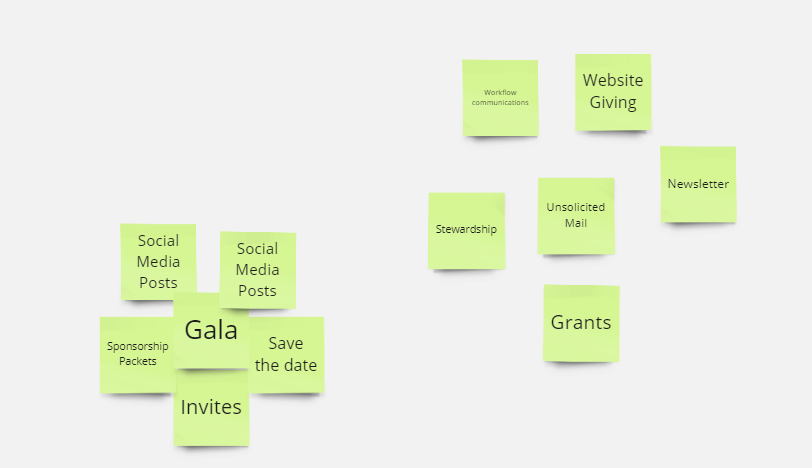 Step 4
The groups you created in Step 3 should become your campaigns. You'll likely find that you have some communications that don't really fit into a "group." Usually, you can put those communications into an Annual Campaign (that usually ends up being things like recurring givers, unsolicited giving, grants etc).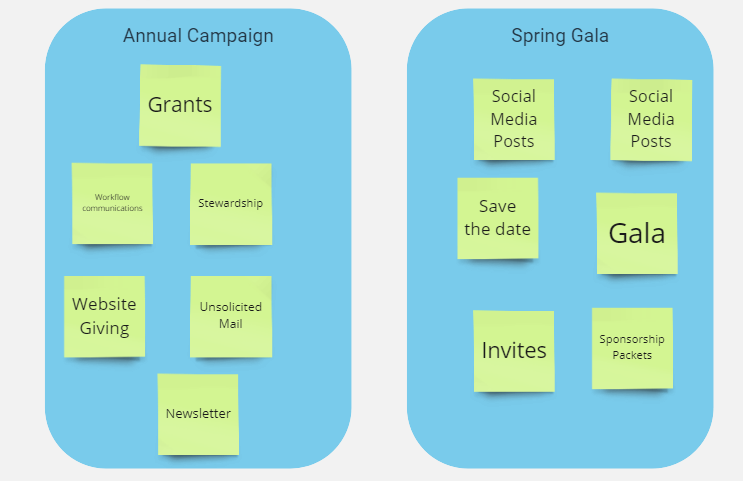 Things to consider:
Best practice is that you always know where a gift is coming from (and where it's going). You can only know where it's coming from if you're tracking that... that's where campaigns come in!
You can use custom URLs to help minimize the work on gift entry tracking gifts point of origin. (Here is an article discussing how you can do that)
Below communications, in the campaign structure, you have segments. Sometimes, with things like newsletters, organizations want to list each newsletter as a separate communication... other times the newsletter is the communication and the months are the segments. Similar things happen with grants- most of the time, organizations list grants as a communication in an annual campaign and then list the types of grants (federal, state, corporate, etc) as segments.
Campaigns are designed to be finite. Since the purpose of campaigns is to track your fundraising efforts, it's really a challenge to see how your fundraising efforts are doing from year to year if you are putting everything into the same campaign. This design is intentional to help you to start looking at how you're raising funds and the efficacy of those efforts.