Before entering or reviewing gifts, it's helpful to understand the various categories of gifts that can be tracked in Virtuous. All of these can be seen from the Giving tab in a Virtuous Contact record.
Financial Gifts
Financial Gifts are the most basic category of gift in Virtuous, which includes the most common entries.


Several fields on the New Gift form are optional; only the most basic gift data is required, which can be found in the first three fields:
Gift Type: All Financial Gifts must fall into one of ten categories: Cash, Check, Credit, EFT (Electronic Fund Transfer), Stock, Non-Cash (this includes a donation of items and in-kind giving), Cryptocoin, Qualified Charitable Distribution, Reversing Transaction, or Other (you can learn more about Gift Types in this Academy walkthrough.)
Gift Date: When did you receive the gift?
Gift Amount: How much did you receive?
When selecting a Gift Type, you may see additional fields appear. These are only relevant to specific gift types; for example, only check gifts will have a check number.
When adding a Project designation to a new gift, it is possible to "split" a gift among two or more Projects. For this reason, you must specify a designation amount for each Project entered, even if the entire gift is being allocated to a single Project, and you must click the "ADD" button for each Project.
This same rule applies to entering Premiums. Once you've entered all the relevant gift data, click "SAVE" to add the gift.
Passthrough Gifts
One of the fields on the New Gift Form is "Passthrough Giver." A Passthrough Giver is an individual who should receive credit for a particular gift, even though the gift in question technically comes from another entity. Common examples might include business owners who give corporate gifts through their company instead of giving privately or givers whose gifts come from a donor-advised fund. In these cases, while your nonprofit would receive checks from a company or community foundation, the intent to give actually originated with an individual.

When viewing the Giving tab in a Contact record, you'll notice that there is no add button for Passthrough gifts. Passthroughs cannot be entered directly or by themselves; a Passthrough is an element of an actual gift.
In some cases, you may want to split a single gift among multiple Passthrough Givers. For example, this is a common necessity for organizations that receive CFC gifts via the United Way. Since the Passthrough amount is always equal to the gift amount, for these situations, the best option is to split the gift into multiple gifts, entering a separate Passthrough Contact for each gift.
Gift Asks
For many organizations, a critical part of major gift fundraising involves tracking solicitations. Gift Asks provide a way to do just that. Click on the blue add button to bring up the New Gift Ask form and enter a new Ask.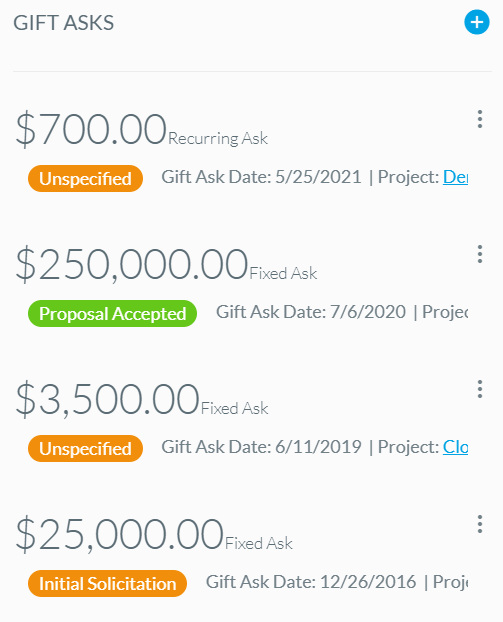 In addition to basic information, such as the ask amount and date, you'll have the option to enter an Expected Fulfillment Date, which is the date on which you expect to receive this gift, and enter any notes relevant to the Ask. Be sure to specify the correct Ask Type; you can either solicit recurring support, in which case you'll need to specify the frequency or solicit a one-time gift, which would be a "Fixed Ask." You can type to search for Projects and for users in the Team Member field to track who made the Ask. Be sure to set the correct status for your Gift Ask, to indicate the stage in your overall solicitation process. You can learn more about Gift Ask Statuses in this support article.
Major Gift staff can manage their pipeline of Gift Asks by using the Gift Ask Pipeline, which you can learn more about in this article. Once a Gift has been entered in Virtuous, it can be associated with an ask. Just click to edit the Gift, and you'll see a field to search for and select the correct Gift Ask.
Pledges
Pledges represent a commitment to give a set amount of money over a certain, pre-determined period of time, whether a few months or a few years.
From the Giving tab in a Contact record, you can click on the three dots in the upper right of the Gifts section to add a new pledge.

Once you enter the Amount pledged (the total amount), the Installment Frequency, the Pledge Date, and the Expected Fulfillment Date, Virtuous will automatically build the payment schedule. If you would prefer to build your own payment schedule manually, just set the frequency to "Custom," and once you have entered the remaining pledge information, you'll be able to create payments and save.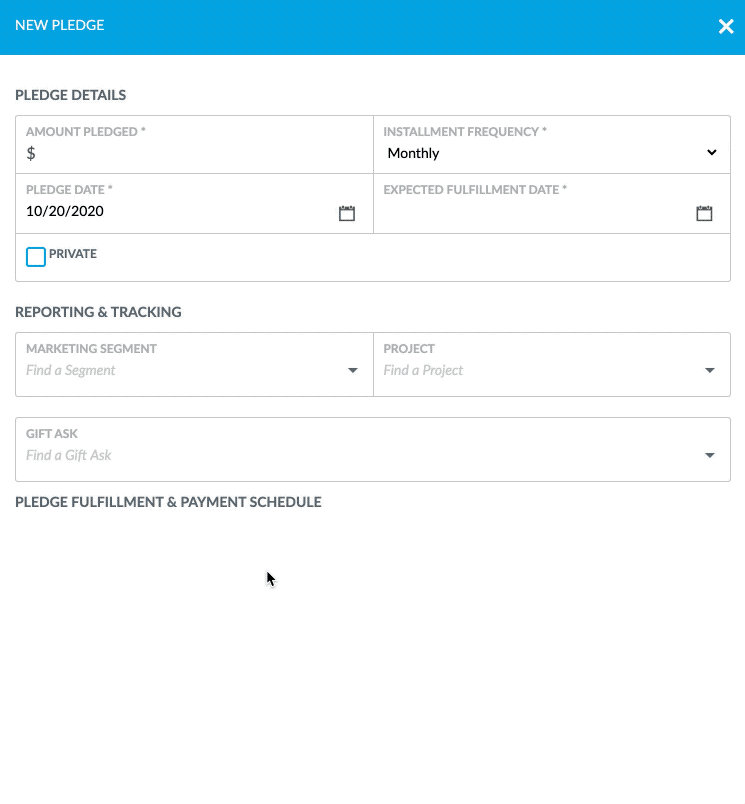 In some cases, you may not have a defined payment schedule. If so, create just one payment, due on the Expected Fulfillment Date for your pledge. As you match Gifts to your pledge to apply for payments, Virtuous will automatically update the Pledge so that you always have one payment remaining, with the payment amount equal to the Pledge balance.
Once your pledge has been saved, click the "Edit" or "Preview" icon to see all received payments, expected payments, and the total Pledge balance.
Recurring Gifts
Recurring Gifts provide ongoing support, either on a monthly, bimonthly, quarterly, or annual basis, with a fixed gift amount for each payment. Recurring Gifts may be changed or canceled at any time, so the total giving amount or the total duration is unknown.
Recurring Gifts are often created as part of gift processing. To create a new Recurring Gift from a Contact record, click on the blue add button in the upper right of the Recurring gifts section on the giving tab.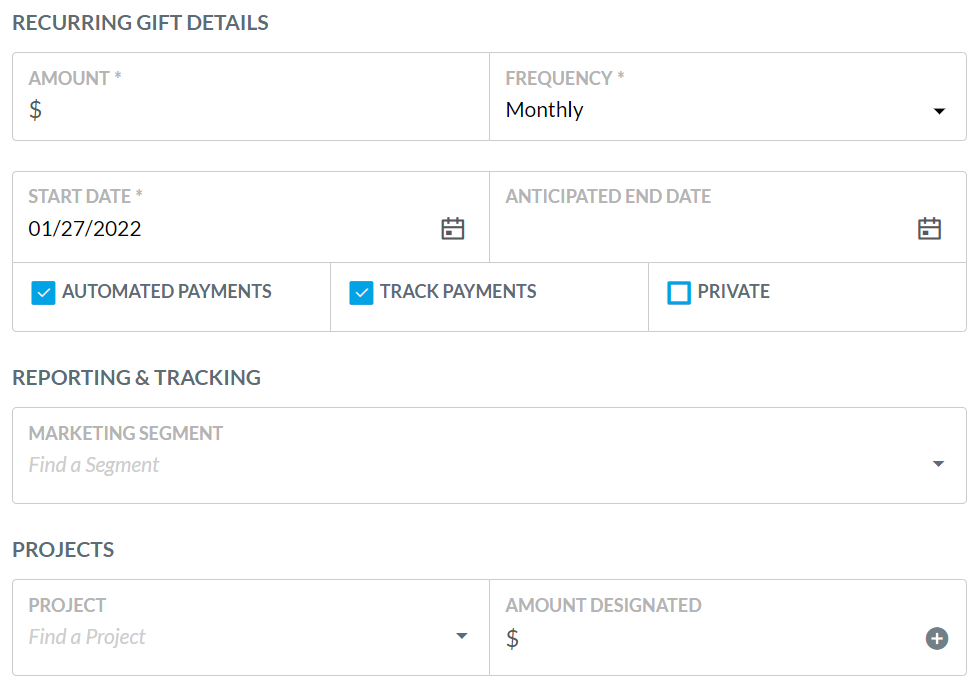 The Recurring Amount should be the amount for each payment, not the total amount - remember, only pledges have a total amount committed.
There are three checkboxes, two of which are always checked by default:
Automated Payments: If checked, this denotes that recurring payments have been scheduled to pay via credit card, automated bank withdrawal, or some other means that does not require any action on the part of the giver. If a giver offers to send a check each month, for example, then uncheck this option.
Track Payments: If checked, Virtuous will generate a schedule of expected future payments for this pledge, which can be used to track the pledge balance and identify late or missed payments. The expected payments data is used in generating the Pledge Payment and Pledge Aging reports available on the Dashboard.
You can also choose to designate the entire recurring amount to a single Project, or split a Recurring Gift among multiple Projects. You'll need to specify a designation amount for each Project and be sure to click the add button to add it to your Recurring Gift.
Planned Gifts
Planned Gifts, sometimes called estate gifts, typically mean that a giver has provided for your organization as part of their estate planning. To enter a new Planned Gift, click on the three dots in the upper-right of the gifts section and select "Add Planned Gift".

On the New Planned Gift form, select the Planned Gift Type and enter in as much information as possible. In some cases, it may not be possible to complete all of the fields, but try to gather as much information as you can prior to entering a Planned Gift. If a giver informs you that they have made provisions for your organization in their estate planning, they are obviously committed to the success of your organization -- don't be afraid to ask them about some of the particulars of their Planned Gift.
When editing a Gift, you will see a Planned Gift field, which lists all Planned Gifts made by the selected giver. If the gift being entered is in fulfillment of a planned giving commitment, select the appropriate Planned Gift to associate the two in Virtuous.
Reversing Gift
When clicking the three dots to the right of any gift, you will see the option to "Reverse."

This option allows you to quickly enter a Gift with the "Reversing Transaction" Gift Type while linking it to that existing Gift.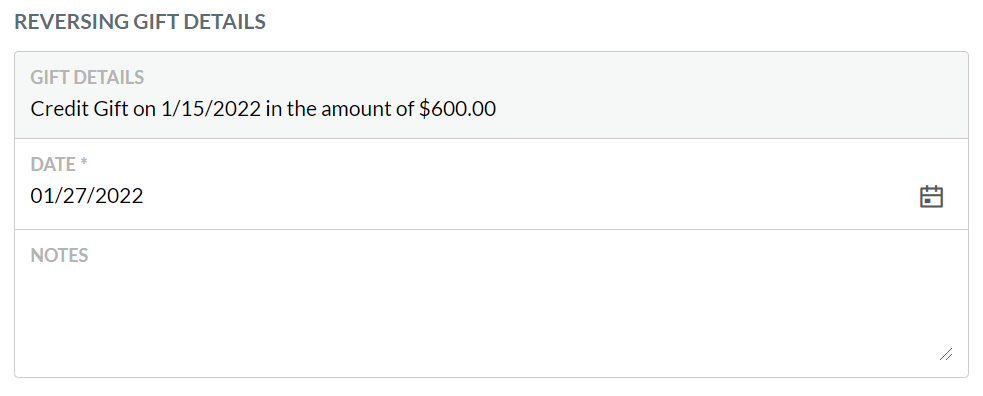 Once you click the Reverse Gift button, you will see a new gift with a Reversing Transaction gift type (with the reversed gift ID included) appear on the Contact's list of gifts.