Data security and safeguarding user accounts is a top priority for Virtuous. Ensuring all requests are made over a secure connection and that data is properly encrypted is the first step to providing a safe and secure environment for your valuable data.
Sometimes organizations desire additional layers of security to safeguard user access to Virtuous and provide extra peace of mind – and two-factor authentication is a great way to provide this extra level of security.
How to Set Up Two-Factor Authentication in Virtuous
Follow the simple steps below to enable two-factor authentication on your Virtuous user account.
Log in to Virtuous at https://app.virtuoussoftware.com
Once logged in, click on your profile photo in the upper right-hand corner of the screen and click "Edit Profile" from the drop-down menu.

Click the Enable Two-Factor Authentication button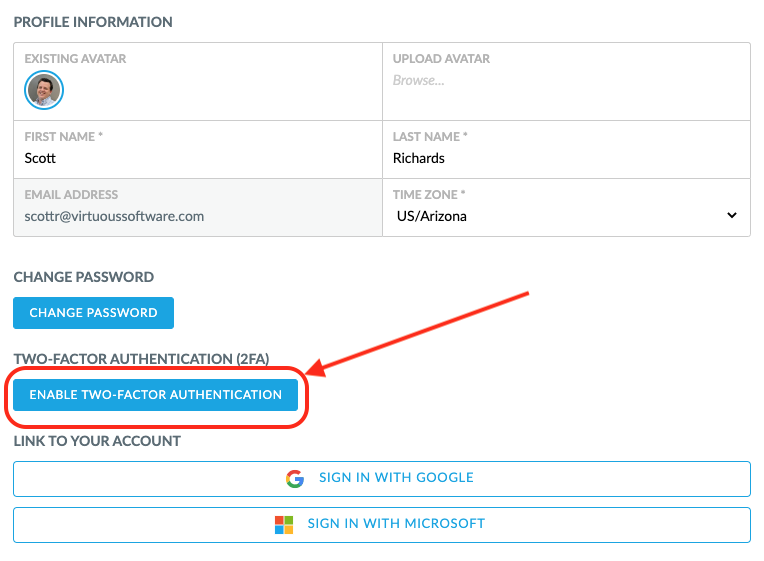 Enter country code and mobile phone number and click the Enable Authy Button

If you're not already an Authy user, click the Send an SMS Token button to receive your 7-digit authentication code via text message. If you're already an Authy user and have the Authy app on your mobile device, you can open the app to get your authentication code

Enter the 7-digit code you received via text and click the Verify
Once you've completed these steps, you'll be asked to enter a new 7-digit authentication code each time you attempt to log into Virtuous.