As part of using Virtuous Giving, your donors will have access to a donor portal where they can log in, view their gifts, manage their stored payment methods, and even update recurring donations. Configuring your donor portal is the final step in setting up your Virtuous Giving account. Once you have set up your merchant account, you'll be able to start configuring your Donor Portal. To start, you can access Donor Portal Settings and Customization from the Dashboard tab under Online Giving.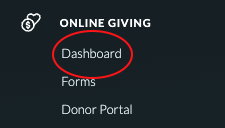 From there, navigate to Settings and then the Payment Settings subheading.

Donor Portal Setup
On the setup screen, you'll be asked to provide a name and description of your organization. The key piece of information will be your subdomain. This will be part of the URL for your donor portal, and once entered, the subdomain cannot be changed. When your donor portal is live, your givers will be able to access it using a URL that looks like this:
For your subdomain, it's best to choose a shortened version of your organization name, without spaces, all lowercase.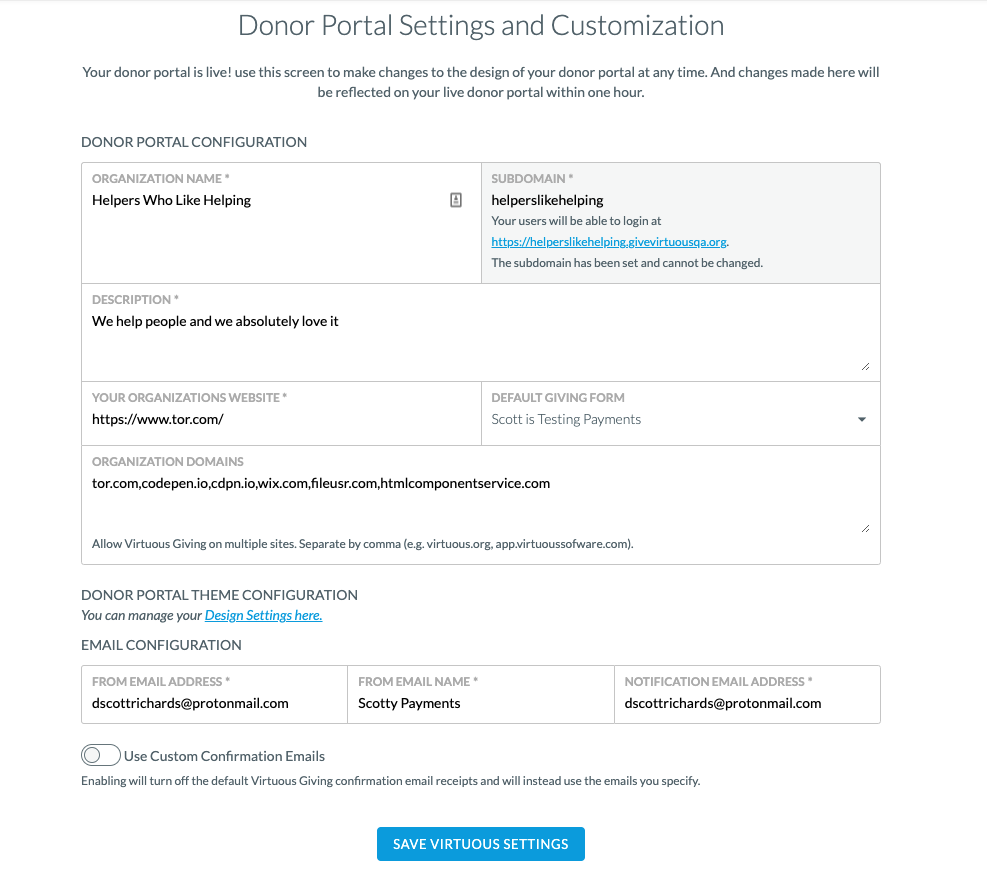 Provide the complete URL for your organization's main website. Below, list that domain and any additional domains where you will embed your donation forms. This list of domains will be used to verify donations and prevent potential fraud.
You also have the option to specify a custom donation form for use on your donor portal. If you do not wish to customize the form, or if you haven't created your form yet, don't worry — the default giving form can be updated at any time.
Finally, you will want to enter a specific sender name and sender email address for all automated emails sent via the donor portal, to make sure donors know they are coming from your organization. For the notification email, enter the email address for a specific team member to receive alerts regarding declined recurring transactions, payments, and other activity. Only one email address may be added. If you wish to have several team members notified, you will need to use a group distribution email address, or just set up an auto-forwarding rule in the inbox of the team member receiving the notifications.
Design Settings
When you've configured the settings to your Donor Portal, you'll want to consider the design theme. You'll have the ability to customize the color scheme, add your logo, and determine the font. To begin, navigate to Design Settings under Settings.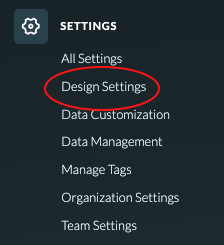 You'll be able to attach a file for your logo. Then you will need to use hex codes to identify colors. These can both be obtained from the resources used on your main website. The font options are available for preview through Google Fonts. Any changes made will be reflected on your live portal site within an hour.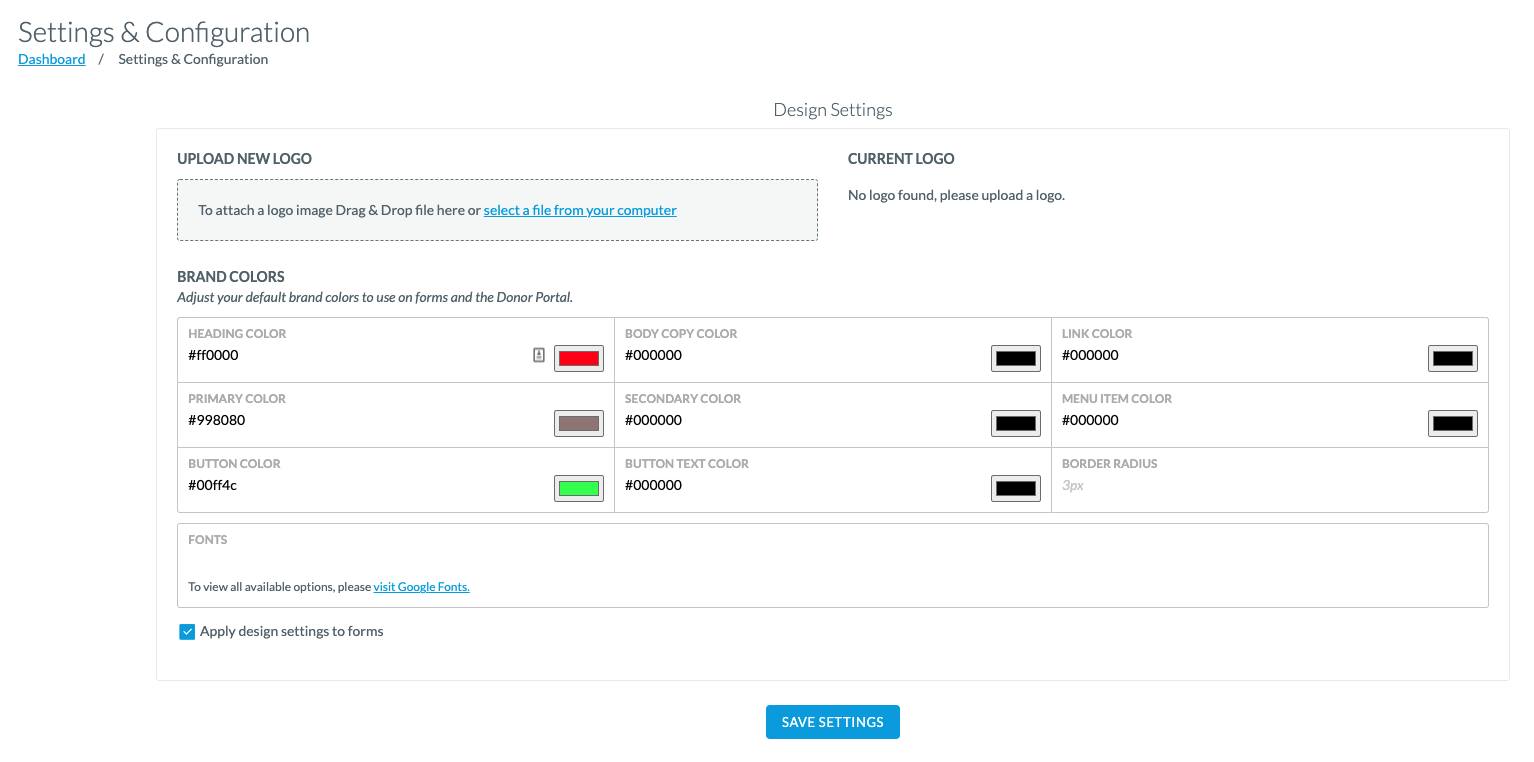 Preview
Once you have completed the portal configuration and design settings, you'll be able to access your new donor portal site through the Donor Portal tab under the Online Giving page.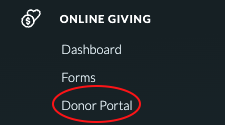 This will bring you to log in to your Donor Portal.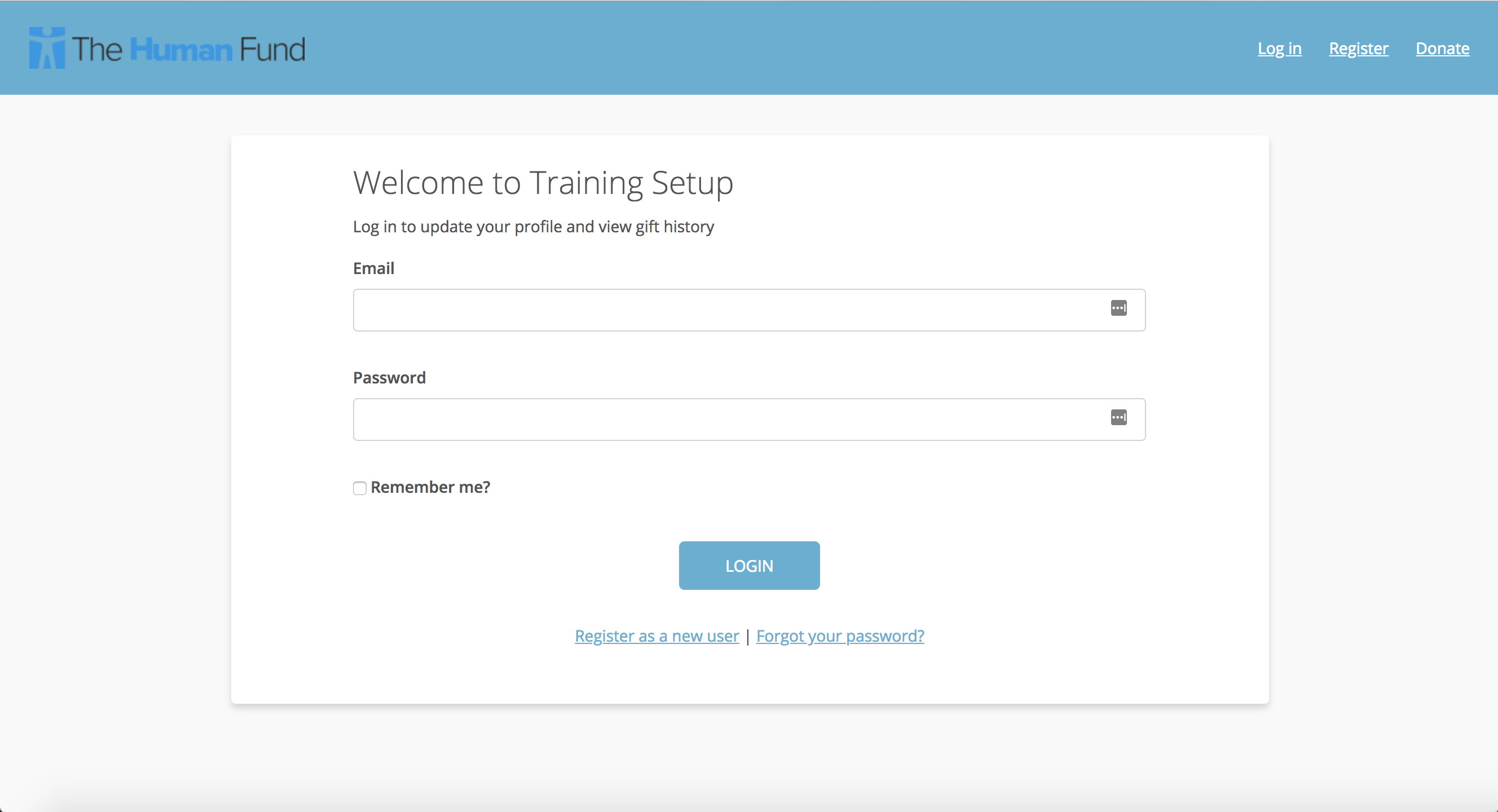 Once your site is ready, you can invite donors to log in and claim their account.
Inviting Donors to Register
Any donor making a gift via a Virtuous Giving donation form will automatically be invited to register on your donor portal site. The confirmation email sent to each donor will include a link for donors to claim their account. Donors may also choose to register from the main home screen of your donor portal page by clicking on the "Register as a new user" link. You may choose to send this link to your givers and encourage them to register their account on the online portal. The registration url for your donor portal will be structured as:
Once a donor fills out the registration information, they will be sent a confirmation email, which will have a link to confirm their account. Once they have confirmed their email address, they will be given access to their portal account, where they can:
See their online donation history
View any past or current online recurring gifts
Make a new donation
Make a new recurring gift
Modify or cancel their active recurring gifts
Manage saved payment methods
Modify existing Pledges
Send in Pledge Payments
Cancel Pledges
Once a user is registered, they may log in to their account at any time from the main donor portal screen.
Understanding User Accounts
Each Virtuous Giving user account is tied to a specific email address since email addresses are required for online processing. If a donor were to use two separate email addresses to make two separate online gifts, they would then have two separate Virtuous Giving accounts, each of which can be linked to the same Contact record in Virtuous. In this way, it's best to think of Virtuous Giving as a separate entity from Virtuous CRM, albeit one that is seamlessly connected to the CRM.
Virtuous Giving accounts will be connected to Contact records in Virtuous as part of the Gift Import process. When a gift is matched to a Contact and then imported to that Contact record, a link, or reference, between the Virtuous Giving account and the selected Contact record in Virtuous. It's possible to see these connections when viewing a Contact record; just look for the small External References box in the lower left corner of the Contact Overview screen.
If a gift made via a separate Virtuous Giving account is made but matched to the same Contact record as the previous gift, then both Virtuous Giving accounts will be connected to the same Contact record in Virtuous CRM.
This means that gift entry staff must be well-trained so that connections can be made correctly during Gift Processing.
Donor Features
For donors who register on the donor portal, it is easy to make donations directly from their portal account, as their credit card information will already be stored. Users can click on the Donate link in the upper right menu, or click "Setup a Recurring Gift" or "Give a Gift" on the main home screen of their account to quickly make a new donation.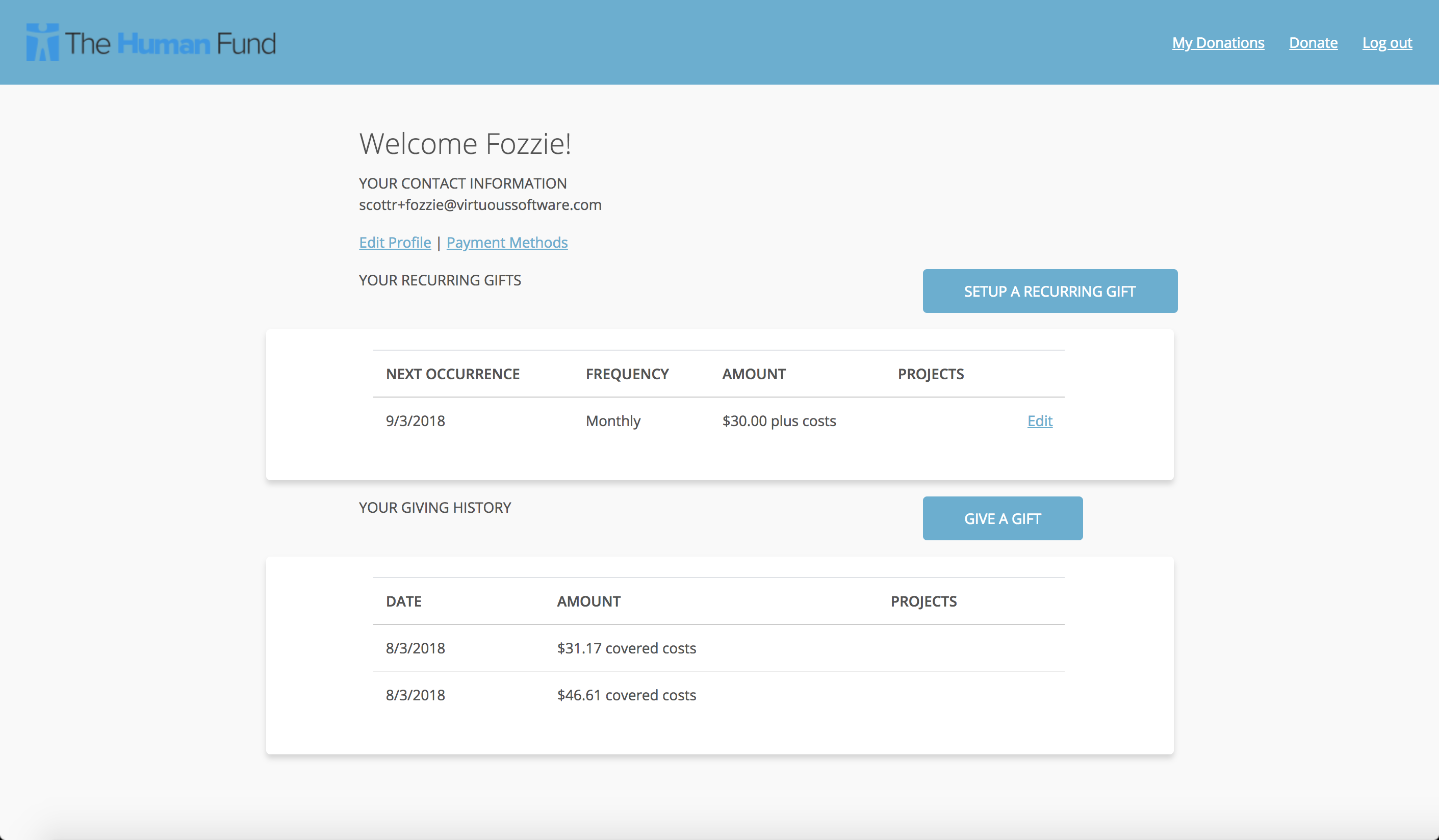 Users will also have the ability to click "edit" next to any active recurring gift in order to update the payment method used or cancel their recurring gift.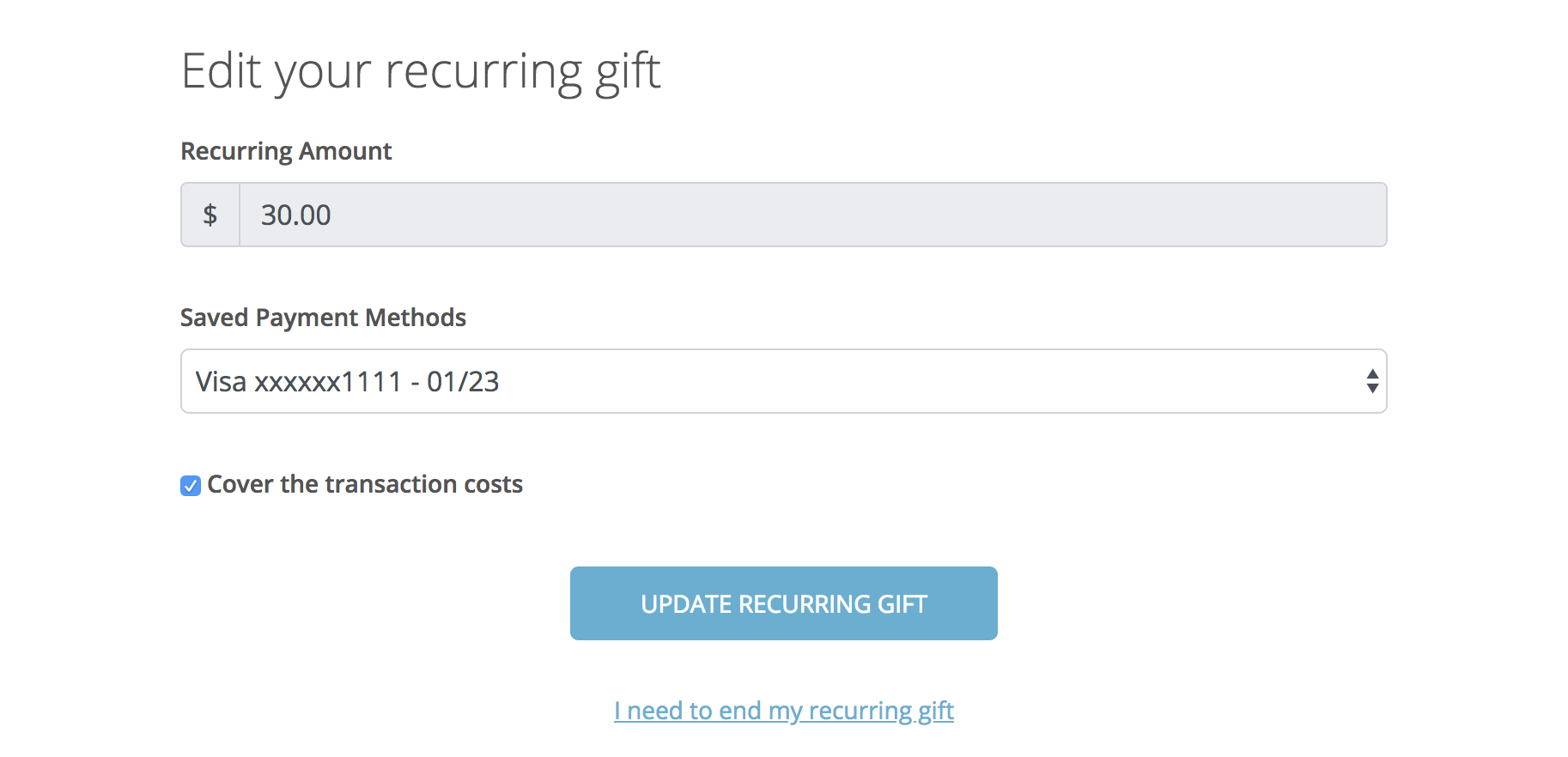 Clicking on "Payment Methods" from the main donor screen will allow users to manage their saved cards, add a new payment method, or delete any saved payment methods.

If a user attempts to delete a payment method that is actively being used for a recurring gift, they will be prompted to select or enter an alternate payment method, in order to ensure their ongoing contribution schedule is not interrupted.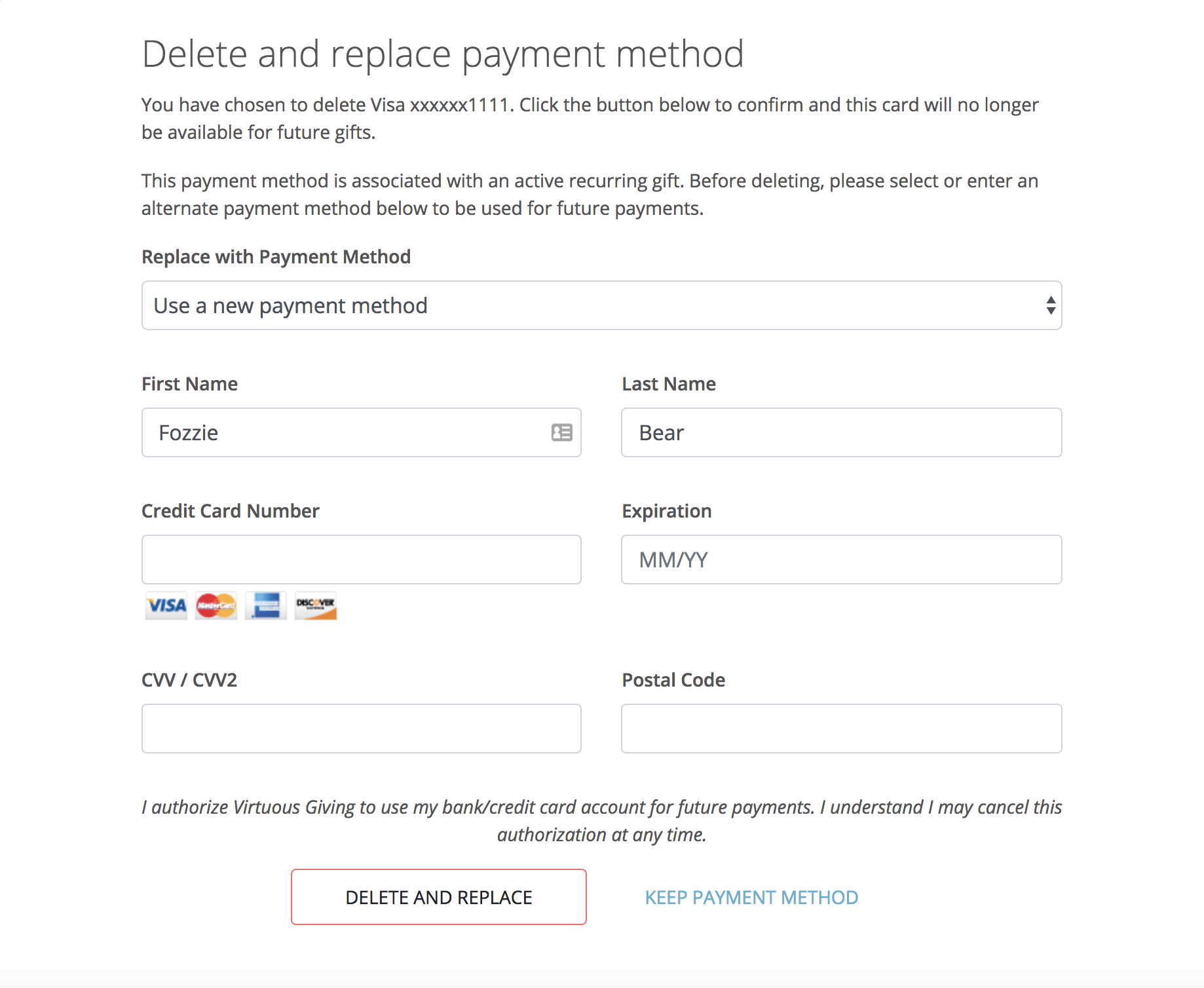 It's critical to note that donors who wish to update the payment method being used for a recurring gift must make this change themselves via the portal; your staff will not have access to update stored payment method information. Should a donor call on the phone and wish to make a change, it's best to walk them through the process of setting up their account (if they have not already) and making the change.