The Activity report provides an easy way to view information on Contact Notes logged in Virtuous. Reports can be generated by User or by Note Type, making it easy to answer questions like:
"How many donors have we called in the last month?"
"How many in-person visits have my top donor rep logged in the last 6 months?"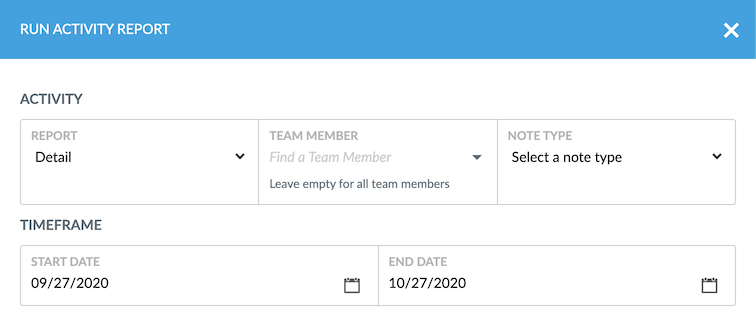 When running the report, select either the detail or summary option. The summary will show a quick roll-up of total Contact Notes logged for each team member(or the selected team member). The Detail option will list all of the Note content.
Specify a team member to report on all activity logged by a particular user, and further narrow the results by specifying a specific Note Type.
Set the date range for your report - this will be based on the Note date, not the date when a Note was logged. For example, if a donor rep met with a giver on June 6th, but didn't log a Note documenting the activity until June 20th, the June 6th date will be the one used in the report.

This report can benefit users at all levels within your organization. Administrators and leadership can review outreach metrics, donor reps can review their logged activity, and even volunteers can check to ensure they have logged all of their calling activity.