Sometimes, you just want to know what's going on RIGHT NOW. Big events, like on-air fundraising drives and Giving Tuesday often require tracking data hour by hour, to allow your team to react to trends in real time.
That's what the Real Time Giving Report allows you to do. The report looks at the last 12 hours of giving activity, with a breakdown of giving by hour and itemized listings of incoming gifts and pledges.

When running the report, you have the option to select a specific Campaign or a Virtuous Giving form to see only gifts related to that Campaign or received via a particular form. Or, leave both blank to see all giving data for the past 12 hours.
When viewing the results, the graph at the top of the screen shows an hour-by hour breakdown of all gifts received over the last 12-hour period. Giving is broken down and color-coded, to make it easy to distinguish pledge, recurring gift, and one-time giving totals.

If you choose to run the report by selecting a specific Campaign, below the giving by hour breakdown, you will see a breakdown and total of all gifts and pledges received, compared to the giving goal for your campaign. This makes it easy to see overall campaign progress at a glance.

Below these charts, you'll see four tables, listing out:
Incoming Unreconciled Gifts: These gifts have been received via the Virtuous API, meaning they have been made online in a Virtuous Giving form or through some other integrated giving processor, but they have not been imported yet. Also included here are gifts that may have been uploaded or entered manually via the Gift & Contact Import tool, but have not yet been imported. These Gifts are not visible on Contact records yet and cannot be accessed via the query tool until they are imported.
Processed Gifts: These gifts have been imported to Contact records. They can be accessed via queries as well.
Incoming Unreconciled Pledges: Like unreconciled gifts, these are pledges that have been received, but have not yet been imported. Since Virtuous Giving forms do not allow donors to create pledges, those listed here would have to be uploaded or manually entered via the Gift & Contact Import tool.
Processed Pledges: These pledges have been imported to Contact records. They can be accessed via queries as well.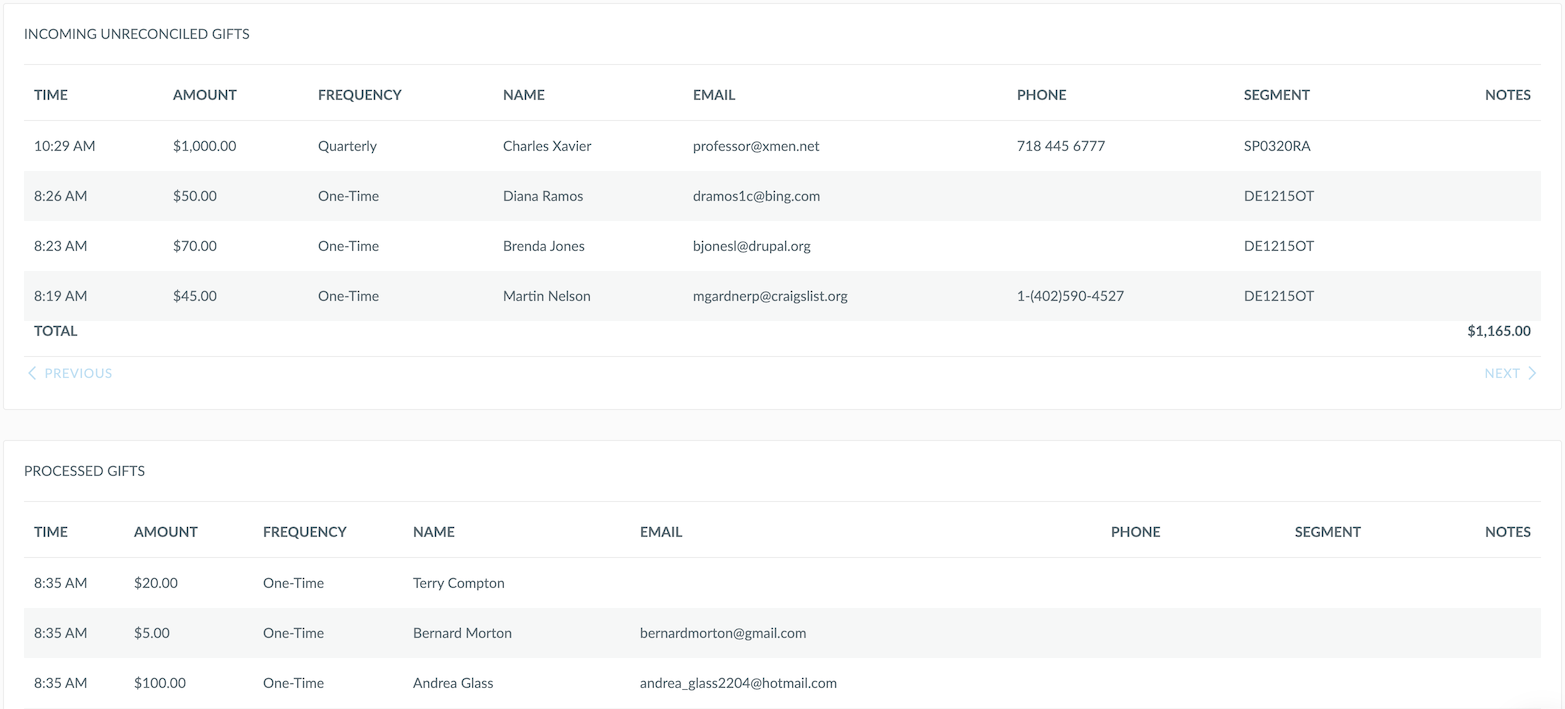 Since the intent of this report is to capture real-time activity, gifts and pledges will be listed for the last 12 hours not based on the Gift Date or even the Create Date, but the origination date and time, meaning the point in time when the gift was originally made (in the case of online gifts) or when the gifts was first entered in the Gift & Contact Import tool. Bear this in mind when reviewing the report.