Virtuous is an excellent CRM system that enables you to track your donors' history, generate and send donation receipts, and manage communication with donors to build lasting relationships. But there is far more to your organization's financial picture than just donations received, which is why you'll need to maintain a separate accounting system.
Quickbooks is a popular choice as accounting systems go, with two main versions: Quickbooks Online and Quickbooks Desktop. You can sync data with with Quickbooks Desktop by exporting data in IIF files and then importing that data to Quickbooks, which you can learn more about in this support article.
Organizations using Quickbooks Online can use the Virtuous Connect sync tool to sync data from Virtuous to Quickbooks.
Setting up the Integration
First thing you need to do is create a user that is not linked to any of your current users. To create your new user you'll head to the navigation on the left of the screen then select Settings --> Team Settings.
This user should have most privileges within Virtuous AND NOT SSO or two factor authentication. Best practice:
Should be an admin user, so the Quickbooks Online specific user has access to enter all data into Virtuous.
OR if that makes you uncomfortable, you can create a unique permission group (Settings-->All Settings--> Permissions--> Create Permission Groups) for the user... it must have the following full permissions:

Contacts
Projects
Gifts
Recurring Gifts
Configuring the Sync
To begin using the sync, you'll need to open Virtuous Connect or navigate to the clover menu in Virtuous CRM. There, you can log in with the same username and password you use to log in to Virtuous CRM.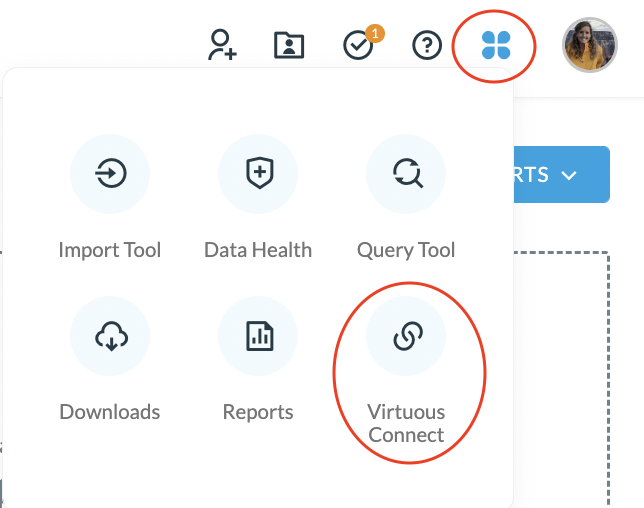 Once selected, you will see some options for various integrations, including Quickbooks.

Quickbooks Login
When you have Viewed the Quickbooks integration icon, you'll first be prompted to configure your settings and login. In order to connect your organization's Quickbooks account, check the box for account you will be connecting with. Then, c
lick the connect button--this will take you QuickBooks Online login.
Follow the prompts in completing the connection.
Once you've completed the necessary prompts you will be taken back to Virtuous settings page.

Settings
You will now be able to configure the settings for this integration. These settings can be changed at a later time, if needed.
The settings options include:
Sync Enabled-

To enable this integration, check this box

Rollup Gifts by Project/Fund-

To sync projects instead of individual gifts, check this box

Map to a Single Account-

To connect both debit and credits to a single bank account, check this box

Account Mapping

Payment Method-

Select specific payment methods to sync for specific bank account

Bank Account-

QuickBooks Login tab will need to be completed prior to bank account information being available;

Select the bank account that your payments are debiting from

Field Mapping

Virtuous Field-

Select the desired gift/payment field to map to Virtuous to QuickBooks

QuickBooks Field-

Select the field that will be the destination of the corresponding Virtuous data
Features and Mapping
Standard Field Mapping
There are additional options for mapping both Virtuous Standard Fields and Quickbooks Standards Fields.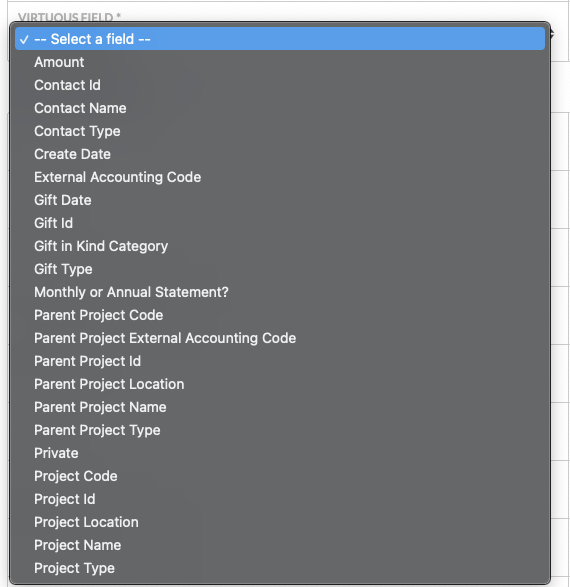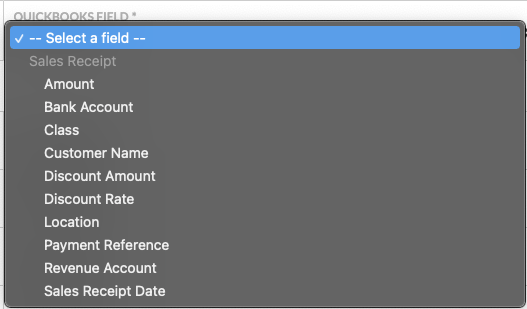 When mapping data to Quickbooks fields, you must have a value mapped to A Revenue Account in order for the sync to work.
The Revenue Account is actually the name of a Product/Service in Quickbooks that is linked to a specific revenue account
. The Product/Service name is required for mapping purposes because transactions are added to Quickbooks as sales receipts.
Gift Type Mapping
All standard Virtuous Gift Types are listed and a corresponding QuickBooks Bank account can be selected to where the data will credit to via the sync.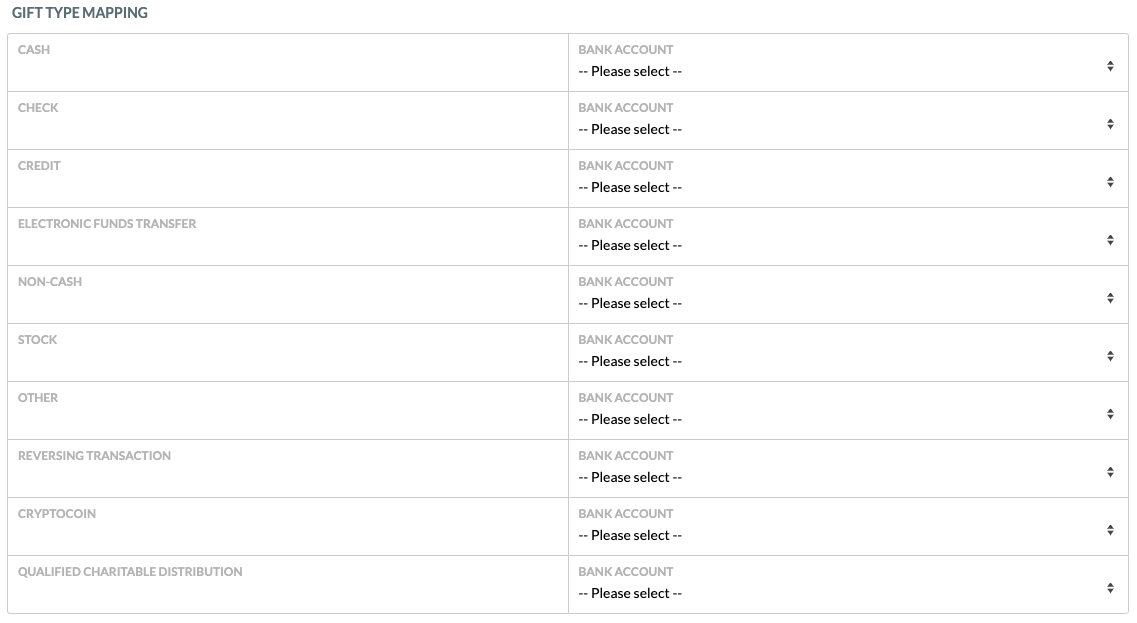 Payment Method Mapping
All standard Virtuous Payment Methods are listed and a corresponding QuickBooks Bank account can be selected to where the data will debit from via the sync.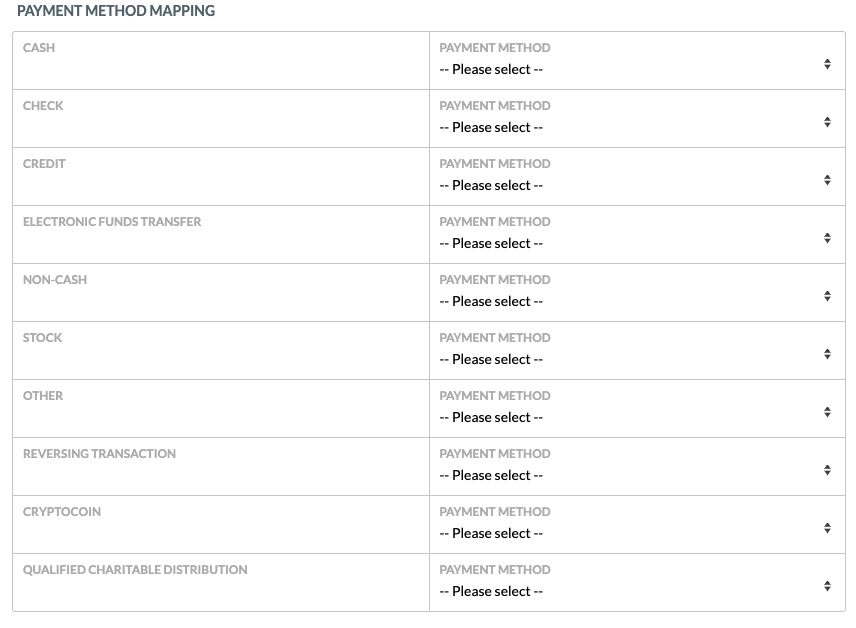 Failed Transactions
If the Project Code on a gift in Virtuous cannot be matched to an existing Account Name in Quickbooks, then data cannot be sent to Quickbooks. In these instances, an email will be sent to the Notification Email address, prompting you to review the Failed Transactions for the QBConnect sync.

Once you have reviewed the errors, you will need to create the corresponding Accounts in Quickbooks. While you are doing this, keep in mind that that you are not able to re-sync a single transaction. You will need to correct the underlying issues and then re-sync ALL failed transactions. When you have remedied the errors in Quickbooks, select Retry Sync to sync the transactions to the correct accounts.