Virtuous is an excellent CRM system that enables you to track your donors' history, generate and send donation receipts, and manage communication with donors to build lasting relationships. But there is far more to your organization's financial picture than just donations received, which is why you'll need to maintain a separate accounting system. Quickbooks is a popular choice as accounting systems go, with two main versions: Quickbooks Online and Quickbooks Desktop. You can sync data with with Quickbooks Desktop by exporting data in IIF files and then importing that data to Quickbooks, which you can learn more about in this support article.
Organizations using Quickbooks Online can use the Virtuous QBConnect sync tool to sync data from Virtuous to Quickbooks.
Projects are the Key
The connective tissue between Virtuous and your Quickbooks data will be your Projects. Since Projects are used to track the designation, or use, of money received, they should align with the GL accounts you track for accounting purposes. In particular, the Project Code, which is the unique identifier for each Project in your database, should match up with the account names you are using in Quickbooks.
Project Codes are used in this instance because each Project Code in Virtuous must be unique, so they are an ideal unique identifier for your Projects. Because Quickbooks can be configured in numerous ways, with or without Account Codes, Classes, and other identifiers, Virtuous will always look to match Project Codes with Account Names. The QBConnect Sync will look specifically for revenue, or income, accounts when looking to match Project Codes.
Configuring the Sync
To begin using the sync, you'll need to open a new browser window or tab and navigate to:
There, you can log in with the same username and password you use to log in to Virtuous CRM. There, you will see a message inviting you to connect to Quickbooks.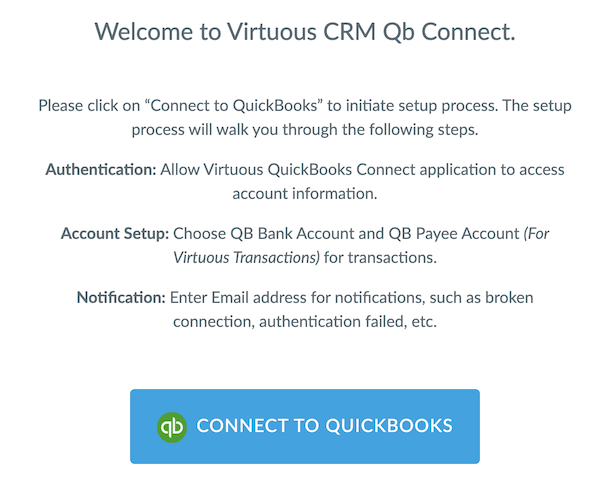 Once you click, you may be prompted to log in to your Quickbooks Online account (if you are already logged in in another browser tab or window, the sync should already identify the correct Quickbooks account). Once you have logged in, or if the system automatically identifies the correct account, then you will be prompted to connect your account and grant access.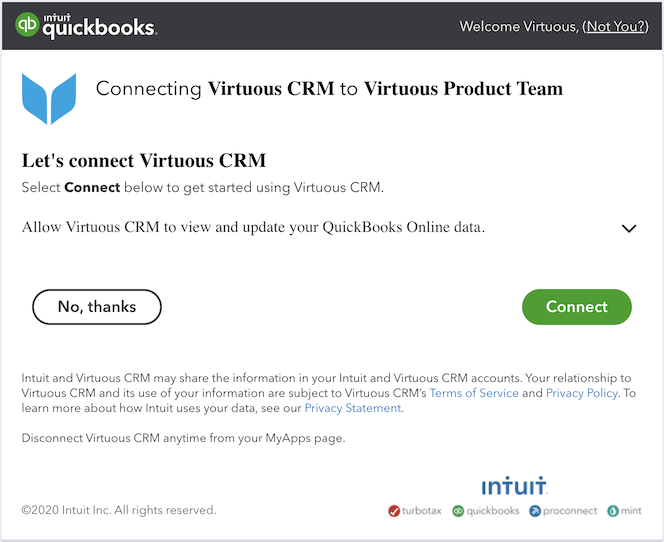 Once you have connected your account, you'll just need to confirm your settings. These settings can be changed at a later time, if needed.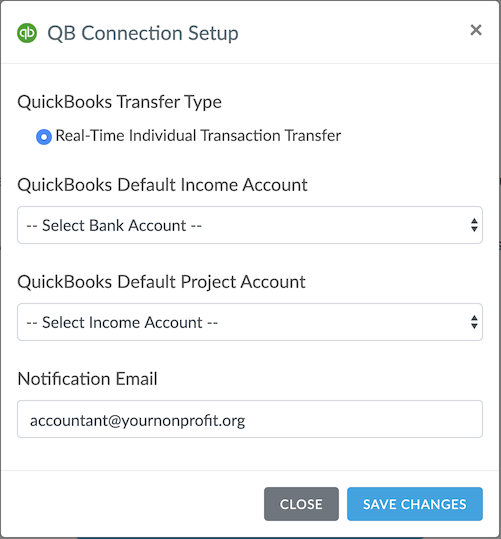 Default Income Account: Select a Bank Account in Quickbooks that should be used for all donation data.
Default Project Account: Select a Revenue or Income Account to be used as a Default in Quickbooks. This account will be used as the designation for any Gift (or portion of a Gift) that does not have a Project specified in Virtuous.
Notification Email: The email address to be notified of any exceptions or other sync errors. Only one email address may be entered. If necessary, you may choose to set up autoforwarding rules in your email to notify multiple users.
Once you have made your selections, click "Save Changes" to finishing configuring the sync app.
Using the Sync
Once the sync is configured, any Gift created in your Virtuous account will automatically be sent to Quickbooks as a bank deposit. The data synced will include the Amount, Project, Gift Type, and Check Number (if applicable). The mapping used will be:
| Virtuous Field | Quickbooks Field |
| --- | --- |
| Gift Amount | Deposit Amount |
| Project Code | Account Name |
| Gift Type | Payment Method |
| Check Number | Reference Number |
All Virtuous Gift Types will be created as Payment Methods in Quickbooks when the sync is first configured, if they are not already present.
If a Gift is split between multiple Projects, each Project split will be synced separately. Note that donor information is not synced to Quickbooks, only transaction information.
Exceptions
If the Project Code on a gift in Virtuous cannot be matched to an existing Account Name in Quickbooks, then data cannot be sent to Quickbooks. In these instances, an email will be sent to the Notification Email address, prompting you to review the Exception Log for the QBConnect sync. To view the Exception Log, you will need to log in to the sync app, and then click on the Log icon in the upper right.

There, you will see any transactions that could not be synced.

Once you have reviewed the logs, you may create the corresponding Accounts in Quickbooks and then click on the refresh icon next to any transaction to retry sending the data to Quickbooks, or use the "Resend All" button to retry sending all transactions listed. Use the trash can icon to clear any transactions that should not be synced to Quickbooks.