With the Virtuous Receipt Builder, users can generate professional receipt templates for sending paper receipts or email receipts. A drag-and-drop, visual editor makes it easy to create one or more templates that can be used for every day receipting or annual giving statements.
Note: Only users with Admin permissions can access the Receipt Builder tool.
To get started, click on "Gifts" in the left side Primary Navigation and then select "Receipting" from the sub-menu.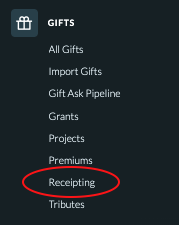 Then, click on the Receipt Templates tab, and you'll see small previews of all existing receipt templates for your organization. To get started on a new template, click the Actions button and then "Create Template."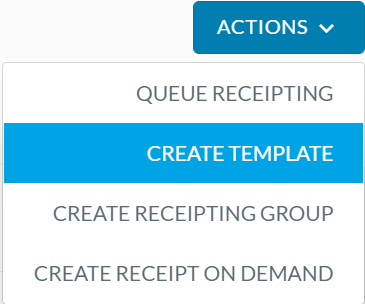 This will launch the Receipt Builder wizard.
On the first screen, there will be several options to select.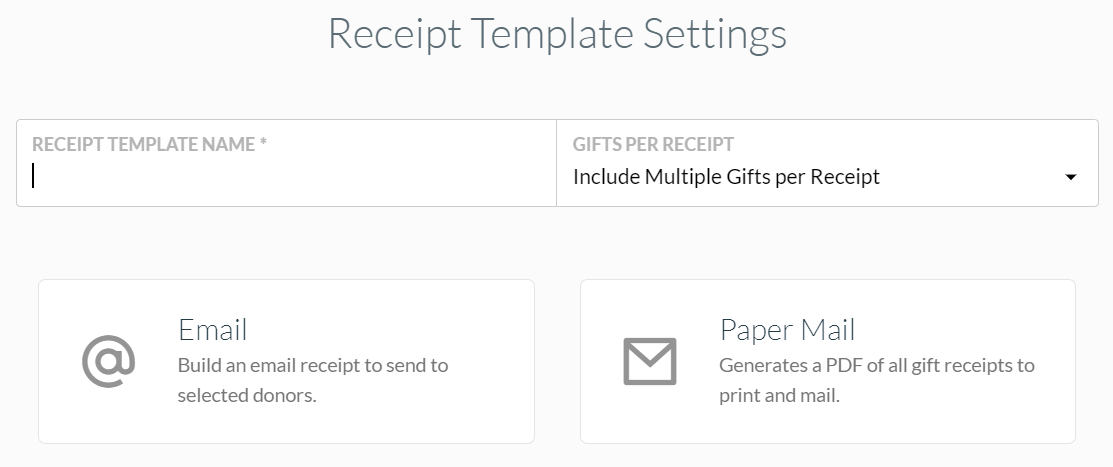 On the left, be sure to give the new template a unique name. This name will be the only identifier for your new template, so be specific!
On the right, the "Multiple Gifts per Receipt" option is selected by default. This will be the option to choose if you are generating monthly summaries, quarterly statements, or year-end receipts. Click to change this if the receipt template being built should include Include Single Gift per Receipt.
Next, select Email or Paper Mail for your receipt delivery. Note that you must choose either the email or paper mail option for your template; these two options cannot be combined into a single template. Once these options have been selected and work has begun on the actual template, these options cannot be changed. Paper receipts will be designed and built using a different template interface, as the demands are slightly different for each. This means that there are four possible receipt types that may be generated:
Email Receipt - Single Gift

Email Receipt - Multiple Gifts

Paper Receipt - Single Gift

Paper Receipt - Multiple Gifts
When you select Email, you'll be prompted to add an email subject, the name it's from, and the email address it's from. After filling in these values, click the Next > button in the lower right hand corner.

When you select Paper Mail,
you'll be prompted to select your paper size, margin settings, and how you want to generate envelopes. Follow
these next steps
to customize your mail receipt template.