If you have a DonorSearch account, you can integrate directly with Virtuous to see wealth data on any Contact record.
Note: If you do not see this option, you may not have permission to configure this integration. Contact your internal Virtuous administrator for access.
1. Click on SETTINGS
2. Click on All Settings
3. Click on CONNECTIVITY
4. Click on INTEGRATIONS…
---
Click on the button in the upper right to add an integration.

On the New Integration form, select DonorSearch as the Integration Type.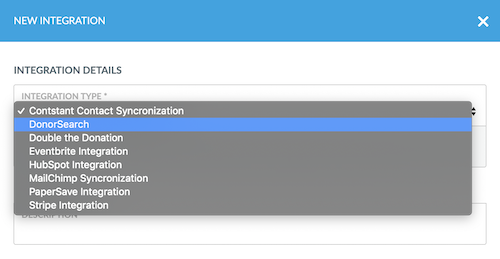 Then, you'll be asked to enter the Username and Password for your DonorSearch account. Note that the form also lists a field for APIKey, but this is not required. Entering your DonorSearch credentials will automatically set your APIKey value.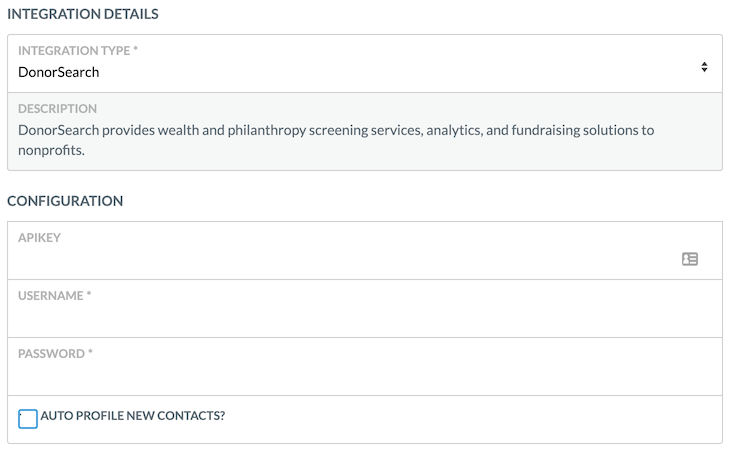 The checkbox at the bottom of the setup form allows for new Contacts to automatically have wealth data appended as they are created. If you do not wish to have wealth data added to all new records, you can leave the box unchecked. Wealth data can be added to any record by performing a manual search (detailed below) or as an action in an automated workflow (more details here).
Once you have entered your account information, click "Save Integration" to add the integration to your account. Make sure the integration status is "Enabled;" you should see a red button with the option to "Disable."
How to View DonorSearch Data
Once your integration is enabled, navigate to any Contact record, and you'll see a new Wealth Data on the left side of the Overview tab.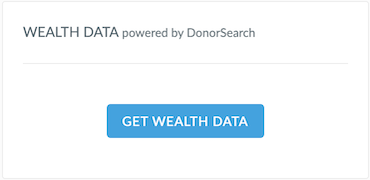 Click on the "Get Wealth Data" button to conduct a search using the data on the Contact record and display wealth scores directly on the Contact screen. These scores can then be used or exported in Contact queries, or even used as triggers in automated workflows. Once a search has been conducted, the wealth data results can also be refreshed by clicking on the refresh icon, visible in the upper right corner of the wealth data section.
Once you have added wealth data to a Contact record, you'll see two buttons below the wealth scores. Click on "View DonorSearch Profile" to be taken directly to the DonorSearch platform and view the complete DonorSearch profile linked to the results, with all of the underlying data sources.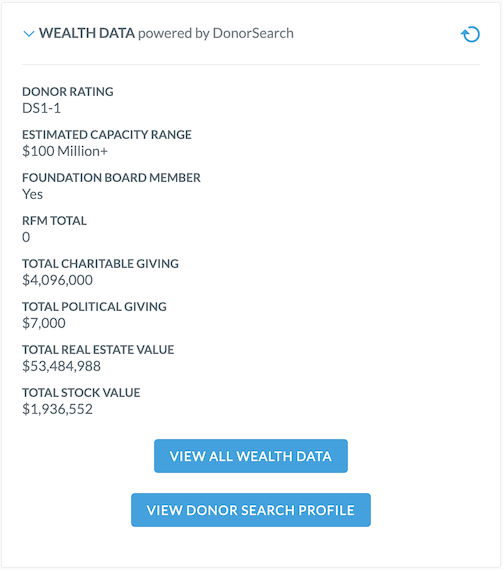 Click "View All Wealth Data" to open a new pane and view an expanded range of DonorSearch data and scoring.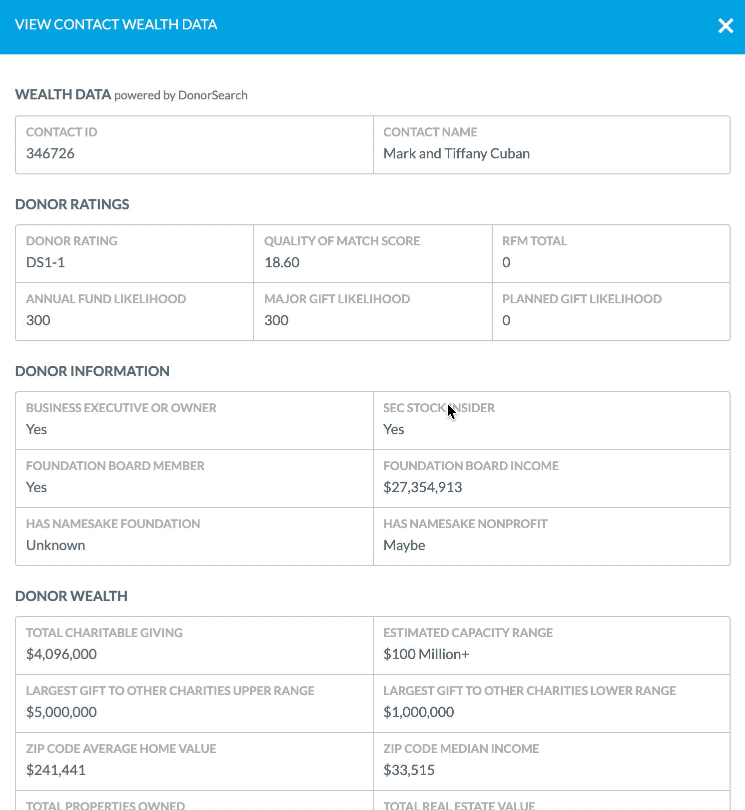 And and all of the data points visible here can be used in queries for segmentation or in workflows. You can see a complete listing of the values available here.