So, you've created a great email. And now you'd like to use it again, maybe with a few small changes here and there. Sounds good!
From the main Email screen, just find the email you'd like to copy, click on the "Actions" button on the far right, and then select "Copy" from the drop-down.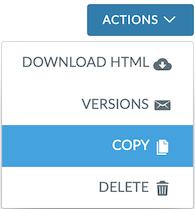 Then, you'll be given the option to use your copy as either a new email or a new template. Give your copy a new name, and then click "Copy Email" to confirm.
Changing Email Types
Some email types can be used interchangeably. For example, if you create a Workflow Email and then decide to make a copy of it to use as a regular email? Totally fine.
But Form Confirmation Emails are a little different. These emails do not use the same settings that Workflow Emails and regular Emails do, so they cannot be copied and used for a different purpose. Likewise, it is not possible to copy a regular Email to use as a Form Confirmation Email.
If you choose to copy a Form Confirmation Email, your copy will also be a Form Confirmation Email.