Some users may prefer to conduct additional segmentation analysis outside of Virtuous. These Segments can then be directly imported to Virtuous. To do so, hover over the left side bar, then select Settings. Under Settings, select Bulk Data Tools.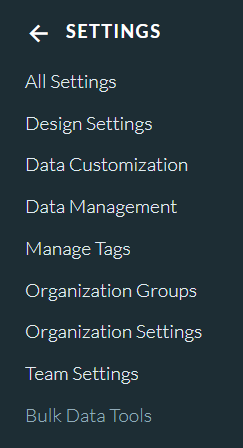 On the Imports screen, look for the Segmentation Import in the Giving Data section.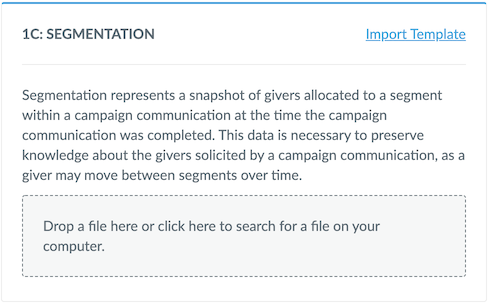 Click "Template" to download the import template. Once you've completed any external analysis and segmentation, transfer that work to the import template. You must include the Contact ID or Legacy Contact ID for all of the Contacts you wish to assign to your Segments and the Segment Codes for the specific Segments. Optionally, you may include the date when your communication was/will be sent. Make sure that you have already created the Campaign and all Communications and Segments in Virtuous prior to importing.
When ready, simply drag and drop the completed import file into the box that says "Drop your file here or click here to search for a file on your computer" to begin uploading.
An on-screen notification will pop up once the import is complete. Check to ensure all records are imported successfully; if there are any errors, download the provided csv, correct any errors directly in the downloaded file, and then re-upload the entire corrected file using the same process as before. Any records already imported will not be duplicated. Repeat this process until all records have been successfully imported.