If you are already using Constant Contact to communicate with your supporters, you can use the Virtuous Constant Contact sync to connect Virtuous with your Constant Contact account.
Note: Only one Constant Contact account may be synced per organization. Individual fundraisers using Constant Contact to communicate only with their group of donors should not use the sync for their own email lists.
Setup
To get started, You'll need to configure the sync, which requires Admin user permissions. Log in to Virtuous and hover over the left side bar, then select Settings. Under Settings, select All Settings.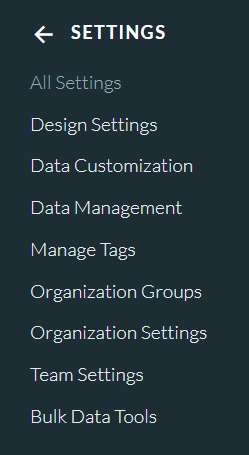 Next, select the Connectivity tab - this will take you to a screen where you will find the Integrations box. Select the Integrations button.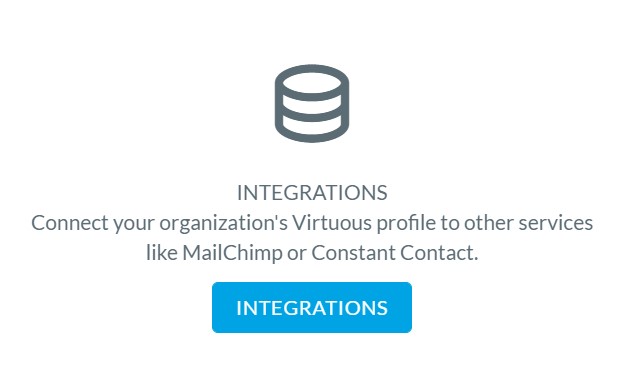 On the integrations screen, look for the blue button to "Add an Integration," in the upper-right, and click there.

This will bring up a form to select the integration you'd like to add. Make sure that Contact Contact is selected, and then click the "Save Integration" button near the bottom of the form.

This will return you to the main integrations screen, where you will see the Constant Contact integration listed. Now that it has been added, you'll need to grant Virtuous access to your Constant Contact account. Click on the blue "Grant Access" button.

This will open a window where you will be prompted to log in to your Constant Contact account.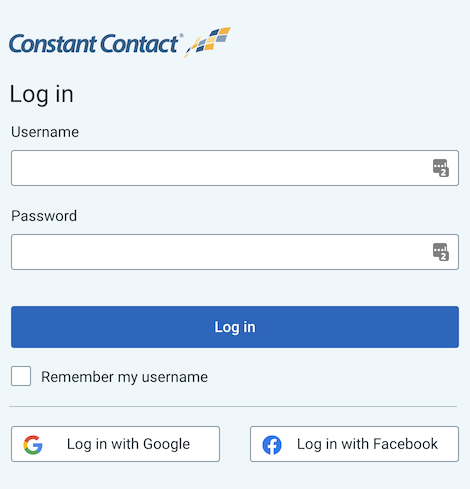 Once you have entered your Constant Contact credentials and clicked "Log in," you will be prompted to allow Virtuous access to your Constant Contact account.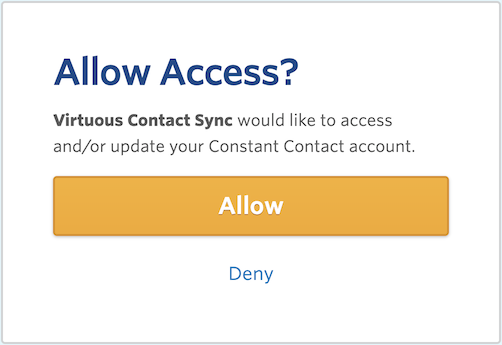 Once you have granted access, you will return to the integrations screen. You should see that the integration has access now. There will be a red "Revoke Access" button instead.
You will also need to make sure the sync is enabled in order to pass data to Constant Contact. If you see a blue "Enable" button, click that to activate the sync. Once complete, you should see this:

How Does the Sync Work?
Once enabled, the Constant Contact sync is a one-way sync that will:
Create a new Contact List in Constant Contact, called "Virtuous."
Add the name and email address of Virtuous Contacts to the Virtuous list.
The First and Last Name and primary email address of the Primary Individual for each Contact will be synced. If a new Contact is created and the Primary Individual has an email address, that Individual's name and email will be synced to Constant Contact. If a change is made to a Contact, Individual, or Contact Method on an existing record, that will also trigger the sync. Editing or adding an address to a record will not trigger a sync.
Because the sync will be triggered by any change, adding a new. secondary email address, or an email address to a Secondary Individual or other Individual on a record, will sync the Primary Email for the Primary Individual to Constant Contact.
If the Primary Email for an existing Contact is modified, If the record is not in Constant Contact, then the Primary Email Address for the Primary Individual will be sent to Constant Contact, as described above. If they are already in Constant Contact, the email address in Constant Contact will be updated to the new Primary Email.
Once the sync is activated, Contact data will only be synced once of the the events detailed above occurs. There is no mechanism to do a bulk sync of all existing Contacts once the sync is activated.
Once a Contact has been synced, you will see them included in your Contact list in Constant Contact. When viewing a Contact in Virtuous, look for the "External References" box on the left side of the Contact Overview screen to see if they have been synced to Constant Contact.

Email sends, opens, and clicks will not be synced back to Virtuous, but you can report in this data from within your Constant Contact account.