Project Settings allow for greater flexibility in tracking and reporting on Projects in Virtuous. For example, let's say you are a nonprofit that works on providing education to under-served youth in several communities around the US. In particular, we'll focus on Detroit, Philadelphia, and Los Angeles, where you have a few initiatives:
Funding construction of a new charter school
Providing after-school tutoring in STEM subjects
Facilitating curriculum-planning workshops for teachers
Providing scholarships for select high school students
First off, that sounds like some great work! Your nonprofit is awesome. Now let's set up some customized settings to help track these Projects in Virtuous.
Now, let's configure your Project Settings. Navigate to the Settings menu, click "Data Customization", then "Project Settings".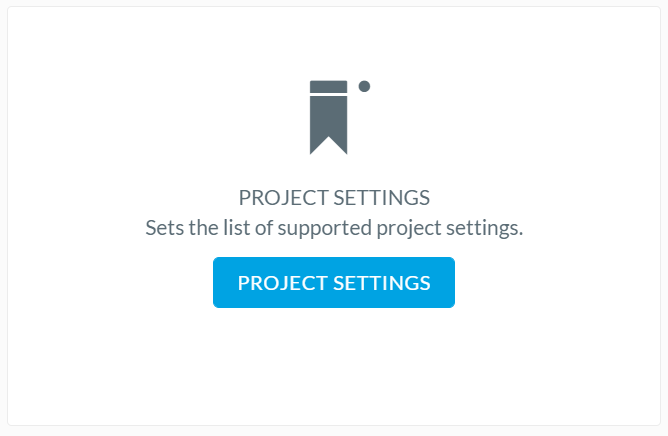 Here, you'll have the ability to set organization-specific list values for certain Project fields.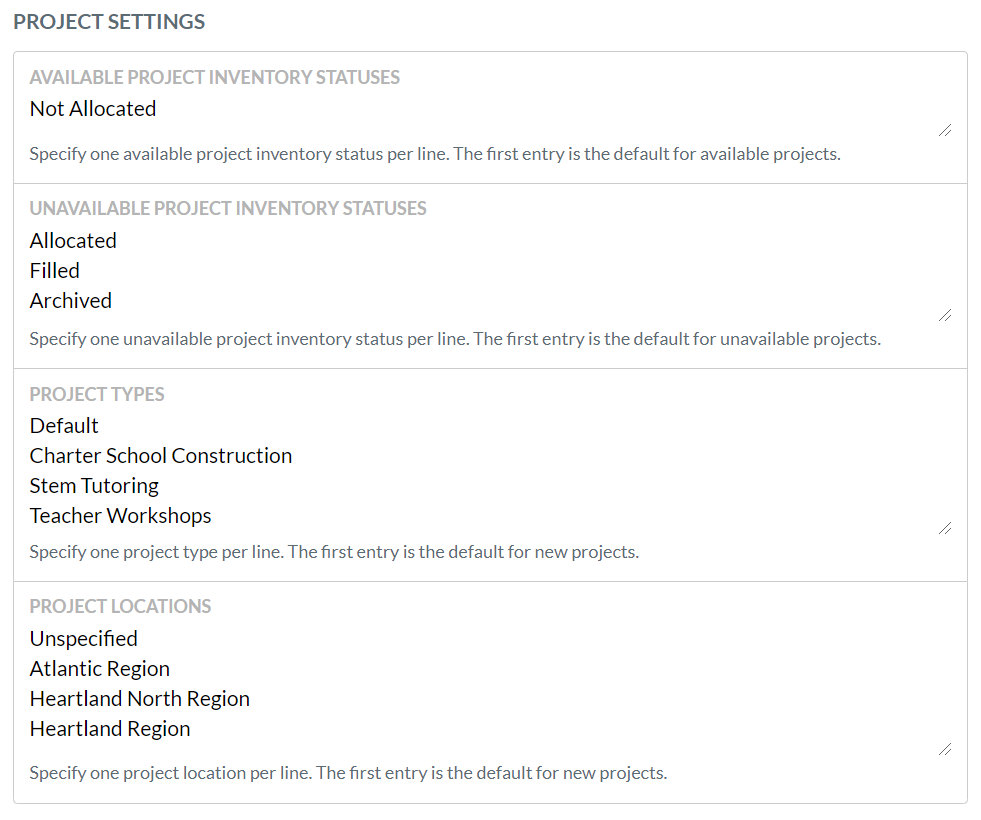 Inventory statuses: For some nonprofits, these may not apply. The inventory status fields are particularly used by sponsorship organizations, or any time projects are designed to be funded only by a single giver. In these instances, it's necessary to track which Projects are sponsored and which are available to be sponsored. On the Project Settings page, you'll have the option to create separate lists of "Available Project Inventory Statuses" and "Unavailable Project Inventory Statuses." These values will all be combined into the single "Inventory Status" drop-down on the Project Edit screen.

Available Project Inventory Statuses: Values in this group will all denote some type of availability.
Unavailable Project Inventory Statuses: Values in this group indicate a project is unavailable for sponsorship.

Project Types: Project Types provide a way to combine multiple Projects and SubProjects under one umbrella, typically for reporting purposes. If you're not certain whether something should be a Type or a SubProject, consider whether you are dealing with an initiative that is common to multiple areas of focus for your organization, or unique to a specific area or Project. Common initiatives make sense as Types since they can include multiple Projects and SubProjects.
Project Locations: Since these are user-defined, Locations may be states, cities, regions, countries, or even continents - whichever makes the most sense for your organizational setup.
In our example above, we have a few different cities with active Projects. Perhaps our hypothetical nonprofit is set up with multiple geographic regions that each administer programs in five cities. If we want to report on activity by region, these would be my Locations. For Types, we can take the four program types we have in each of the three sample cities and use these as a basis for our Types. This will make it easy to run reports for all Charter School Construction projects nationwide, or any other Type.