Sending receipts is a part of gift processing for most organizations, but what about sending year-end statements to your givers? Some donors may choose to only receive annual statements for their giving, so this may be the one time that you are communicating with them about their giving for the year.
No pressure!
Use this handy guide to send annual statements to your donors with ease.
Creating Your Statements
Creating your annual statements is not tremendously different from creating other receipts. In fact, you'll use the same receipt editor. You can follow the steps laid out in this support article to get started. Many organizations choose to create and send paper receipts for annual statements, but you can certainly send email receipts if you prefer.
The key when creating your template will be to use the "multiple gifts per receipt" option. This will combine several Gifts from the same Contact on one receipt. You'll want to use the Gift Table in your receipt to display all of the gift data for your donors.
You'll also have the ability to include fields for totals, with separate merge tags for the total deductible amount and the total non-deductible amount. These fields will calculate totals for all Gifts included in each receipt. These values cannot be inserted directly into the Gift Table, but can be included in a text box below or near the Gift Table as appropriate.
Once you've created your template, then you'll be ready to send out your statements!
Sending Statements in Bulk
To send out your annual statements to all of your donors for the previous year, you'll want to create a Gift query. To find all Gifts for a particular year, you can use the following criteria: Gift Date --> Between --> 1/1/20xx | 12/31/20xx. For example, to find all Gifts from the year 2020, your query parameter would look like this:

You can add additional parameters as need to your query to identify ONLY the Gifts you'd like to include in annual statements. If some donors receive mailed statements and others receive them via email, you'll need to create two separate queries to identify each group. We recommend using Tags to identify receipting preferences, since Tags can be used as parameters in Gift queries.
Once you have built your query (be sure to give it a clear name, like "2020 Annual Statements - Mail"), run the query by clicking on "View Results." On your results page, you can click the checkbox next to each gift if you want to receipt specific gifts. To select all gifts on the first results page, click on the checkbox next to Contacts.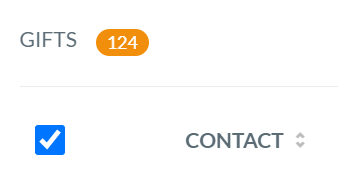 To select all gifts from your query output (beyond what is on the results page), click "Select all X items in query results."

Then click on the Actions menu in the upper right and select "receipt Gifts" from the drop-down.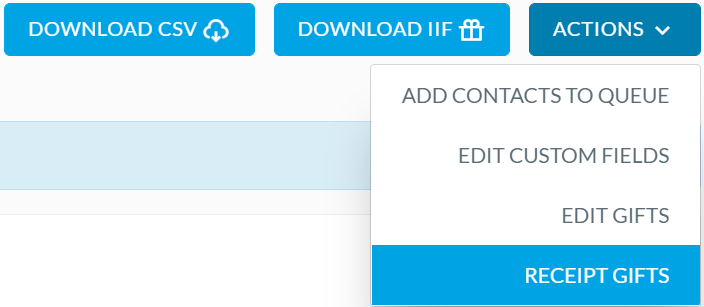 This will bring up the Receipt Gifts form. Give your export a clear name, like "2020 Annual Statements," so it will be easy to find in your downloads. You'll see that the Receipt Date field defaults to the current date, which is great for sending everyday receipts, but generally not preferred for annual statements. You can delete the value and leave the Receipt Date field blank to avoid overwriting the existing Receipt Date values on all of the Gifts included in your query.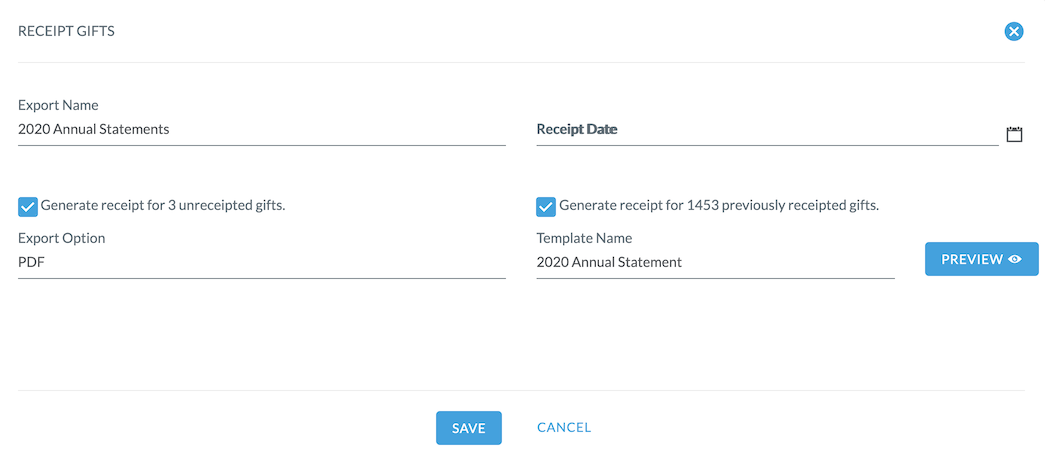 Make sure that you have all checkboxes selected, as you may have a mix of receipted and unreceipted Gifts and you'll want to ensure that all of the Gifts in your query are included in your receipting run. Select the correct export option for the type of statements you are generating (PDF for mail, Email for...well, email) and then you can select the correct template. Use the Preview button to confirm that you have selected the correct template.
Once you have made your selections, click "Save" to start generating statements. You will be able to download and print PDF statements from your downloads one the process is complete. Email statements will start sending right away.
Sending Single Statements
Your donors may ask for a replacement statement. In these cases, you can send a single annual statement directly from a Contact record. Just navigate to the donor's record, click on the Giving tab, then click on the three dots in the upper right of the Giving section to open the menu and select "Annual Giving Statement."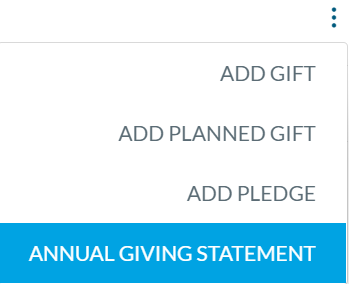 This will open a form where you can select and re-send an annual statement, either by mail or email. Select the method you'd like to use (PDF, email, or HTML) and then select the correct template for your statement. Use the "Statement Year" drop-down to set the year for your giving statement; this will include all Gifts dated within the select year on the generated statement. Note that if you have chosen to exclude certain types of Gifts from you annual statements, they may included on a statement generated in this way. If you have very specific business rules for annual statements, then you may need to generate your statement from a Gift query instead.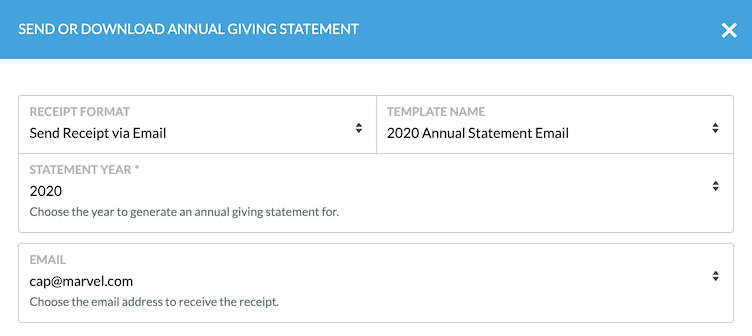 If you are sending via email, select the correct email address from those available on the Contact record. Use the Preview option to confirm that your template is correct, and then click "Run" to send the email statement or generate a download for your PDF receipt.