Segments are ways to separate groups of donors into distinct sections, but what is a receipt segment? Receipt segments are a way to track a gift inspired by a receipt from a previous gift, it's a bit of segment-inception if you will (<3 you JGL).
Let's talk through an example:
Joseph engaged with your Arizona Gives Day promotions on Facebook and ended up donating through your online form. Your segment code (AR0321SM) was embedded into your online donation form so you know during gift processing, exactly where Joseph's gift came from. You send Joseph your special receipt made specifically for Arizona Gives Day, and you thank him for his $500 donation. When he receives his receipt he's reminded of the 10 things he loves about your organization and decides to set up a monthly donation of $50. Jiminy Cricket! That's amazing! The new gift of $50 is coming in with a direct relationship to the receipt from the original gift, so the segment code for the second gift, is the receipt segment code from the first gift.
This is a very specific form of tracking and it's not feasible in every scenario, but wouldn't you like to know the impact of your receipts? Are they helping to loop your donors back into a form of engagement or not?
To create a receipt segment, within the communication, set the type to receipt and click save.

The auto-created segment associated with that communication is now searchable within the receipt segment field on other segments.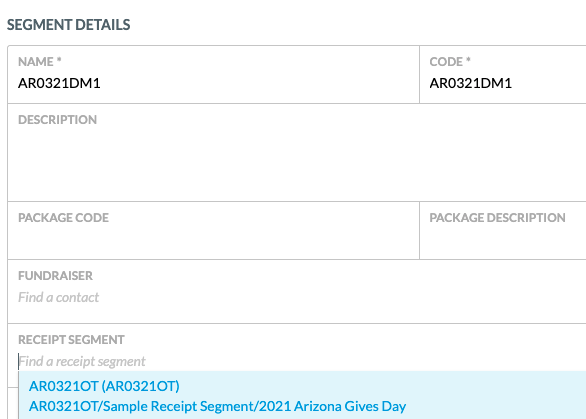 Once a receipt segment is created, you can also associate it with a gift manually at gift entry. To do this, during the
gift entry process
expand the gift information

Begin typing the receipt segment code to see available receipt segment codes and select appropriately.

Receipt segments can be added to your mail receipts using the merge tag %ReceiptSegmentCode%. This will dynamically print the receipt segment on the receipt (if there is not a receipt segment on the gift, the merge tag will be blank).