With the Receipts on Demand feature, you can mail paper receipts to your donors without ever having to print letters, stuff envelopes, or touch a single stamp. This means you can spend less time struggling with paper and postage and more time connecting with your donors.
Sound good?
We think so, too! Let's get started.
Note: Receipts on Demand requires a subscription to Letters on Demand. If you do not have this feature included in your contract, contact the Virtuous team to upgrade your account.
Configure Letters on Demand
To use Receipt on Demand, you'll need to have Letters on Demand enabled for your organization. You can follow the steps in this support article to configure the settings.
Done?
Great, let's get to work on a template!
Creating a Template
Navigate to the Receipting page in Virtuous. In the upper right, click on the Actions menu and then select "Create Receipt on Demand."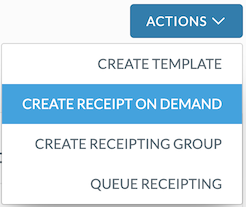 Note: Users will need to have access to Virtuous Marketing and Write permission for Letters on Demand in order to create a Receipts on Demand template.
This will open the new template builder. On the setup page, you can give your new template a name and even choose to include a reply device. This will add a perforation that allows the bottom third of the page to be torn off and sent back with a return envelope. We recommend adding the reply device to page 2 of your template to allow ample space for your receipt content.

Click Next in the bottom right to continue and select a template.
We strongly advise that you select an existing template and then customize it for your needs. There are four starter templates to choose from: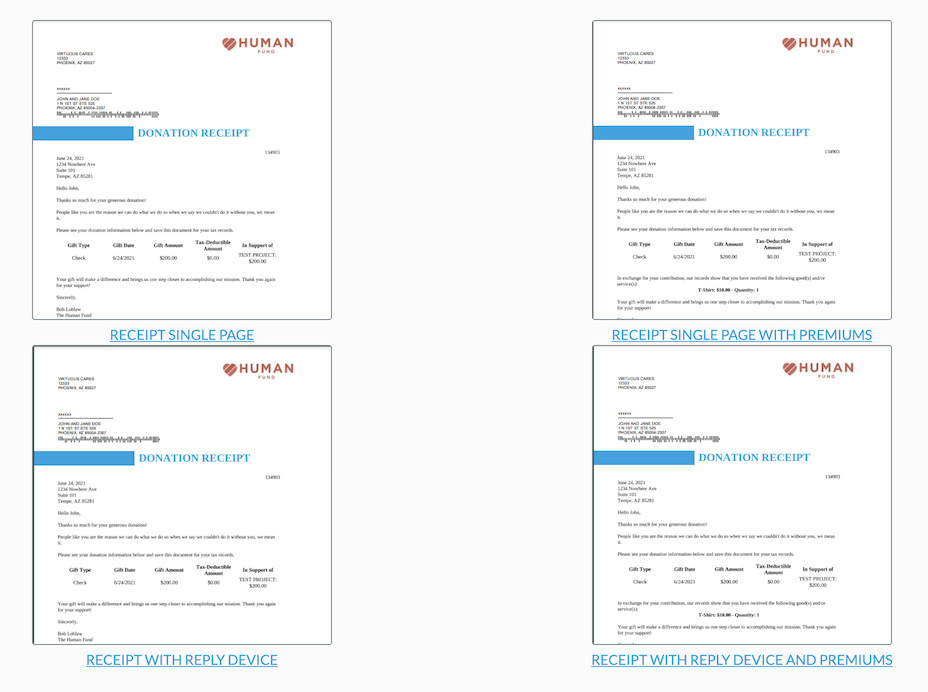 Single Page Receipt
Single Page Receipt with Premiums
Receipt with Reply Device
Receipt with Reply Device and Premiums
Note: If you do not want to use a template, you can select the "No thanks, I'll create my own HTML" option below the templates. Follow the guidelines in this article when crafting your custom template.
Select the template that best suits your needs and then you will automatically move on to the editor.
In the editor, you can replace the default logo and colors with your own, add additional text, and swap out any merge fields as needed. You can follow the guidance in this article on working with the Letters on Demand editor.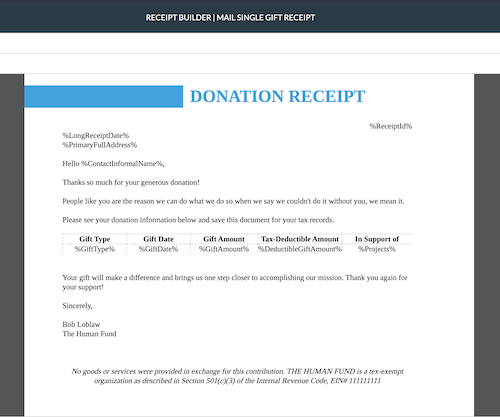 Once your receipt template is ready, click "Save and Review" in the lower right. This will generate a preview of your new receipt template as it will appear when printed, including the mailing and return addresses. If you'd like to make changes, click "Back" in the lower left to return to the editor. If your preview looks ready for prime time, click on "Next" in the lower right. Then, you'll be prompted to publish your template.

Click "Save & Publish" and then you'll see an option to return to the Receipting page.

Congratulations! Your new Receipts on Demand template is ready to use!
Using Receipts on Demand Templates
Once you've created a Receipts on Demand template, you can use it to create a new Receipting Group.
Note: ALL letters will be run through an NCOA before being sent. This means that the mailing address the receipt is ultimately sent to may be different from what is stored in Virtuous.
You can learn more about Receipting Groups, and queuing and running receipting, in this article.