So, you've sent your supporters a text message, and they've responded. Now what? Well, you get to send a response to the response! But wait: don't we need a human for that? Not necessarily.
Enter Default Response!
For each SMS template you create, you also get to configure the message a supporter receives when they respond to the original message. In other words: each template comes with an optional Default Response.
You can create SMS templates from the SMS page. Just hover over the left side bar, then select Marketing. Under Marketing, select SMS.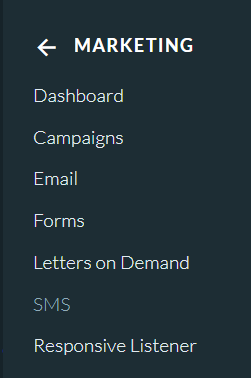 Click on the "Create Template" button in the upper right to get started.

This will open the template editor.
Enter the template name and body as you'd like. For more information on overall template principles, go to our handy dandy Help Article:
How Do I Create an SMS Template?
You now have the option to check the box
"Send a default response message?" Check that box and a new text box will appear.

Here, you can enter the message you'd like your supporters to see after they have responded to the initial message.
Once you've entered the messages you want, you can test out the initial message AND the Default Response!
You'll need to be an Individual in Virtuous and have a mobile number associated with your record. Note that ALL test messages (including initial message, Default Response, and anything the Individual messages back) will be billed to your account, so use them wisely. Each test will also have "SAMPLE:" added as a prefix, but the sample Default Response will not.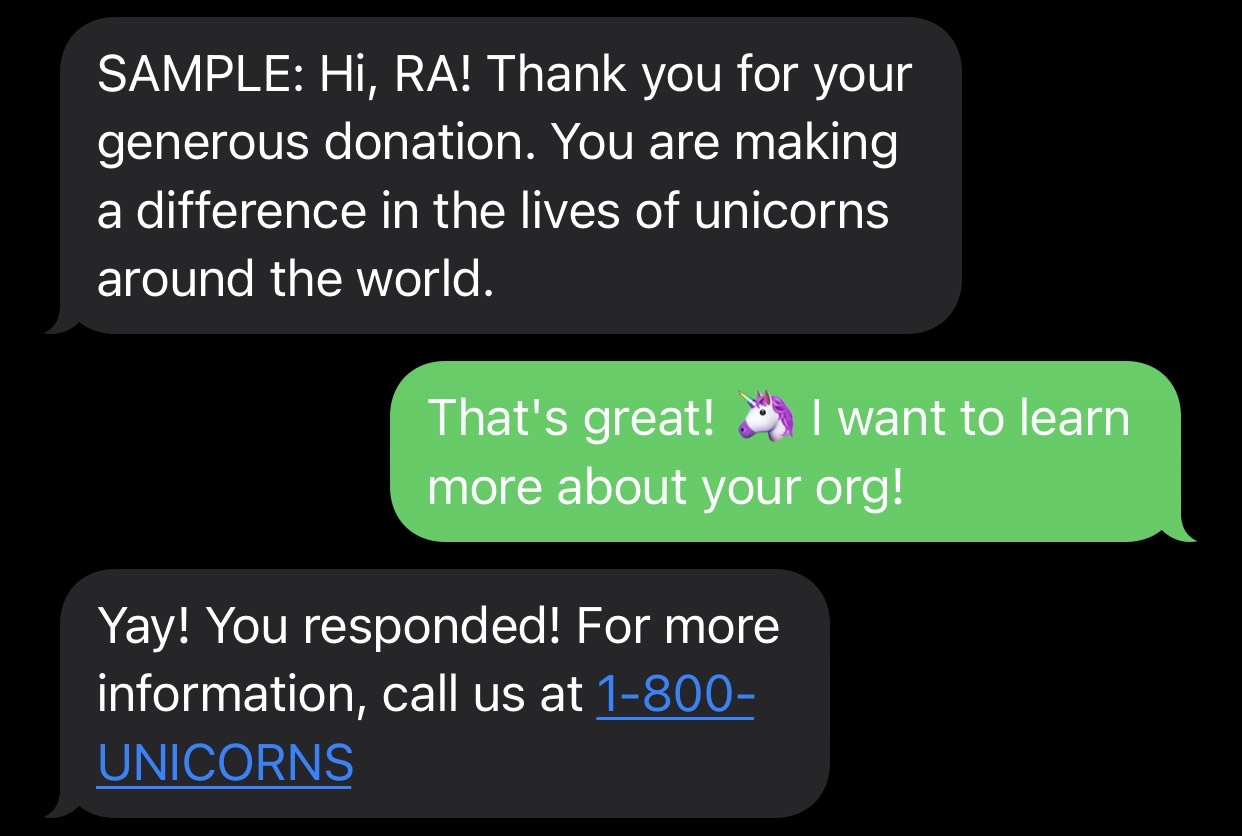 Considerations for Your Default Response
You can only send ONE Default Response to your supporters who respond, so choose your messaging wisely. You may consider adding a way to reach out to your organization (phone number, email, etc.) in the text. If you give Individuals the option to opt out of SMS messaging in the initial message, this will be another consideration for what you add to your Default Response.
Character limits still apply. Like your initial text messages, there is a maximum limit of 918 characters. Additionally, messages longer than 160 characters will be split into multiple parts. When this happens, the first 160 characters will comprise the first message part, and all subsequent parts will contain up to 153 characters. These parts are sent separately, and then each message carrier actually splices them together, so they are delivered as one seamless massage. So, a message with 450 characters will be split into three "parts," though the recipient will never know; they will just receive a single message.
Default Response messages IN ADDITION TO THE INDIVIDUAL RESPONSES THEMSELVES are counted toward your monthly messaging total. Keep this in mind if you plan to use the Default Response function as a part of your text message blast. And if you're curious to see how many messages your organization has sent out, who has responded, and what their message was...
Default Responses will also show in Sent Messages. In the 'Template' column, the name will show as "[Template Name] - Automated Response."
Individuals' Responses will show in Received Messages (next to the Sent Messages tab). Here, you'll be able to see who responded, what they said in their response, when it was received, status, and number of SMS parts.
Status values will look a little different from those in Sent Messages. These include:
OptIn - The Individual has responded with a keyword used to opt in to SMS messaging, successfully opting them in to these communications.

OptOut - The Individual has responded with a keyword used to opt out of SMS messaging, successfully opting them out of these communications.

Received - The Individual has responded but not with any keywords to indicate their SMS communication preferences. These responses may be monitored as opportunities for outreach. (For example, if they asked a specific question about your organization, you can reach out to them to answer that question and start a conversation.)
Using a public shared URL shortener like TinyUrl or Bitly in your messages is strongly discouraged because they are frequently used by spammers and thus likely to be filtered/flagged as spam. If you choose to include a link in any of your messages, you may consider using a full-length URL, a service that provides a unique domain for your URLs, or a branded shortened URL identifiable to your organization's domain.
Now that you've set up your template fully, you're ready to send out a mass text message!