So you've created your Tribute and your Acknowledgee. Now that Gifts are coming in with that Tribute, you'll want to acknowledge them. But how will you do that?
Build the List of Gifts
You have a couple options when it comes to building your list of Gifts associated with a Tribute.
Option 1: Use the Filter Tool in the Gifts Screen.
Go to the Gifts screen. From there, you'll see the Filter Tool and have options for selecting the Tribute information you need.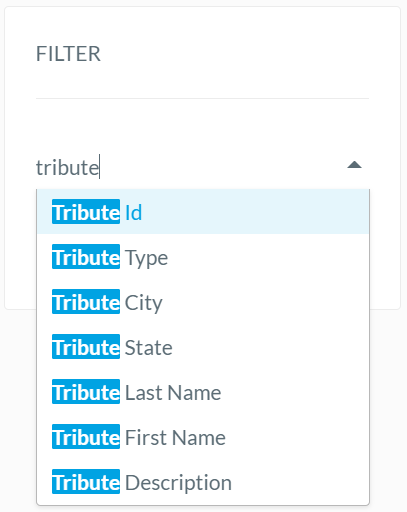 You will also be able to add any parameters pertaining to the Acknowledgee: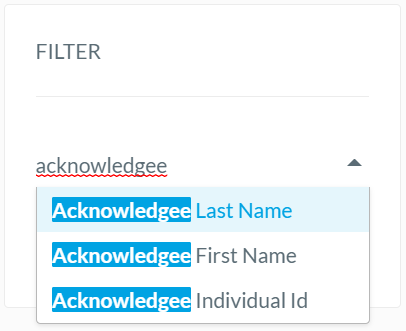 This will build your list of Gifts based on the Tribute and/or Acknowledgee you have chosen.
In the upper right-hand corner, click Actions and then Download to download your CSV file.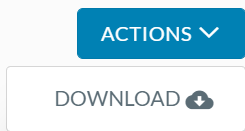 Select the fields you would like to include in your file. Tributes and Acknowledgees have their own categories.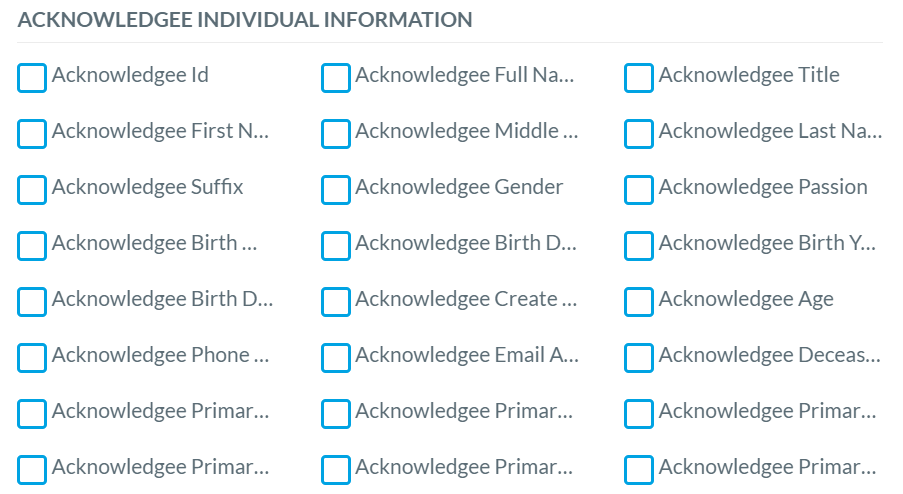 Once you have selected the fields you would like to include in your CSV file, click Download.
Option 2: Run a Query.
To create a query in Virtuous, you'll need to click on the magnifying glass in the side menu to access the Query Tool page. Click "New Query" in the upper right-hand corner to create a new Query.

You can give your query a name, or leave it blank if you're not sure - you'll have an opportunity to save your query and name it later, if you like. Then, select Gift Query as your Query type.
In your Gift Query, you have a few parameters options for your Tribute:

And you also have a few parameter options for your Acknowledgee:

Note: The "Tribute" parameter only pulls information from the simple tribute text box. This should not be used if you are looking for a specific Individual as Tribute.
When you are finished building your Query, save and download your CSV file.
There is one category to select related Tribute and Acknowledgee fields you would like to include:
When downloading your CSV file either from a Filter or a Query, be sure to include information you will need to build your acknowledgement. In other words, what will you include in your mail merge? You may want to include the Tribute name, the Acknowledgee name, and the names of those who have given in honor/memory of that Tribute.
This happens to be what you'll use in the next step!
Use the Data for Your Mail Merge
Note: This letter will not be created in Virtuous. It will be created using an external processor or program - the data you export from Virtuous will be used as merge fields in the program you use.
Open your word processor or program you'll use to create your acknowledgement.
Map these Virtuous fields as merge fields in your program:
Tribute and donor-related fields out into the letter (or card) template you create and
Acknowledgee information on your envelopes.
(If you need a review of who is who just to make sure you have the right information in your templates, check out this article for those definitions.) This way, the Acknowledgee is notified of Gifts made in honor or in memory of their loved one (Tribute).