Embedding your Virtuous Forms into your organization website only requires a few steps and can be posted on any page of the website! Once you've followed the steps below, your visitors will be able to sign up for email lists, to track interests, or to complete giving forms!
Copy Your Code
After you have created your form in Virtuous, you will want to copy the form code. You are also able to select the </> EMBED button on the Forms page to Copy the form code.


Add A Squarespace Block
When your form code is copied, move to your Squarespace Website Editor. Navigate to the page where you want to embed the form, and select the blue + to add a new block to the section where you will include your form.

You will be presented with various options for your new block. Choose Embed.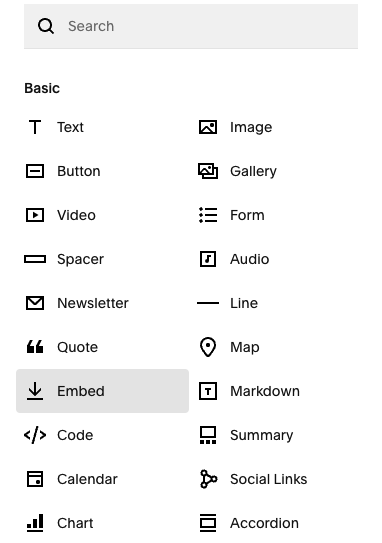 Once selected, you will be asked to either copy a form URL or enter the form code with the </> symbol. Choose the </> icon on the right side.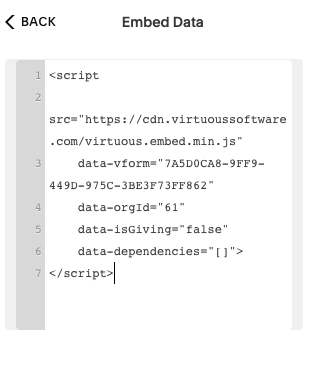 Save and Open the Gates for Submissions
When you have saved your custom code in the embed block in Squarespace, the form will be active on your website! However, it is possible that the form will not immediately display in your editor. Rather, the text below may appear in the embed block.

According to Squarespace, this may be because:
"You're logged in - As a security measure, code in a code block may not appear for you when you're logged in, even if visitors can see it. This happens when you try to view embedded JavaScript over a secure connection (https://). To test this, visit your site in an incognito browser."
Don't fret, though! You are able to log out of the Squarespace editor and visit your site to confirm and review the form that has been added.
Example Lead Form in Squarespace Website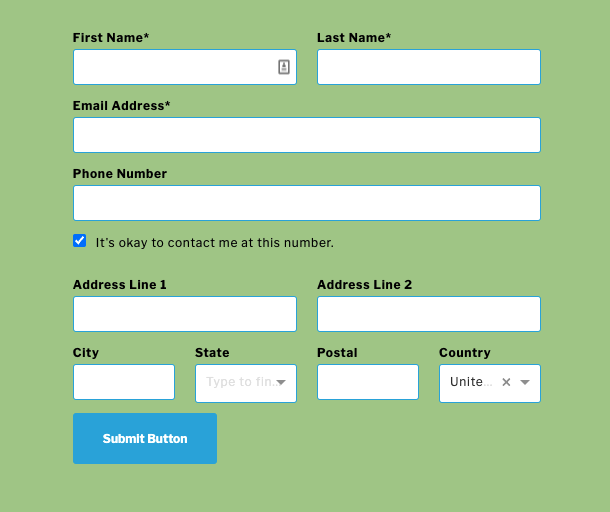 Wohoo! Now visitors are able to use your new form directly from your website!
Troubleshooting for Giving Forms
Embedding Giving Forms through Virtuous may require an extra step. You will need to confirm that the domain you are embedding the form on is added to your organization domains. This means you must whitelist–or allow–the domain for a Giving Form in Virtuous. This can be done by editing the Settings for your organization on upper lefthand side of the Online Giving page in Virtuous. To separate multiple domains, you may do so with a comma.
Once you save the domain, it will be added to the list of trusted sites for your giving forms. You will then be able to render your form in the same manner as above!