If you're using a Wordpress site, you'll want to incorporate Virtuous forms into your site. Here is a breakdown of how to embed a Virtuous form into your Wordpress site.
Get the code:
After you've built your form in Virtuous you'll need to click the 3 dots next to the form information on the forms home page. Then select "</>EMBED."

Now, all you need to do is copy the code via the copy button at the bottom.

Add Custom HTML
From there, you'll head over to your Wordpress site. After you're logged in, you'll navigate to the page where you want the form to appear and enter edit mode. You'll then click the plus sign on the upper left corner. Search "HTML." You should see the option to select "Custom HTML"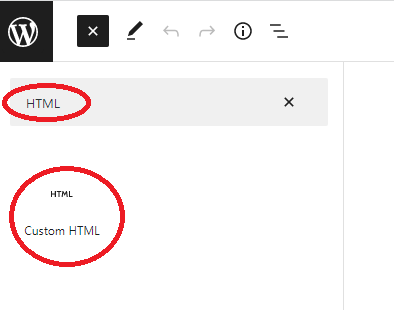 Drag and drop the HTML box onto the page where you would like for the form to appear. Now you're ready to embed. In the HTML Box you'll just paste the code that you copied from Virtuous.

From here, you publish your site and you're ready to roll!
Troubleshooting for Giving Forms
Embedding Giving Forms through Virtuous may require an extra step. You will need to confirm that the domain you are embedding the form on is added to your organization domains. This means you must whitelist–or allow–the domain for a Giving Form in Virtuous. This can be done on the Settings page under Online Giving. Simply provide your domain where the Giving Form will be hosted in the Organization Domains section. Multiple domains can be added by separating each with a comma.
Once you save the domain, it will be added to the list of trusted sites for your giving forms. You will then be able to render your form in the same manner as above!