You've created a Volunteer Opportunity in Virtuous. Now, that opportunity has passed and you'd like to clear up the clutter so only active opportunities show. We've got your back- you can archive the opportunity!
What is Archiving?
When you archive something within Virtuous it essentially is hidden from your active view. Unlike deleting- where once it's gone, there's no recovering it- archiving saves your data in case you need it again later.
An important note on archiving a Volunteer Opportunity- this does not remove the record participation of a contact or individual from their volunteer history. Archiving simply does not allow that opportunity to be chosen again and hides it from the active list of opportunities.
Archiving
The first thing you'll need to do is navigate to the Volunteer Management page. From here, you'll find the opportunity that you want to archive. Click the 3 dots on the right side of the screen and click "Edit."

Once you have clicked edit a box will open up giving you multiple options for editing the project. At the bottom of the box, you'll see the archive button. Click the orange Archive button.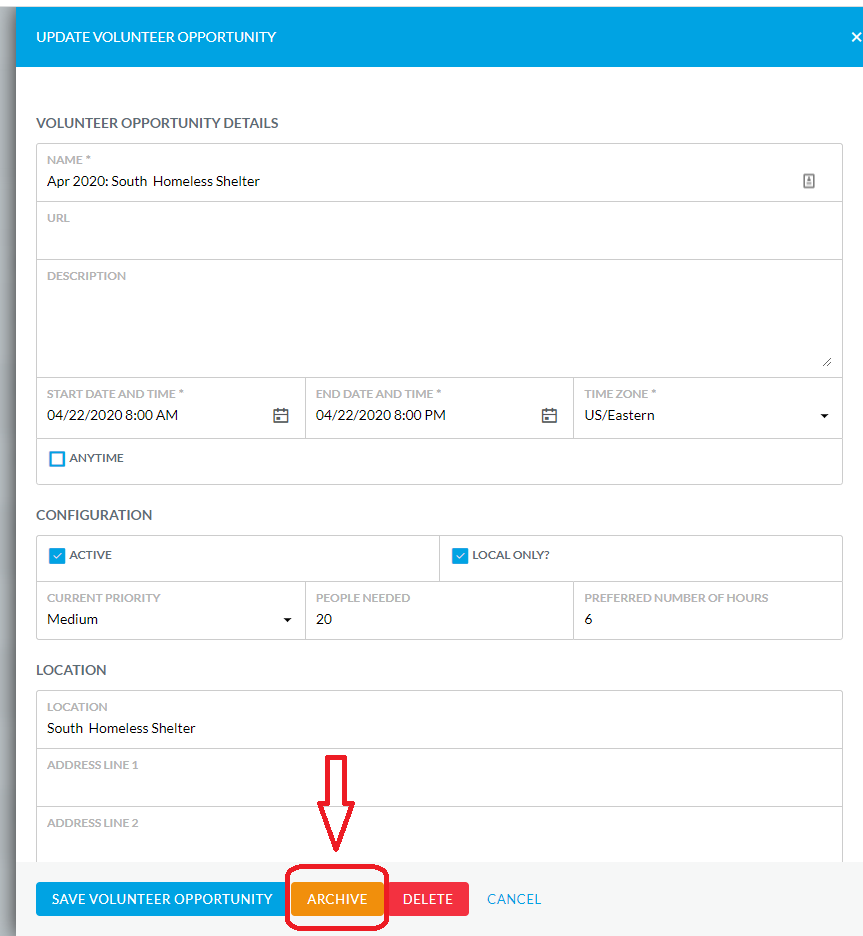 From here, you'll another box will open to ensure that you truly want to archive the opportunity, once you click the orange Archive button at the bottom, your project will be archived.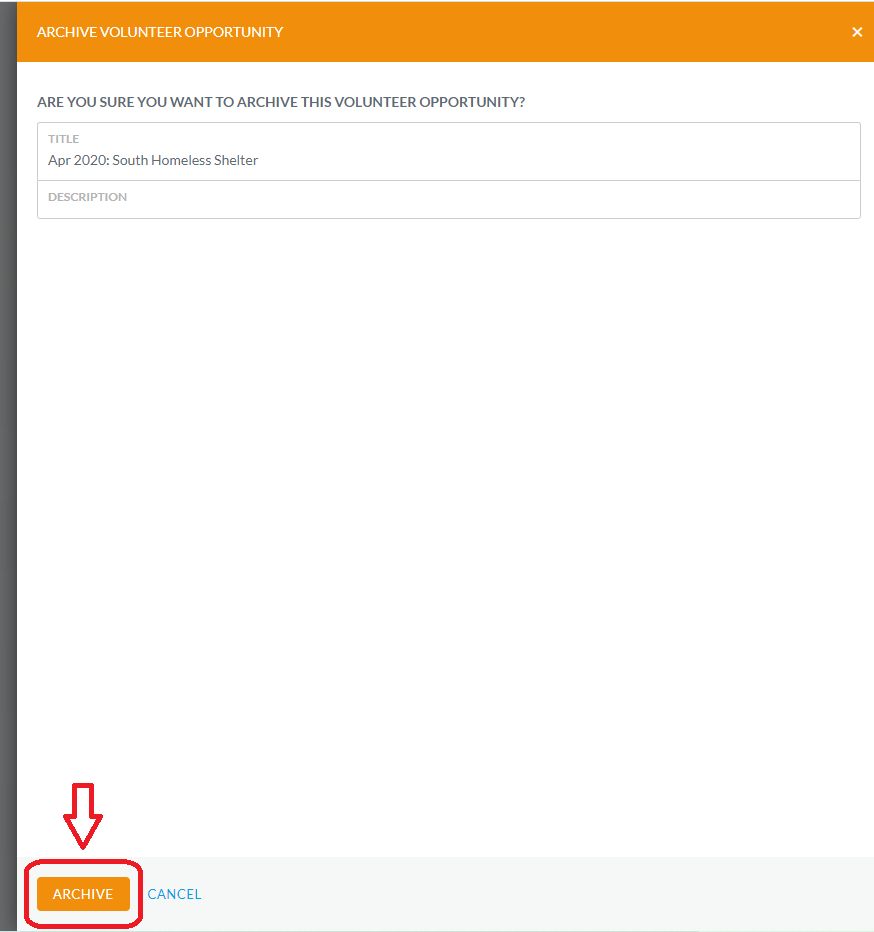 You've now completed archiving the opportunity and it will no longer appear on your Volunteer Management page.
Unarchiving
You have an archived opportunity that you would like to bring back. How do you do it? It's pretty simple. First, you'll navigate to your Volunteer Management page in Virtuous. You'll then need to click the Actions button at the top right of the page, then "View Archived Volunteer Opportunities."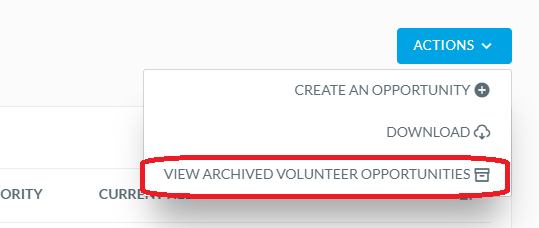 This will bring up a page that has a list of all your archived opportunities. Click on the blue link for the opportunity you would like to unarchive.

Once the new page has opened, you'll see a notification that the opportunity has been archived. You'll need to click the orange "Unarchive" button on the upper right side of the page.

This will open a box asking if you are sure you want to unarchive the opportunity. You will need to click the check box that you want to proceed. Then, you will need to also click "Unarchive Volunteer Opportunity" at the bottom of the box.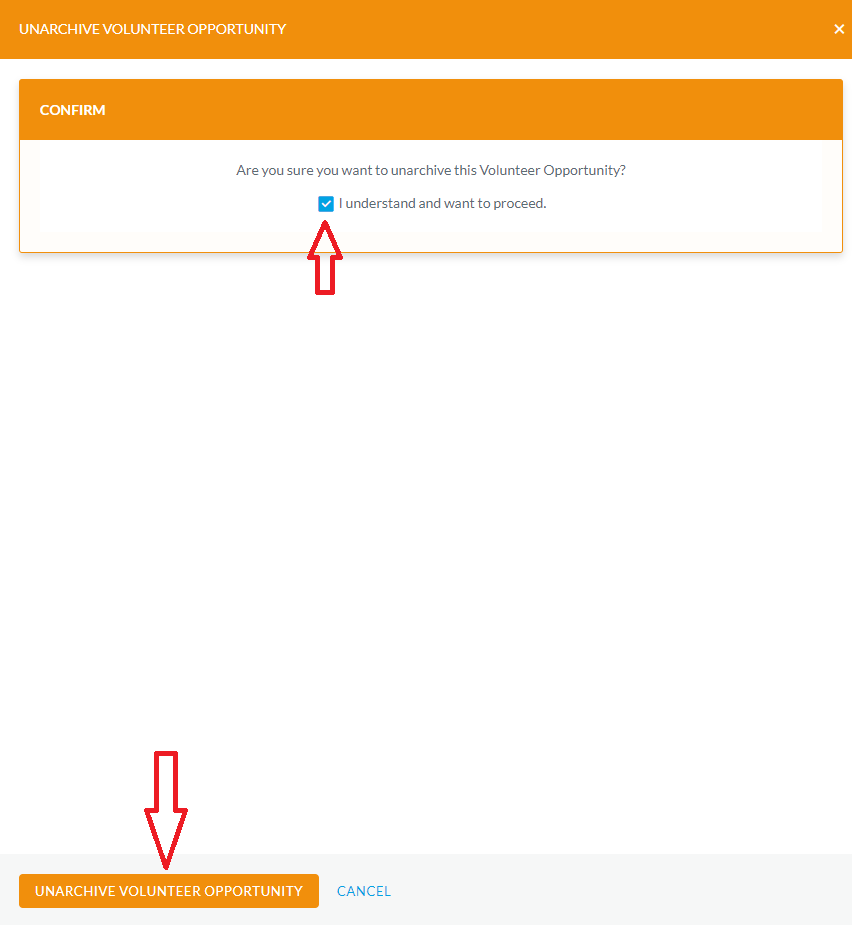 Now you've unarchived your opportunity and it will populate on your Volunteer Management page.