There will probably be times when you find yourself needing to update Contact or Gift records in bulk. So, we've created the Bulk Edit tool to allow you to edit multiple records at once!
One way that you are able to do this is by viewing the results of a
query
.

When viewing the results of a query, the Actions button in the upper right will allow you to perform a variety of bulk actions or updates for all records included in the query results once you have selected all records to edit.
Contact Queries
The bulk actions available will vary based on your query type. For example, in a Contact query, we have the ability to add notes, add or remove tags Tags, create tasks, archive records, add or remove them to or from an Organization Group, and even edit Custom Fields. The first option, add to Email List, will allow you to add Individuals from these Contact to one or more lists, and includes the ability to specify whether you'd like to add the Primary Individual, Primary and Secondary, or all Individuals to your lists.

*Note that the ability to perform these updates does require users to have the Contact Write permission AND Bulk Edit permission; users without these permissions will need to speak with their admin.
Individual Queries
Individual Queries will have similar actions available to Contact Queries, but you will also be able to Opt-In or Out the primary phone numbers.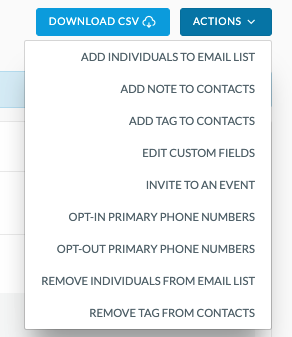 Gift Queries
From the results of a Gift query, you will be given the options to Edit Gifts and Receipt Gifts. The Receipt Gifts action is one of the primary way users will generate annual giving statements.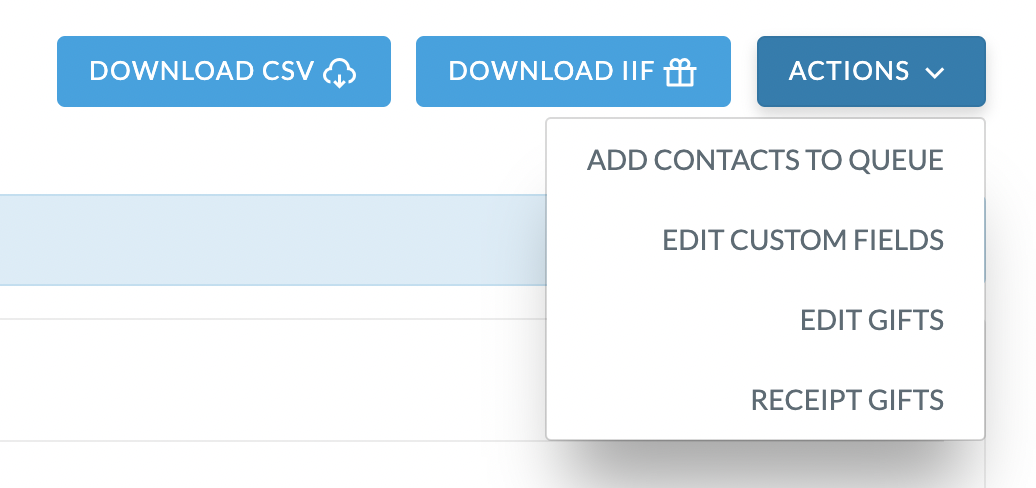 *Note that receipting Gifts can be done by users WITHOUT Write permission on Gifts, so long as they have the Bulk Edit permission for Gifts. Again, users without the correct permission should speak with their admin.
If you are editing gifts, you'll be able to choose from a variety of fields including Gifts, Tributes, Notes, designating Projects, or including Premiums.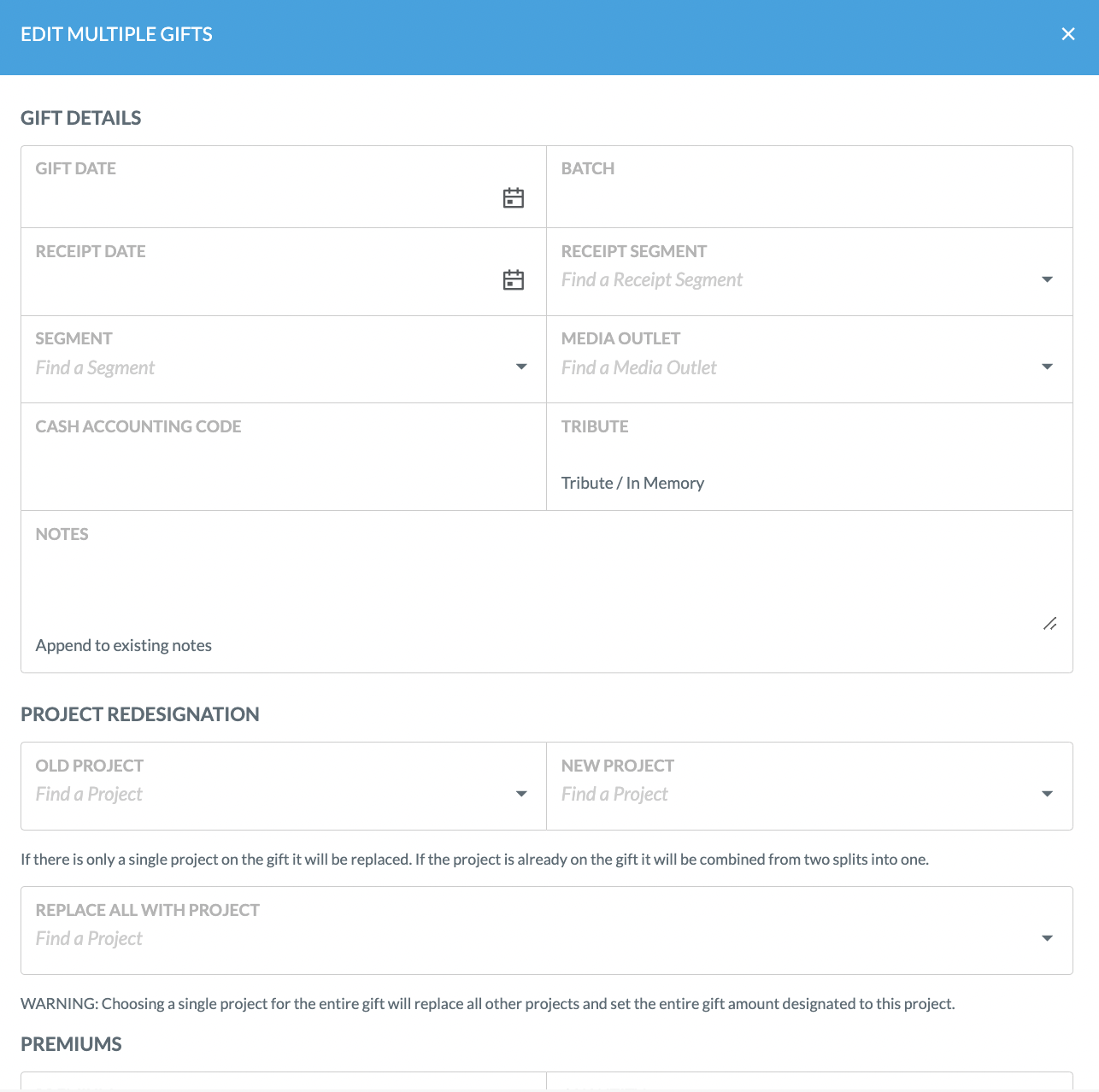 Project Queries
From the results of a Project Query, you'll be able to Edit Custom Fields or Edit Projects.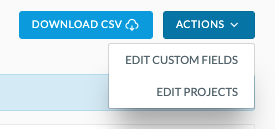 If you are editing projects, you will be able to choose from a variety of fields including changing Duration or Financial Need, setting a Parent Project, Close all included Projects, Activating or Deactivating all included Projects, or Adding/Removing an Owner of the included Projects.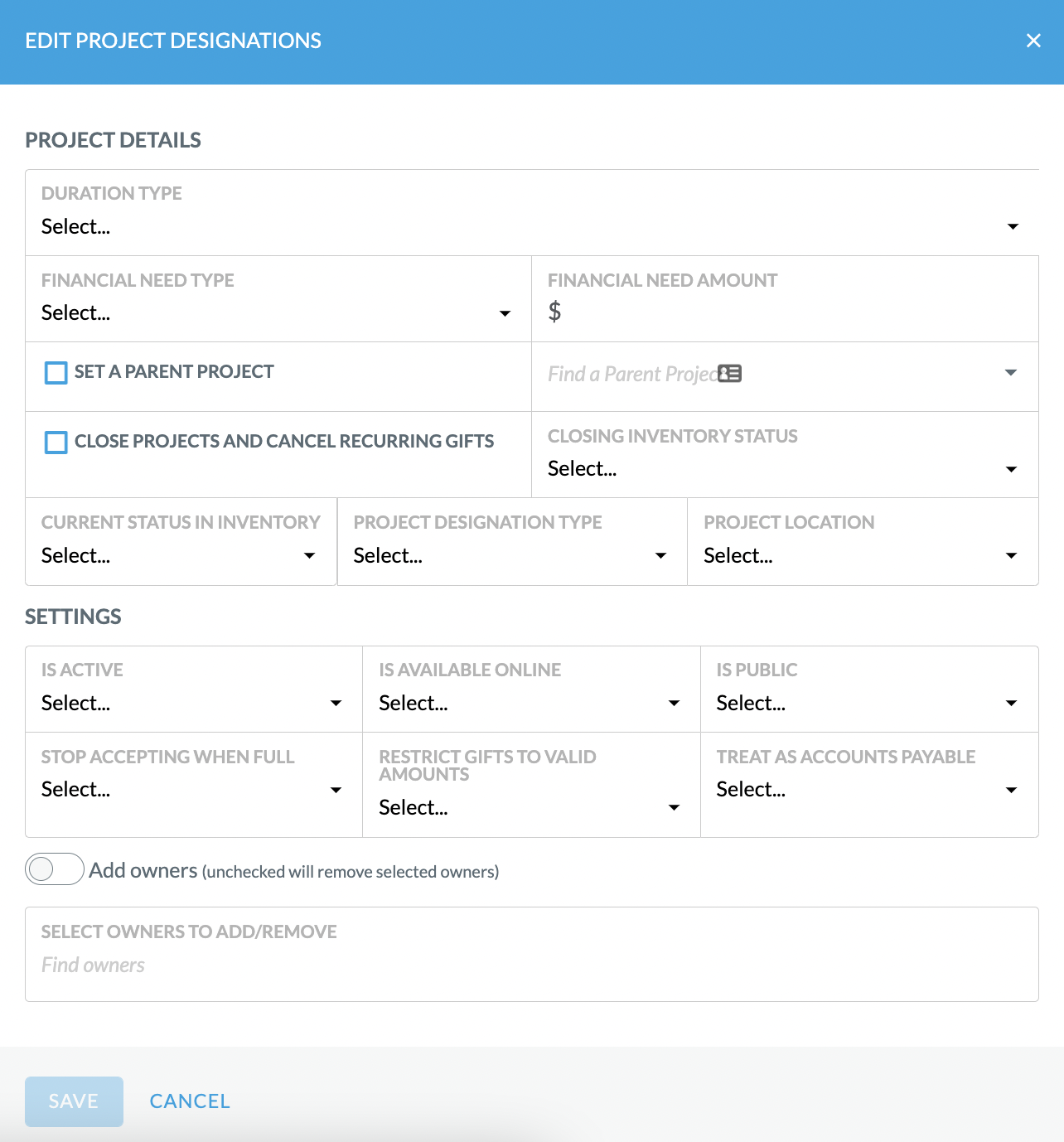 Pro Tips
Whenever performing a bulk edit or action, it is always recommended that you name and save your query. When you process a bulk update, you'll see an onscreen warning to let you know that you should not change your query criteria until the bulk edit or update is complete. Once it is complete, you'll receive an email to let you know, with a recap of the bulk action.
Now that you've gotten the hang of making bulk edits, you'll be well on your way to being a Virtuous ninja!