We've designed the manual entry for gifts to make it easy for you to quickly enter gifts by only showing you the fields that are most commonly used by default. If you want to see more, all you need to do is select "Show all Gift Information." You've mastered manually entering gifts but you're used to using shortcuts and want to know how you can make this quick process even faster. It's time to review the quick key commands for gift entry.
What are my options?
The quick key commands are listed out for you in the actions menu in a gift import (Simply select Actions-->Quick Keys)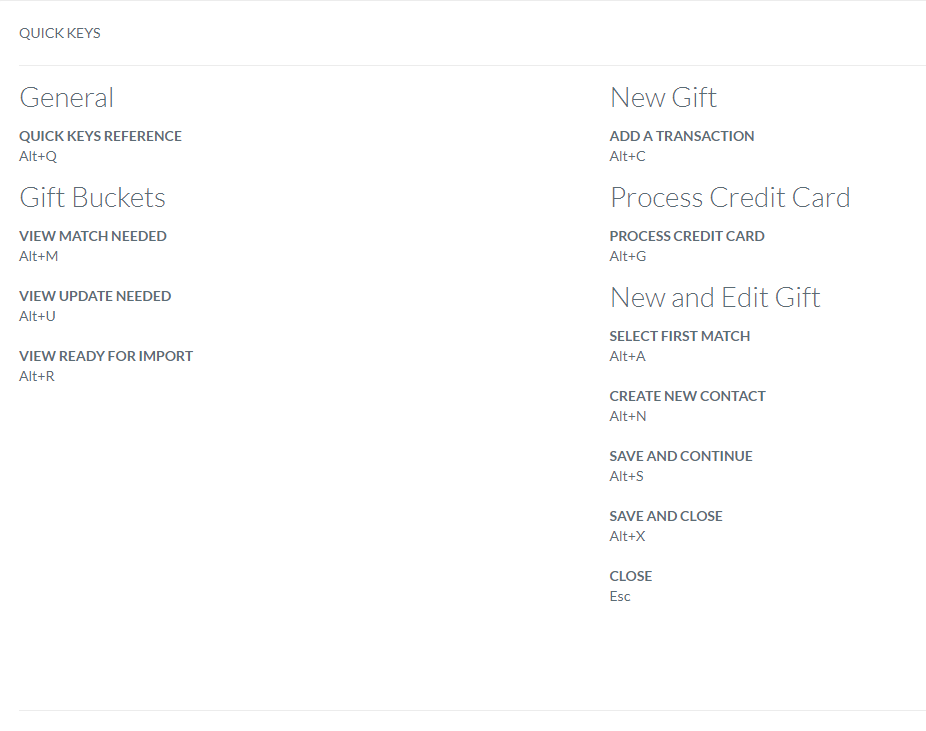 As you can see you have quite a few options to enhance the gift entry process. All you need to do to use these is be in the appropriate screen and type away.
You can be on any screen in the import to use the quick keys for:
Quick Keys Reference
Match Needed
Update Needed
Ready for Import
Process Credit Card
Add a transaction
You need to be on the gift entry screen to use the quick keys for:
Select first match
New Contact
Save and continue
Save and close
Close
You also have some basic navigation keyboard commands like:
Quick Entry for contacts- this allows you to start typing in a name and Virtuous will look through your data base for a match, saving you from having to type in the entire name.
In fields such as segments and projects, once you begin typing in the name of what you're looking for, you can use your arrow keys to scroll through your options and press enter to select.
You can use tab to navigate from one entry box to the next.
After entering a project designation OR amount, you can hit enter to apply it to the gift (if you press enter after the project designation, Virtuous will automatically apply the entire gift amount to that project).
Now that you know the quick keys, it's time to start entering those gifts!