Occasionally, donors may choose to give via a third party, like a family foundation or a donor-advised fund. In these cases, the name listed on the received check should still be treated as the donor name--they will receive the receipt. But the Contact who directed, or advised, or initiated the gift would be the Passthrough Giver. In other systems, this may be referred to as a "Soft Credit."
For example, let's say that you have a major donor who has a donor-advised fund established with Schwab Charitable. When that donor gives, you will likely get a check from Schwab Charitable. That is the Contact that you will search for and select when entering the gift. Your major donor will then be added to your gift as the Passthrough Giver.
This is especially important for receipting. A donor who gives via their donor-advised fund or their family foundation cannot be receipted for their gift because the fund or foundation is the receiptable entity. But, even though they can't be receipted, it's still important to acknowledge your Passthrough Givers! You will want to thank them still. By adding a donor as a Passthrough Giver, you'll be able to see these gifts on their Contact record, and even include Passthrough Giving when reviewing giving statistics, like life-to-date or year-to-date totals. You're able to query on passthrough gifts, so that you can send your acknowledgements.
Note: This does not apply to donors who have made a qualified charitable contribution (IRA gift). See this article for more information on how to acknowledge IRA gifts.
Entering a Passthrough on a Gift
To add a Passthrough Giver, when entering a gift manually in the Gift & Contact Import Tool, you'll need to click on the "Show all Gift Information" option, near the bottom of the screen. The fields in this section are less commonly used in gift processing, so they are hidden by default to make it easier and faster to tab through gift fields when doing manual data entry.

Click on the Passthrough Giver field, and you'll be able to type in a name or Contact ID to search for an existing Contact and set them as the Passthrough Giver. Note that the Contact must already exist in Virtuous.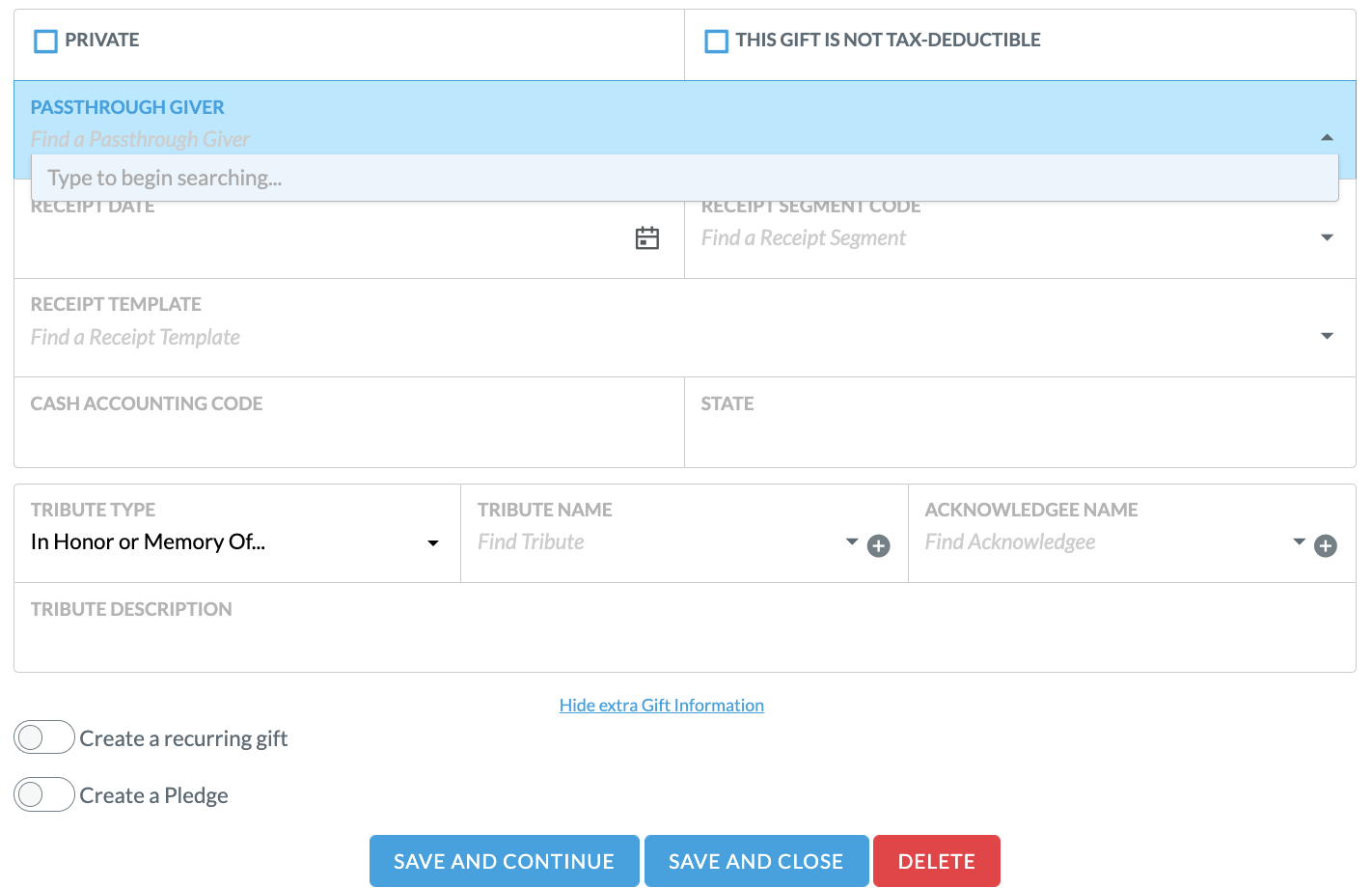 Each Gift can have only one Passthrough Giver. In cases where you receive a single check combining gifts from multiple donors, as may the case for employee giving programs, you will need to enter multiple gifts in order to soft credit each Passthrough Giver with the correct amount.
When importing gift data via a CSV import, you must specify the Contact ID of the Passthrough Giver in the appropriate column on the Gift Import Template. Do not enter a name, as this will cause your import to fail.
Once Passthrough Gifts have been added for a Contact, you can view them from the Giving tab of that Contact's record. Users may also opt to see Passthrough Giving data in the Contact widgets, either by including Passthrough Giving in the Giving Overview widget or by adding the Passthrough Giving Overview widget.