After you've outlined the details of your new Event, created your Ticket and Add-Ons, and any Sponsorships, you'll have some design options for your Ticketed Event.
You'll start on the Design tab of your Event Builder.

Then, you'll have a few fields of information to choose from. To begin, you can upload an image for your Registration Page. Maybe your Org logo or maybe a photograph from a past event or relevant Project. You'll, then, have the ability to choose various colors for your Events page using a hex number or the color grabber tool

. As you start choosing your colors and font, a small Page Preview will display the changes on the right side of your screen.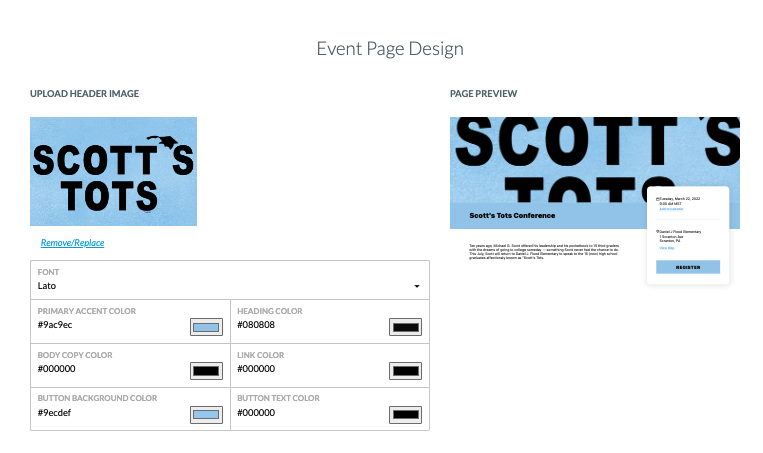 To get the full picture of your Event Registration Page, you'll want to Save your Event Page Design and Preview your Event Page Design from the Actions menu in the top right.

This will open a new tab with your Event Registration Page. You'll even be able to walk through the registration process that your attendees will complete including adding Tickets and Add-Ons.

When you've determined the Design settings for your new Event Registration Page, you'll have just a few more fields to confirm regarding your Payment Settings and registration Confirmation Settings, but then you are finished with your Event! It will be ready to be released into the wild!