You've been exploring the different dashboard options and now you want to make a specific dashboard your default so you see it first when you log in. No problem!
Setting the Default Dashboard from the Dashboard
First, you'll want to navigate to the dashboard you want as your default by selecting the dashboard from the dropdown list.

Next, you'll need to select the star next to the dashboard name to make it your default.

Setting the Default Dashboard from the Dashboard Settings
Once you log into Virtuous, in the upper right corner you'll see a blue Actions button. Select that button then select Manage Dashboards.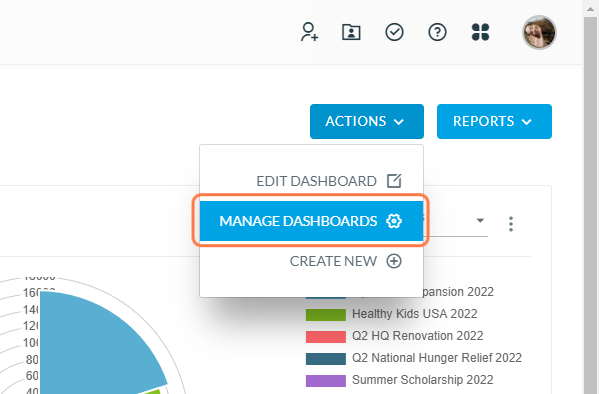 Now you're on the dashboard settings screen. From here, you can select Set as "My Default" to make any of your custom dashboards your default dashboard.

Now you have selected your default dashboard and are ready to continue using Virtuous!
Need more information? Check out these articles:
What are the different dashboard options?