And Now...The Main Event!
It feels like we've been talking about this feature for a while, and it's finally here! Wahoo!
This release includes our brand-new functionality for creating Ticketed Events!
Yes, that's right...ticketed events!
With Ticketed Events, you can create a registration page in Virtuous and offer multiple ticket options, sponsorships, and even add-ons like parking, to make registration as easy as possible.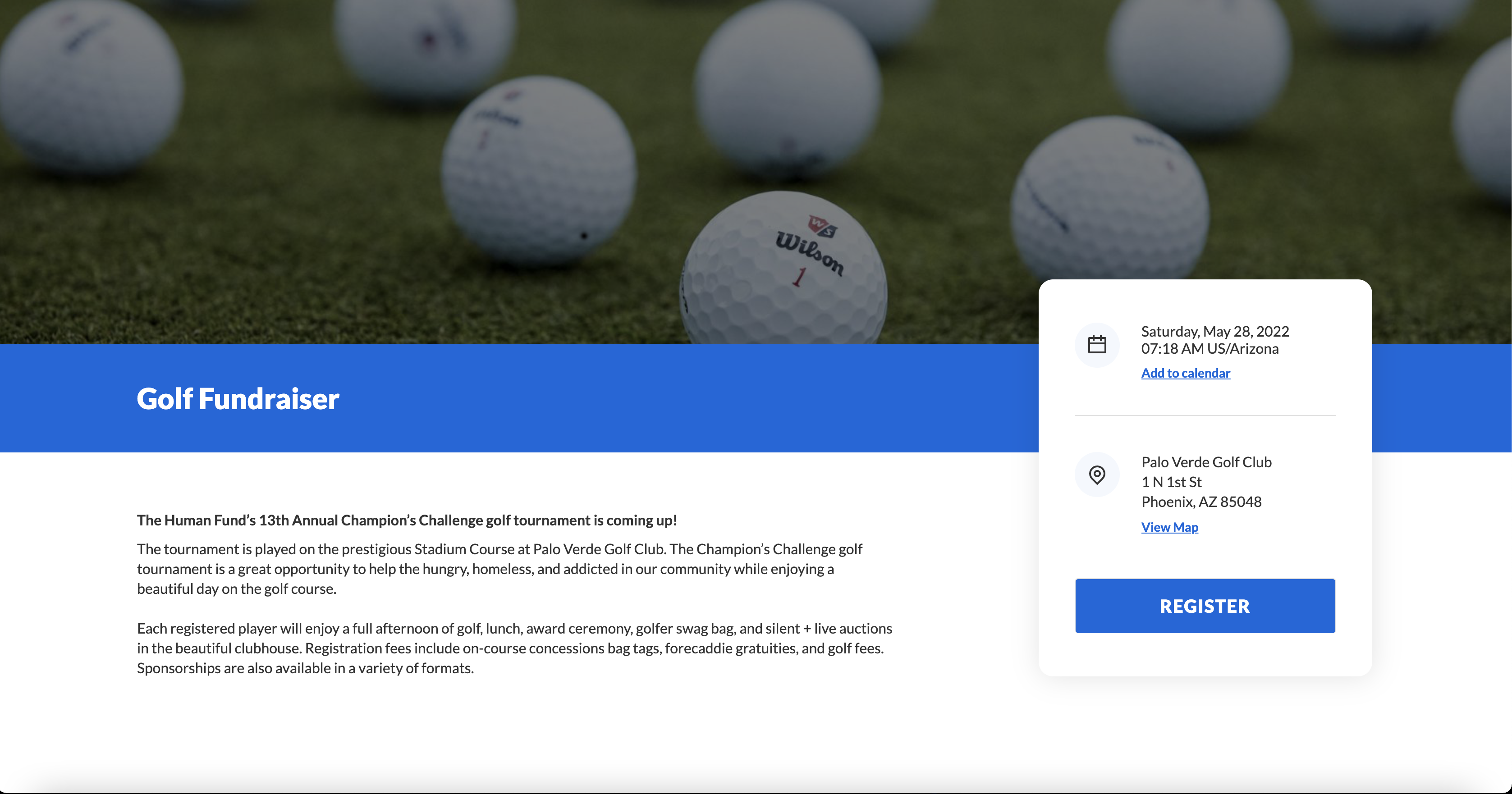 With this release, users will have the option to continue creating Events just as before (now renamed "Standard Events") or create a Ticketed Event, all from the Actions drop-down on the Events page.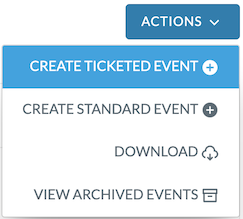 This will launch the new event wizard, with each step in the process displayed at the bottom of the screen. After giving your event a name and filling out basic information, click next and you'll see the option to begin creating tickets.

Wait...TICKETS? As in, PLURAL?
Oh yes! You can create multiple ticket types for a single event!
In fact, one ticket can include one or more attendees. So you can offer options to purchase single tickets or entire tables for your gala dinner, or single tickets or foursomes for a golf tournament. (And many other variations on this theme, we're not here to limit your imagination!)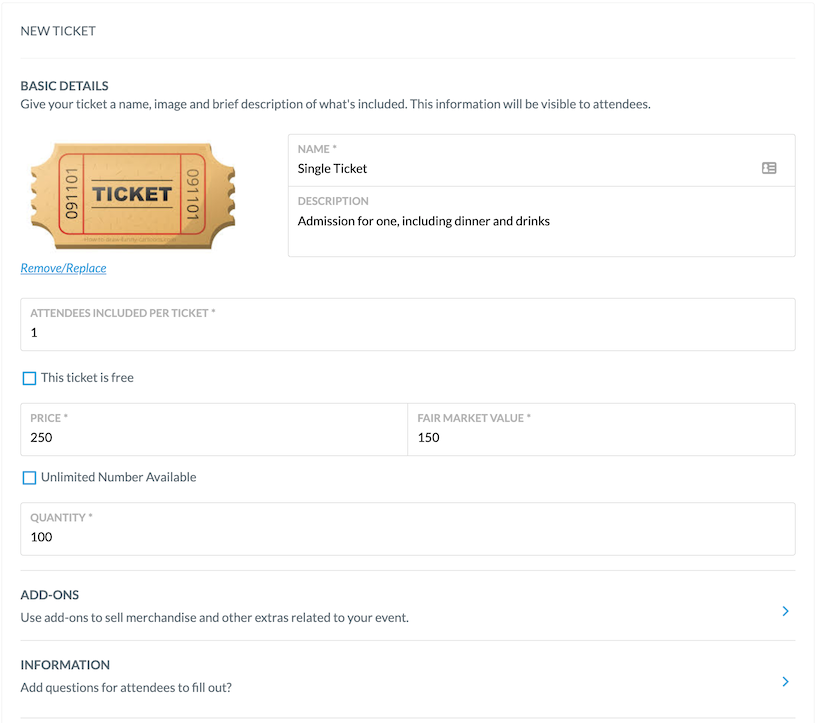 You can include an image for each ticket, which will be displayed on the registration page for your event, and set the price and fair market value for each ticket, and limit the available quantity of tickets.
You can also configure add-ons for any ticket. Add-ons can be free or have an additional cost, and might apply to a ticket or per attendee.
Noticing a theme here? These new events offer a lot of flexibility!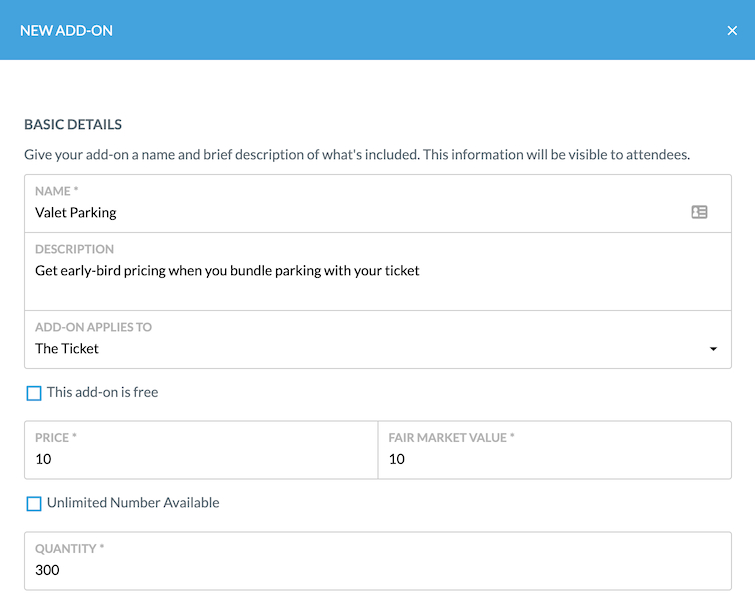 For each ticket, you can choose what information each attendee must provide. By default, attendees will be asked to provide their first and last name, email address, and phone number. You may choose to add additional custom questions for registrants as well. (There's that flexibility thing again, whoa!)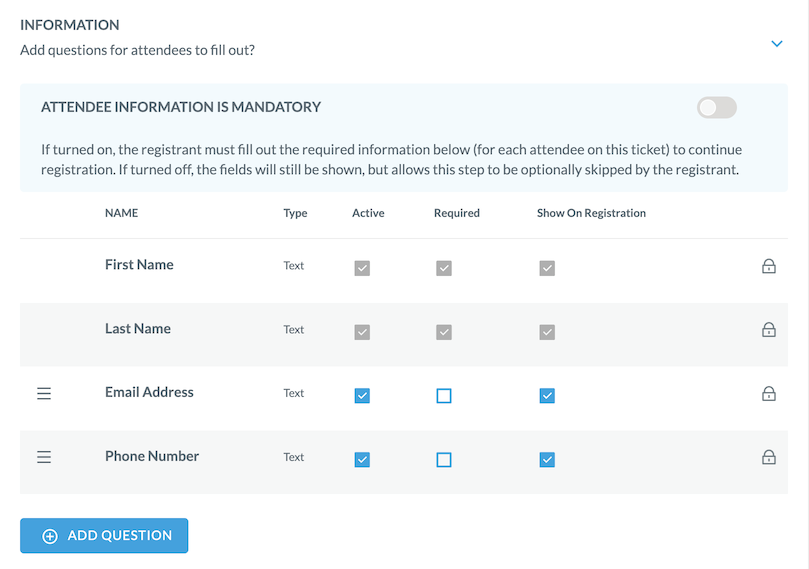 Once you've created all of your tickets, you'll have the option to create sponsorships (yes, multiple sponsorships too!)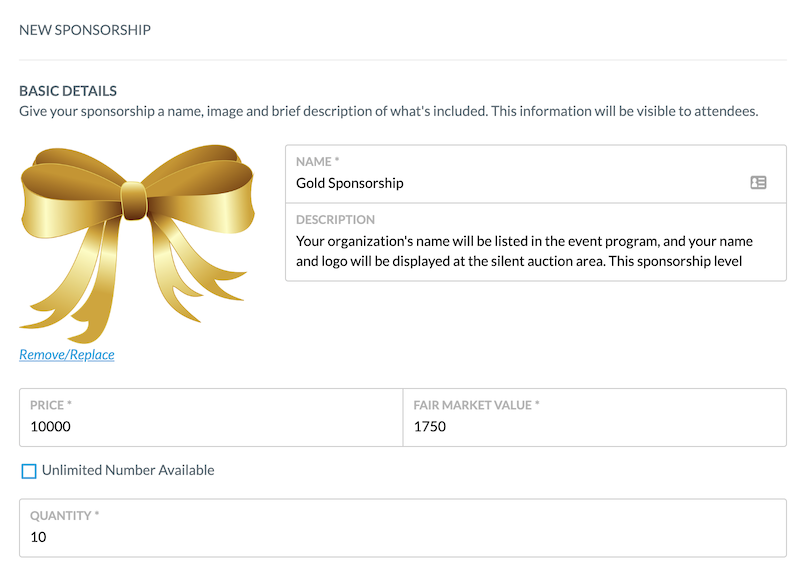 Each sponsorship may or may not include tickets, which can be included in the cost of the sponsorship or offered at an additional cost.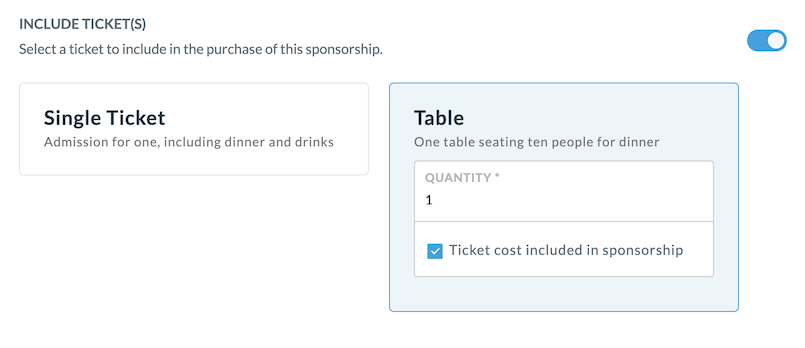 With your event details, tickets, add-ons, custom registration questions, and sponsorships all ready to go (we know, it's a LOT), you can move on to customizing your event page by adding a header image and selecting your colors. You'll the color scheme that is set up in your Design Settings as the default, and then you can customize them for each specific event.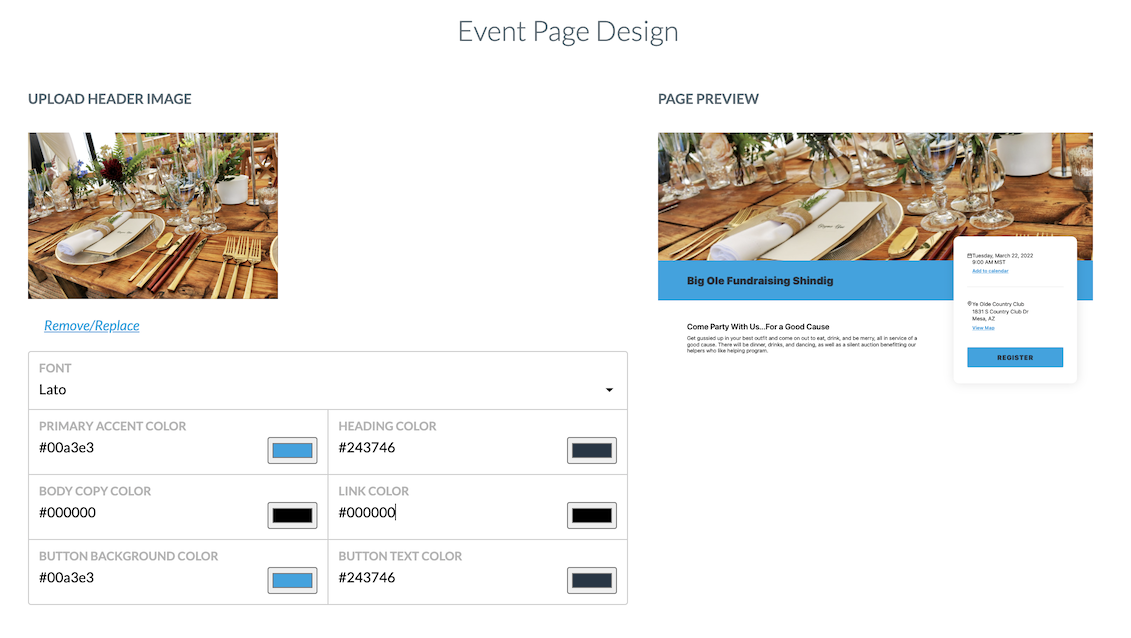 Then, configure your payment and confirmation settings—even allow registrants to make an additional donation along with their ticket purchase—and you'll be ready to go!
Once someone registers, they will be added to the event as an attendee. If someone purchases a ticket that includes multiple attendees, they will have the option to provide additional attendees' information at a later date.
We know, this all seems like a LOT, but guess what?
THERE'S EVEN MORE!
(We've been busy.)
Once you've created a Ticketed Event, you'll have a dashboard view on the overview tab of the event where you can track ticket sales, total attendees, total additional amount donated, and more, all at a glance.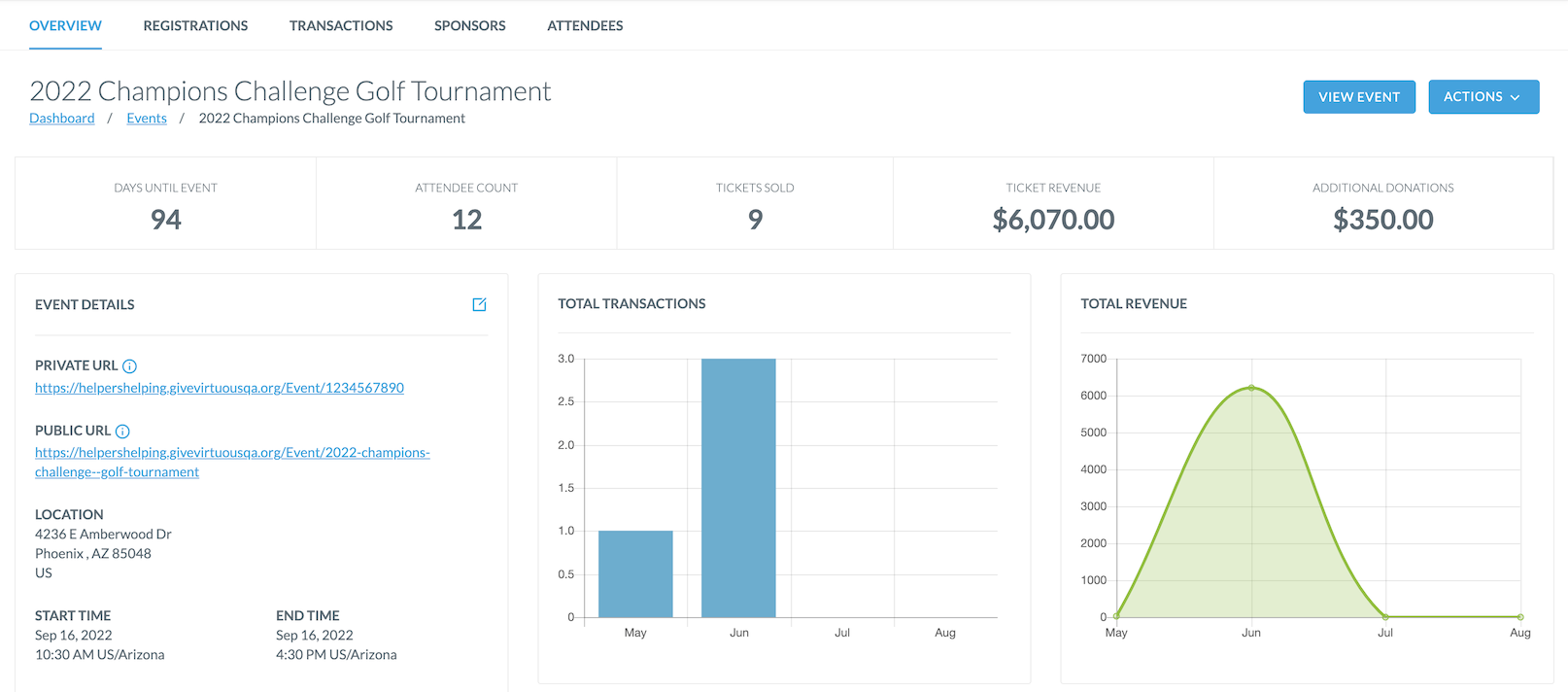 And we haven't even mentioned the ability to create special registration codes to offer free registrations, create and email tickets with QR codes, check in attendees on the day of your event, and even a mobile view to make scanning QR codes and checking in attendees as easy as possible.
In order to create a ticketed event, you must be subscribed to our Events Pro product. Just contact your Account Manager to learn more! In the meantime, you can learn more about creating Ticketed Events by starting here.
So Many Dashboards, So Little Time
Now, you might ask yourself, "Wait, doesn't Virtuous already have multiple dashboards?"
(Also, you may ask yourself, "How did I get here?")
Well...yes. We've had a "CRM Dashboard" and a "Marketing Dashboard," which lived in separate spaces, and frankly, they didn't get along very well. (We wouldn't call them "estranged," but they never sit next to each other a Thanksgiving dinner.)
With this release, we are excited to bring these dashboards together, with a toggle option that lets you switch between dashboards and even set one as your default. Click on it, though, and you'll see some exciting new options: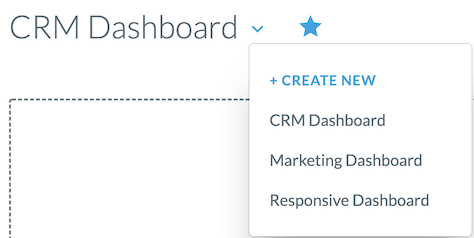 Yes, you can now create new custom dashboards!
Click and you'll be able to name your dashboard, and even choose whether you'd like to share it with other users or make a private dashboard, just for you. You'll see a slick new interface where you can select widgets to add to your new creation, with more information about each widget to help you select the right ones.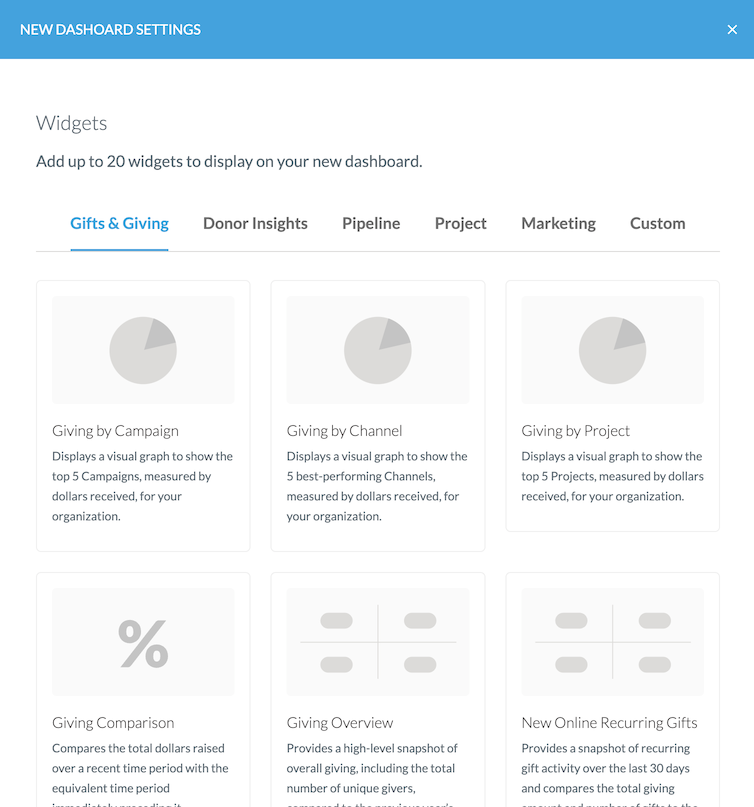 You can even set the order of your widgets, and then save it and even make it your new default dashboard, which means you'll see it whenever you log in or click on the Dashboard in the main navigation menu.
Manage your dashboards, including editing, deleting, or making a new default selection, from the Settings page using the new Dashboard Settings option, or by clicking on the new Actions button you'll see when viewing any dashboard.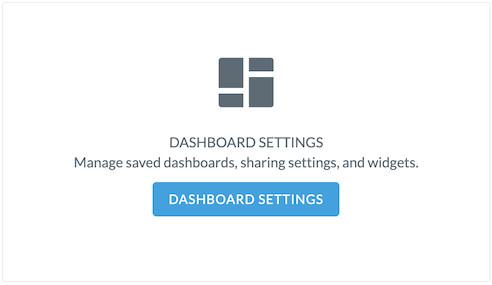 Now you really can see data your way, and your whole team can, too!
Let's Get Responsive!
Some of you MAY have noticed in addition to listing the CRM Dashboard and Marketing Dashboard, the screenshot in the previous section also shows a Responsive Dashboard. (If you didn't notice, that's OK—you can just pretend you did and we'll be none the wiser.)
Yes, that's right, we've added a whole new dashboard, with a slew of new widgets (twelve, to be exact)!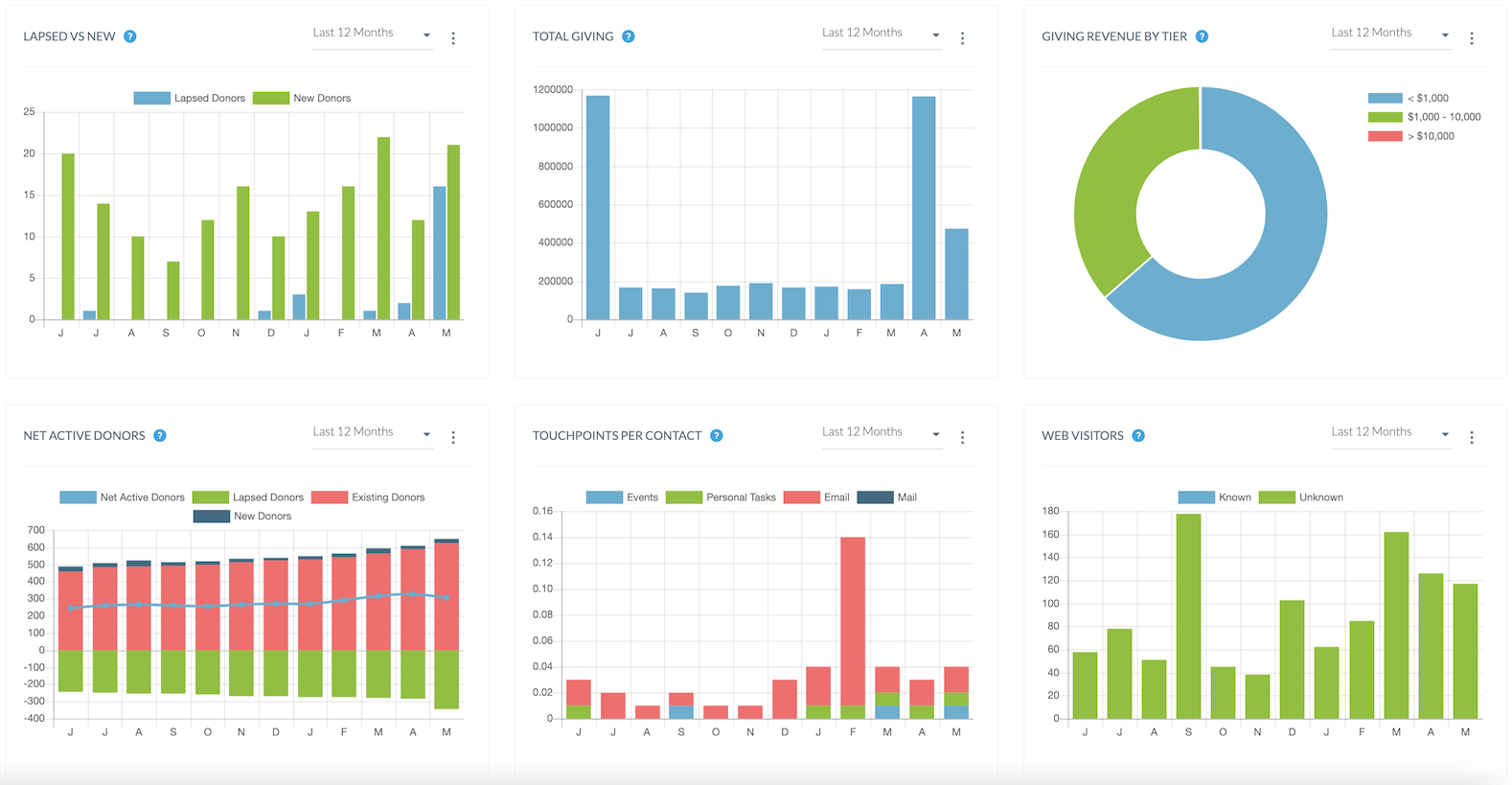 You can learn all about the Responsive Dashboard by directing your attention to this handy support article.
...And The Rest
As with every release, this latest update also includes a number of other fixes, tweaks, minor modifications, and assorted nudges. Among this month's assorted fixes:
If you love the Contact Queue, this one's for you! (To be fair, you can also use these features even if you DON'T love the Contact Queue, but we do love a good rhyme.) We've added quick actions in the Contact Queue, just like on the main Contacts page, allowing you to quickly add a task or note, or edit a Contact. You can also "Dequeue" a Contact (does that make anyone else want ice cream? Or maybe a healthy Blizzard?) instead of having to do a bulk action. As a bonus, we've also added the ability to add a Contact to the queue from the quick actions on the Contacts page.
Who says data can't be stylish? We've added styling options for Contact Notes, Project Impact Notes, and Grant Notes, including italic and bold text as well as bulleted or numbered lists. Why just log notes when you can log fancy notes?

By very popular request, we've added the ability to re-assign a subproject from one parent project to another. You can even convert a project to a subproject, as long as it doesn't already have subprojects of its own. Let the project shenanigans ensue!

To continue the theme of our recent enhancements for handling multiple currencies, we've added the ability to set the currency type on manually entered Gift Asks, Pledges, Recurring Gifts, and Planned Gifts. Because why should just plain old Gifts have all the fun? We've also updated the way currency symbols will display when creating and editing Gifts, just si we didn;t leave out Gifts entirely.

We recently announced our new WorkOS integration, which supports custom Single Sign-on (SSO) options. In this release, we've beefed up that integration with Directory Sync. If you don't know what any of this means, that's totally OK, but trust us, it's VERY exciting to some people!

Have you ever wished upon a star that you could export the Online Display Name for Projects when running a Project Query? Well, your wish has come true! And no need to talk to anthropomorphic crickets or anything! Win-win!

Since we added several quick actions for Contacts, it seemed only fair to add some new ones for Campaigns and Projects too. So, now you can archive a Campaign or Project, without having to edit them first. We love efficiency around here, and we know you do, too.

We've made a slight change to the edit view on most objects. Now, instead of seeing a heading for "Custom Fields," you'll see a sections for "Contact Fields" when creating or editing a Contact, or "Project Fields" when creating or editing a Project, or...well, you get the idea.

We've added totals for all tables on the Project Statement tab. That's it, no jokes here, just a simple job well done.

If you like having TOTAL CONTROL, then this feature is for you. When viewing any pending transactions that are waiting to be bundled, you can now select specific transactions to be bundled for import, instead of just bundling everything. This does mean that the Bundle button will not be visible until you have selected at least one transaction. We promise, no need to put a picture of it on a milk carton.

When archiving a Contact, you'll now be asked to provide a reason. Archive reasons will be visible when viewing the list of archived Contacts for your organization. No more wondering, "What was someone thinking when they archived this one?"

In a previous release, we made it easier to create a new Contact and Individual and add them to an event as an Attendee. Since that seemed so doggone handy, we've gone and done the same for Volunteer Opportunities now too.

When clicking the Gift Ask link on a Gift Ask Task, you will now be able to view the Gift Ask in question. We won't Rickroll you, we promise. Well...not on Tasks, anyway.
And that's the list! Phew! As always, if you have any questions about these or other features, feel free to contact our team using the support widget in Virtuous.