Whether your organization is onboarding with Virtuous as a new customer, or you are a new team member at an organization who already uses Virtuous, the Virtuous Academy is the place to be!
The Virtuous Academy is a free resource to anyone who wants to learn about how to use our software or who works in the nonprofit space and wants to know more about Responsive Fundraising.
We offer seven product-based courses with four different certification options to help you learn how to maximize the tools and features of Virtuous. In these courses, we will walk you through using all of the features and tools of Virtuous step-by-step with video tutorials.
We also have a course and certification track that covers Responsive Fundraising (a relationship-based fundraising approach developed by the CEO of Virtuous, Gabe Cooper.)
Are You Onboarding?
If your organization is in the onboarding process with Virtuous, it is important that you complete the fundamental product-based courses in the Academy prior to your training assessment call. Having a basic understanding of Virtuous terminology, the project/campaign structure, and how gifts are entered is the foundation you need in order to learn more advanced skills in live training sessions.
The Certification Conundrum
When it comes to product-based certification, many learners have the urge to get every certification. That's not necessary! The Virtuous Administrator Certification covers everything you need to know about using Virtuous (all seven courses.)
The other certifications (Finance, Marketing, and Fundraising) are all based on smaller subsets of the same material and only cover some of the courses out of the main seven. Getting more than one certification would be like ordering a bowl at Chipotle, and then also ordering some rice. The rice is already included in the bowl!
In other words, if you know you want to go big, then get the Virtuous Administrator Certification. It includes everything. You don't need to double back and get multiple certificates!
You've Got Questions, We've Got Answers
We have some great materials to help new users to the Academy, including a FAQ page and a handy infographic that covers the fundamentals of your Virtuous learning experience. You can even download it as a PDF or print it out (if that's your style!)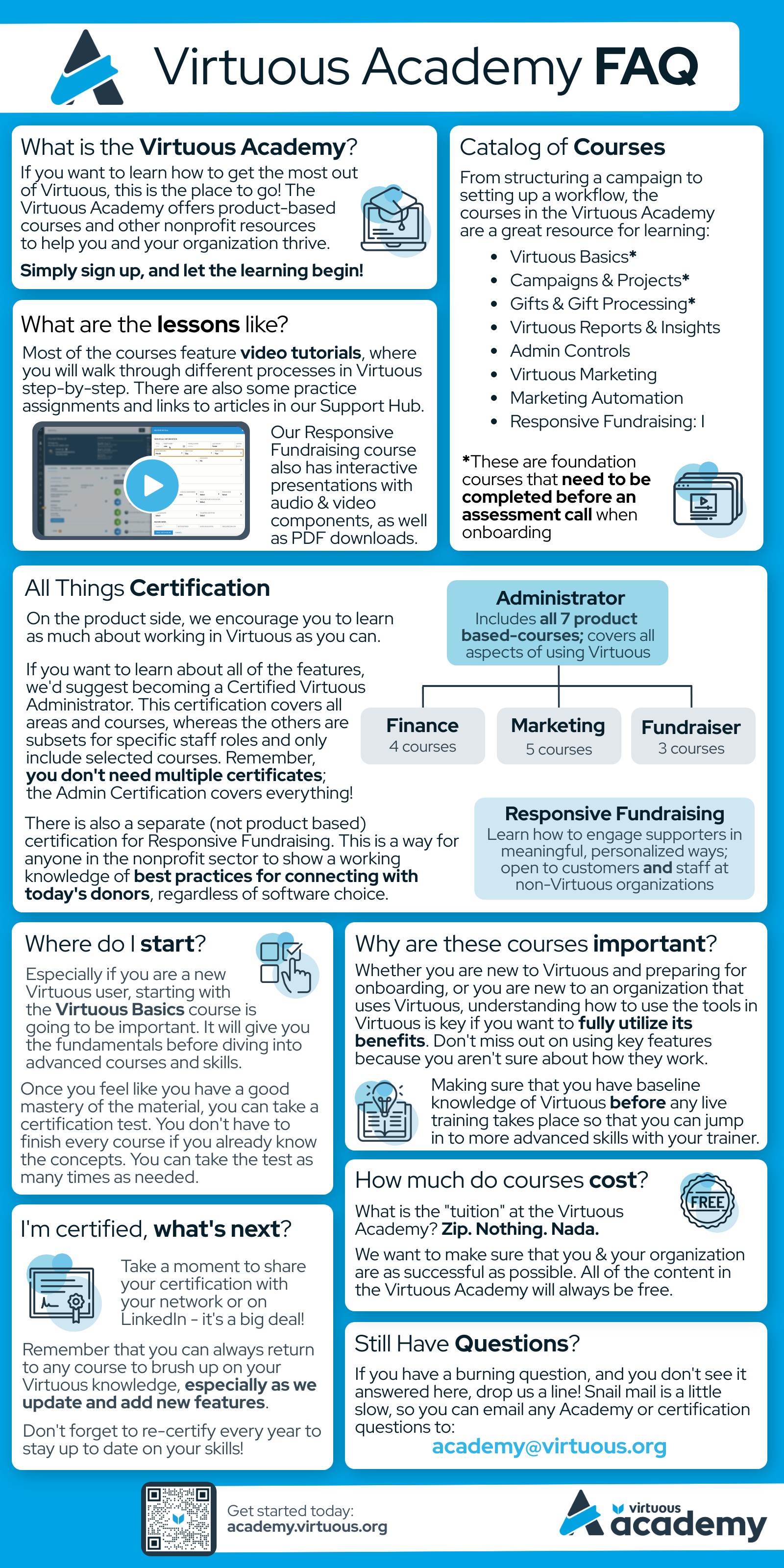 If you still have questions about the Academy, you can always reach out to us at academy@virtuous.org for assistance. We are glad to have you as a learner in the Virtuous Academy and can't wait for you to get started!