After you've created a campaign, campaign communication, and segments, you're ready to start setting rules for who your audience is in each segment!
Build the Queries or Determine Your Filters
Segmentation can be powered by Contact Queries or Contact Filters. If you're unsure of which tool to use, you can refer to our Which Tool is Best? Filter vs. Report vs. Query article to help you decide.
While you can build your filter or query from the segment, it is helpful to plan out and build in advance. When you created various segments, you may have asked yourself: Which audience(s) do I want to include in this communication? Now, as you build segmentation, ask yourself: How do I define these audiences?
For example: Let's say we want to send our end of year mailer but have slightly different messaging for two audiences: nondonors and donors.
We have one segment for nondonors and one segment for donors. But now we need to determine how to find our nondonors and our donors through the query tool.
For nondonors, you could use the Nondonors Best Practice query. Then, for your query for donors, you could use the following parameter:

Select Your Queries/Filters for Each Segment
On the communication screen under the Communication tab, you'll see your list of segments: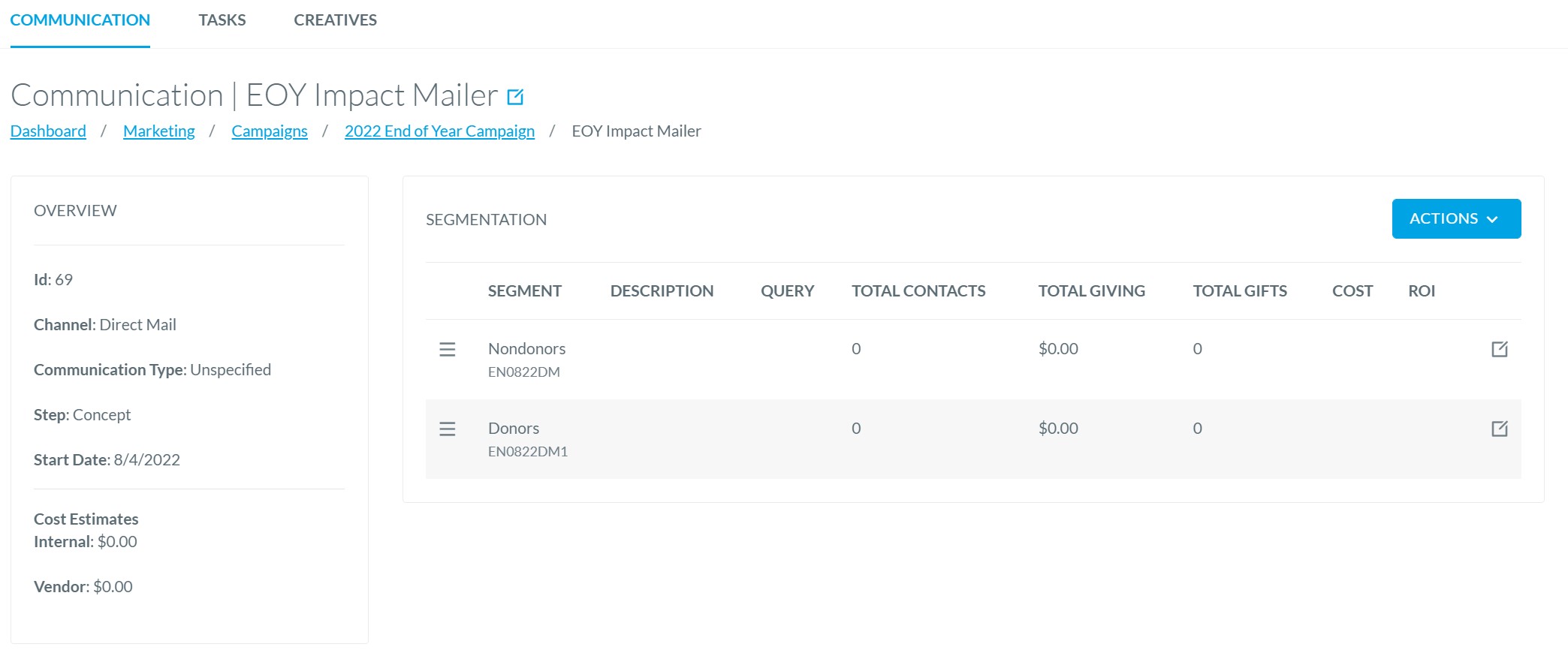 Select the edit icon next to each segment to edit that segment.
Scroll to the bottom of this form and select whether you want to use a filter or a query.

Select the 'Filter your contacts' radio button and assign filters, or select 'Use a saved query' and then select the query you want to use.

Save your segment.
This will show the query on the screen next to your segment:

Repeat this step for all segments on this screen.
Order These Segments
Segmentation is run similarly to receipting:
It is run in order from top to bottom. In this case, that means the Nondonors segment will be run first and the Donors segment will be run second.
A contact will only be assigned to one segment. Depending on your query setup, when you run them from the query tool, you could see the same contact(s) in various sets of results. However, when run through segmentation, a contact will only show up in one segment. After all, it wouldn't make sense to send multiple version of the same mailer to one household, right?
Based on how this is run, you may consider moving your most specific audiences toward the top and less specific audiences toward the bottom. Simply click the three lines to the left of a segment, drag, and move that segment to reorder.
Run Segmentation
Under the Actions dropdown, select Run Segmentation.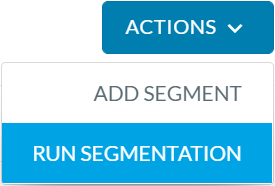 You will be asked to confirm that you'd like to proceed. Check the box and press Start.
Segments will be locked when segmentation is being run. Once it is finished, you will see how many contacts were assigned to each segment: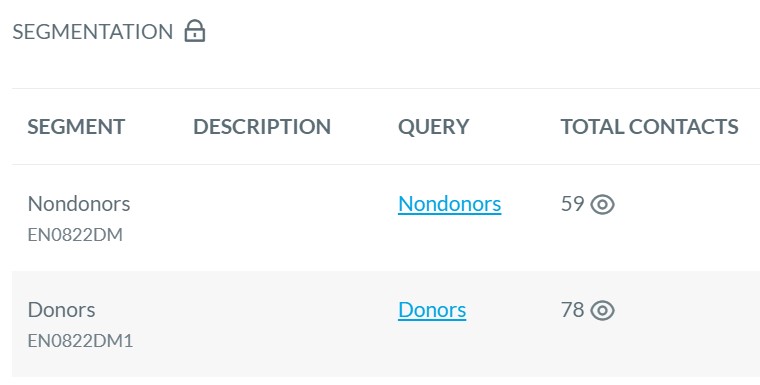 Selecting the view icon next to the number will direct you to a list of contacts who were assigned to that segment.
You can also select View Segmentation under the Actions dropdown. This is also a good time to check a few records to make sure they were appropriately assigned. If you select a contact record from there, you will be directed to their contact page where you can see their assignment in their activity log:

If you are satisfied with the assignments, no further action is needed - segmentation is run and done!
If something doesn't look right, you can select Discard Segmentation under the Actions dropdown. Next, you can change your queries, reorder your segments, or make any other changes you need to make. Then, you can Run Segmentation again.
Pulling Your Data
When you have finished running segmentation, you can pull the data to use with mail merge or send to your friendly neighborhood mail house. To do this, select Download Segmentation under the Actions dropdown. From there, you can select which fields to include in your CSV file. At a minimum, you should include:
Contact ID
Name
Informal Name
Primary Full Address
Segment Code
Reporting
We know that assignments are marked on the contact record. You can also pull a list of contacts that have been assigned a specific segment through the filter or query tool.

This is a great way to keep track of who received (or will be receiving) a specific mailer rather than using the query associated with that segment. This is because the query results can vary based on the moment in time you run it, but the number of contacts in the final segmentation will remain the same.
For example: Our Nondonors query pulled in 59 records when we ran segmentation. If we come back in a year to see how many Nondonors we had when we sent this mailer, running this same query will not work because next year, we could have a different number of Nondonors. But if we run a query based on segmentation for this specific mailer, we will have a more accurate view of who received the mailer.
Limitations
If your Campaign Communication requires more than 100 Segments on a single Communication, Virtuous will not allow you to run segmentation using queries or filters. You will still be able to create these segments, but more likely you will need to import segmentation from an external source if you want to track Contact segmentation.
Once a Communication has more than 100 Segments, Virtuous changes the view on a Communication, adjusting the table name from "Segmentation" to "Segments." We will also remove the grab icon to re-order segments and the option to select queries or create filters for Segments.
Time to Run!
Now you're ready to run your segmentation and get super responsive with your communications!