What is Overflow?
Overflow is a secure online platform to streamline interactions between nonprofits, brokerages, and donors to maximize efficiency of non-cash asset gifts. Ultimately, nonprofits can receive net new stock donations of any size and reduce the stock transaction process timeline from weeks to days. Overflow makes receiving public stock donations quick, frictionless, and secure.
In Virtuous, setting up Overflow integration will allow you to accept gifts of securities on any giving form and have these gifts flow through to the Gift & Contact Import tool as Stock gifts.
Setting up the Integration
To begin using Overflow, you'll need to register. Find on "Settings" in the menu, and then select "All Settings" in the left-side Primary Navigation menu.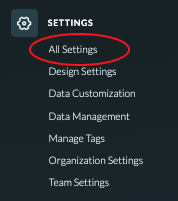 Then you will need to move to the Connectivity tab to find the Overflow Icon. This will take you to the Overflow configuration page.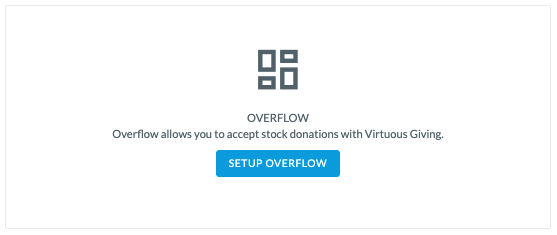 Note: Some users may not have permission to access the Overflow configuration page, or even see it in the menu. If you do not see the option, please contact your internal Virtuous administrator.
You will need to complete the registration form with all of your organization's information. Confirm that your name and email are correct (if you will be the person to complete the registration) and that the proper name of your organization is listed. Be sure to include the country code for your phone number as well.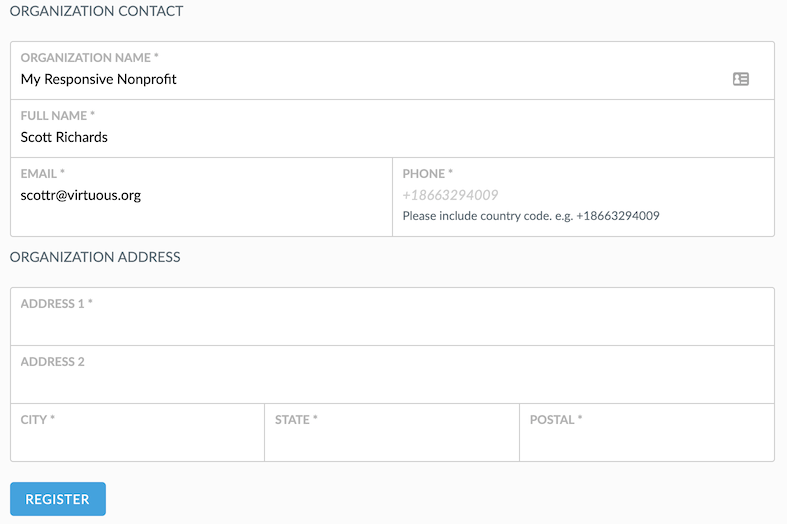 Once you click register, you're almost done!
The Overflow team will reach out via email to complete your account setup. You will receive an email from support@overflow.co requesting the following information:
1. Brokerage Name
2. DTC Number
3. Account Name
4. Account Number
Submitting this information through the secure link provided in the email will complete the registration process, enabling your nonprofit's brokerage account to receive online stock donations through Overflow. If you have any questions regarding this part of the process, or if you do not receive and email to complete the setup, please reach out to support@overflow.co.
Adding Overflow to Forms
To add a stock giving option to any giving form, look for the Overflow field in the Plugins section of the form builder, and drag it to your form.

When donors visit your giving form, they will see the option to select "Stock Donation," which will prompt them to log in to their brokerage account.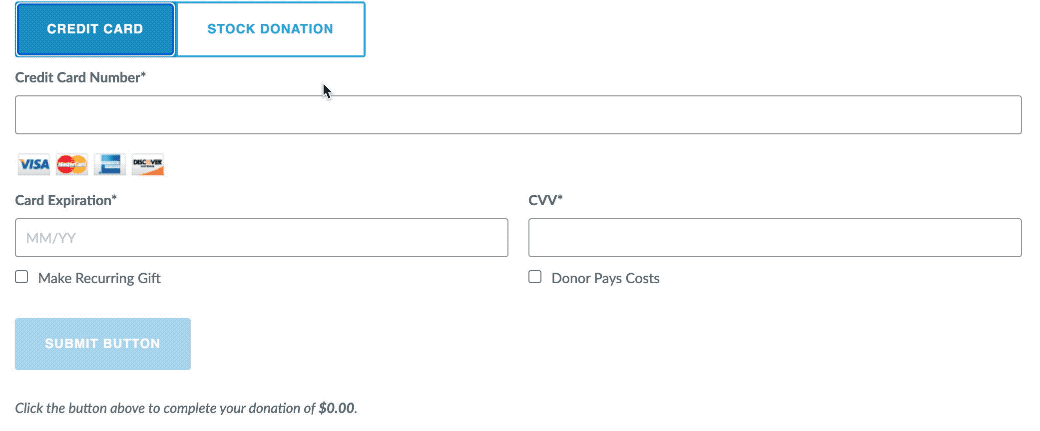 How Does Overflow Work?
In order for your nonprofit to receive stock donations, you must have a brokerage account set up, but don't worry, setting one up is easy! Overflow facilitates stock transactions with the top US brokerages. Each Broker has its own stock delivery time, that is how many business days it takes the brokerage to accept the stock donation from the donor, facilitated through Overflow.
At no point in the transfer process does Overflow hold onto the shares, it simply shuttles the donation directly from donor to nonprofit through backend integration with top brokerages.
Just like with payments or donations through a credit card, a transaction fee occurs to cover back office expenses. Stock donations that flow through the Overflow platform will incur a 5% transaction fee, that will be billed to the nonprofit quarterly. To not discourage large donations, the 5% transaction fee will be capped at the value on a $25,000 donation (e.g. a $100,000 donation will only incur a $1250 transaction fee.)