Sometimes, a project may come to an end. Maybe a staff member leaves, and no longer needs to raise support. Whatever the reason, the easiest way to handle this is to close the project. Just click edit on the project screen, and then click on the red close button.
Closing a Project allows you to select a new Inventory Status for that Project. This is especially important for sponsorship organizations, where the Inventory Status is used to keep track of sponsorship availability.
There are a few things to note in regard to Closing a Project.
Closing a Project differs from Archiving a Project. To learn more about what it means to Archive a Project, check out this Support Article.
Closing a Project will NOT update the Status to "Inactive" from "Active"
Closing a Project does NOT remove it as an option in Giving Forms. It's important to review Giving Form formatting and remove any Project options that no longer apply.
A Closed Project will still be an available selection to be pulled into Reporting.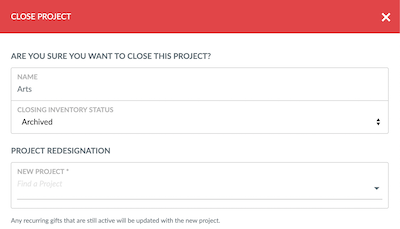 You'll also see an option to automatically update all active recurring gifts designated to the closing project and reallocate them to a new project, all at once. In some cases, this might mean selecting a parent project when closing a subproject, or selecting a temporary designation until you can contact the donors and ask how they might like to redistribute their gift. Note that if a Recurring Gift is associated with multiple Project Designations, only the specified Project Split will be modified through this "Redesignation" process.

Once you have made your selections, just click on "Close Project" to confirm.