Navigate to the Projects screen from the main menu. Click on the "Actions" button in the upper right and select "Create a Project."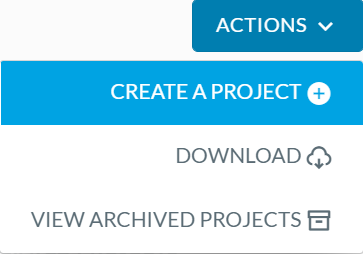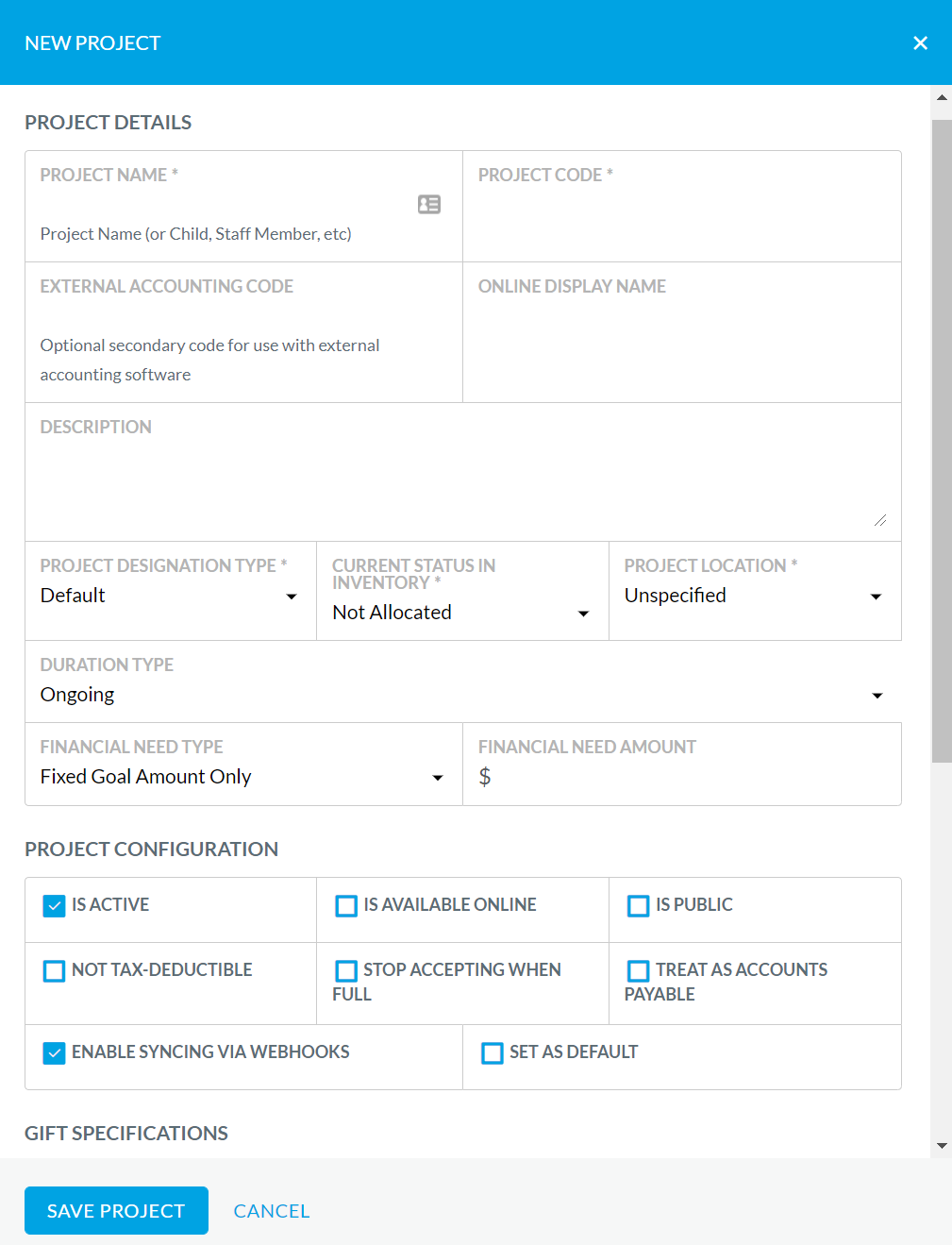 Here, you can fill in the information for your new Project:
Name: Give your Project a name that is clear and easily identified for ease of gift entry.
Project Code: This code may be the GL code for the Project in your accounting software, or an internal code used to identify a particular Project. The Project Code can be used during gift entry to identify the Project designation for a gift. Project codes must be unique - even if a Project or SubProject is Inactive, its code cannot be re-used.
External Accounting Code: Use this field to include any additional codes that may be required by your external accounting package.
Description: Use this space to enter a brief explanation of the Project. What would your internal staff need to know about a particular Project?
Duration Type: New Projects are set to "Ongoing" duration by default. You may switch this to "Fixed Duration" if your Project is short-term. Doing so means that you must also specify start and end dates.
Financial Need Amount: What is the financial goal for your Project?
Financial Need Type: By default, "Fixed Goal Amount Only" is selected. For ongoing Projects with monthly or other recurring budget needs, select "Ongoing Need" and then specify a frequency.
Restrict Gifts to Valid Amounts: When checked, only specified gift amounts may be received for this Project. This feature is often used by sponsorship organizations.
Associated Projects: You may specify other Projects, regardless of their Parent Project, Type, or Location, to be linked to this Project.
Project Owners: You may choose to assign one or more users from your organization as Project Owners. Assigning a user as an Owner allows that user to be restricted to seeing ONLY gifts made to Projects they own if their Permission Group profile includes the "Restrict by Owner" option for Gifts.
Settings: These checkboxes are largely for internal staff information only, with the exception of the "Set as Default" option. Your Virtuous database will include a single Project named "Default Project" which is designed to be your General Fund. You may choose an alternate default Project, but there can be only one.
After clicking Save, you'll be taken to the Project screen. You may click the edit icon next to the Project Name or anywhere else on the screen to edit the Project information.