The Social Insights add-on feature allows Virtuous users to find and append social media handles and profiles, as well as images, for Individual records.
How Does It Work?
Virtuous utilizes the primary email address on an Individual record to find and match to public social media profiles. Once a match has been made, the available social data will be automatically appended to the individual record. You can manually refresh the social data whenever you'd like, however, we try to make it easy for you so matches are automatically refreshed every 30 days.
How Can I Use The Results?
Knowing who is active on which social platforms can be helpful to strategize outreach and help to personalize your donor communication. On the
contacts page in Virtuous
, you can filter by social platforms to get a subset of donors (for example, maybe you are hosting a Social Media Takeover Day in preparation for Giving Tuesday and you'd like to find all of your donors that are utilizing Twitter). Another way to utilize the results from the Social Insights Feature is to offer your donors different and unique ways to support based on their network (for example, learning that one of your donors owns a restaurant and engaging them in hosting a volunteer appreciation night). The opportunities are endless!
How Do I Make A Match?
Navigate to the Contact record, then the Social Insights tab to see each email address associated with the contact record, grouped by individual.

Select an email address to see the associated social media profiles.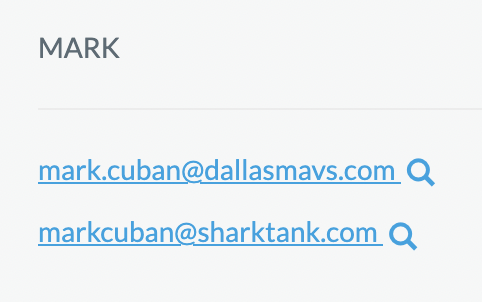 All available results will display below in three main categories: Social Insights Results, Social Profiles, and Photos.
Social Insights Results will show and pull in personal information, such as age, owned websites, company, and title

Social Profiles pulls in social media records and captures them as contact methods

Photos capture images from available social profiles and will add profile images as avatars for the Individual record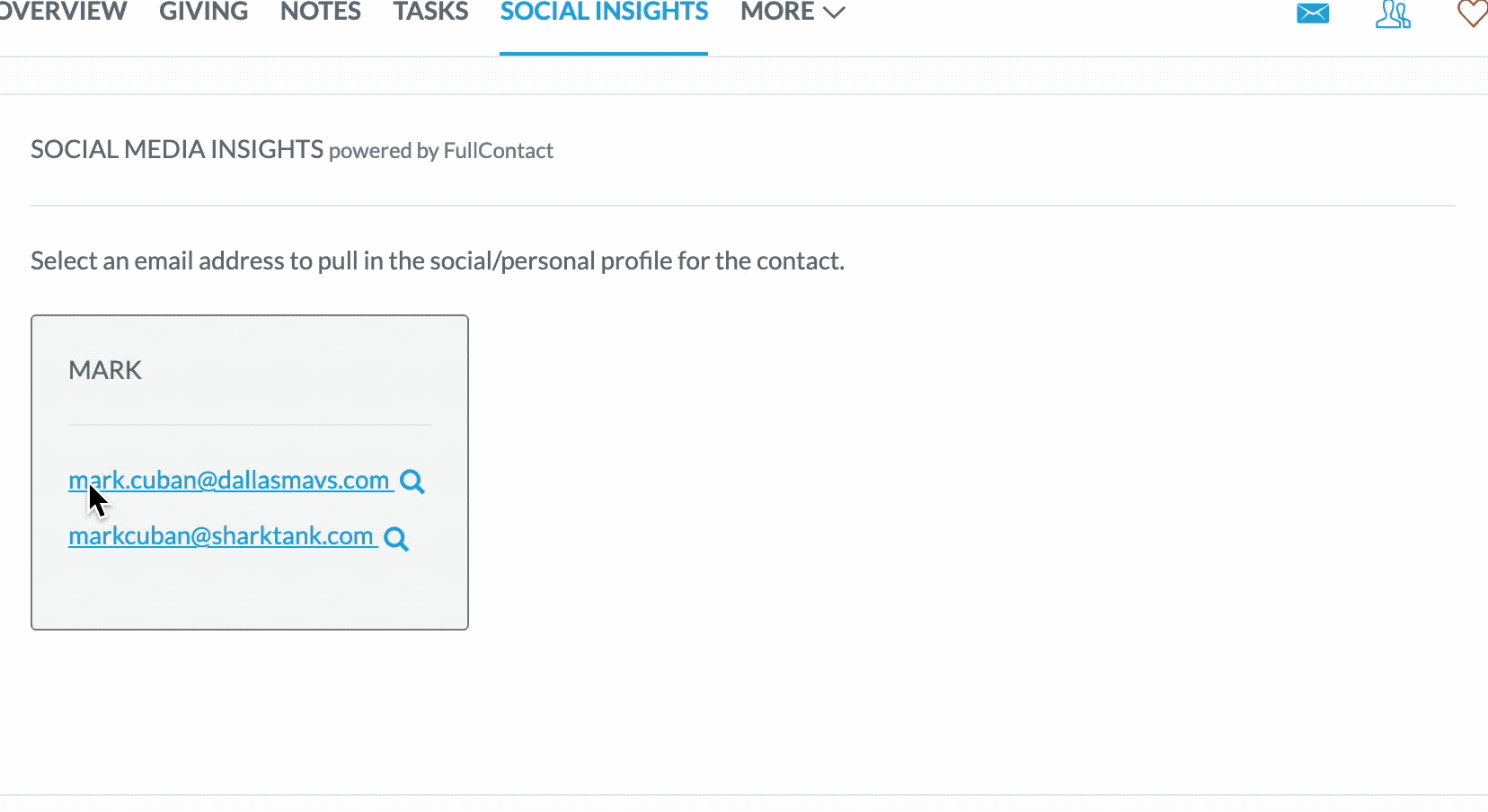 What Happens If There's Not A Match?

Not a worry, most people have a few email addresses and even more social profiles, so having a perfect data connection right off the bat isn't always possible. In the event that there isn't a match for a specific Individual, there are a few things to consider - the individual's social media profiles might be set to private, they could have multiple email addresses in use with their social profiles, or there is not yet an established identifier in FullContact, the system that helps powers our Social Insights Feature. The good news is that any time you select an email address to attempt a match and the social profile is not available (no match is made), it's logged with our partners at FullContact and they will keep an eye out for matching data to attempt to build out a profile in the future.
I'm In, How Do I Access It?
The Social Insights Feature is an add-on available within Virtuous and can be activated at any time with a contract addendum. If you're ready to learn more, use the support widget within Virtuous and your account manager can help you explore this feature!
What Happens If I Choose To Not Renew The Social Insights Feature?
We get it, sometimes you can't commit to ALL of the bells and whistles - we'll still love you!
One big thing to consider when it's time for renewal is that since these records are continually updated and refreshed if the Social Insights Feature is not active, any data that was automatically appended to your records are removed from Virtuous. The Social Insights feature must be active and current in your Virtuous contract to maintain access to the data found and appended from these matches. You can always use the support widget within Virtuous if you have questions specific to your contract.