Primarily designed for US organizations, Premiums in Virtuous are used to track non-tax-deductible benefits that givers receive in return for their contributions, which reduce the tax-deductible amount of a charitable gift. If you've ever received a tote bag for pledging to your local PBS station, you've been the recipient of a Premium. The most common scenario for nonprofits of all types and sizes involves gala dinners or other large events; the fair market value of an attendee's food and drinks must be subtracted from the tax-deductible amount of an attendee's ticket cost. So if a ticket to attend your spring gala costs $250, but the fair market value of an individual's meal is $100, then that giver should receive a receipt showing that they gave $250, of which $150 is tax-deductible.
Creating New Premiums
To create new Premiums, click on "Gifts" tabs in the Primary Navigation, and then select "Premiums."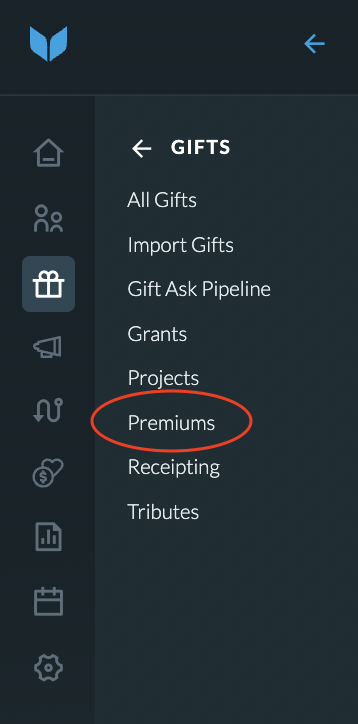 On the Premiums screen, click on the Actions button in the upper right and select "Create a Premium" to bring up the New Premium form. There you'll be able to enter information for your new Premium: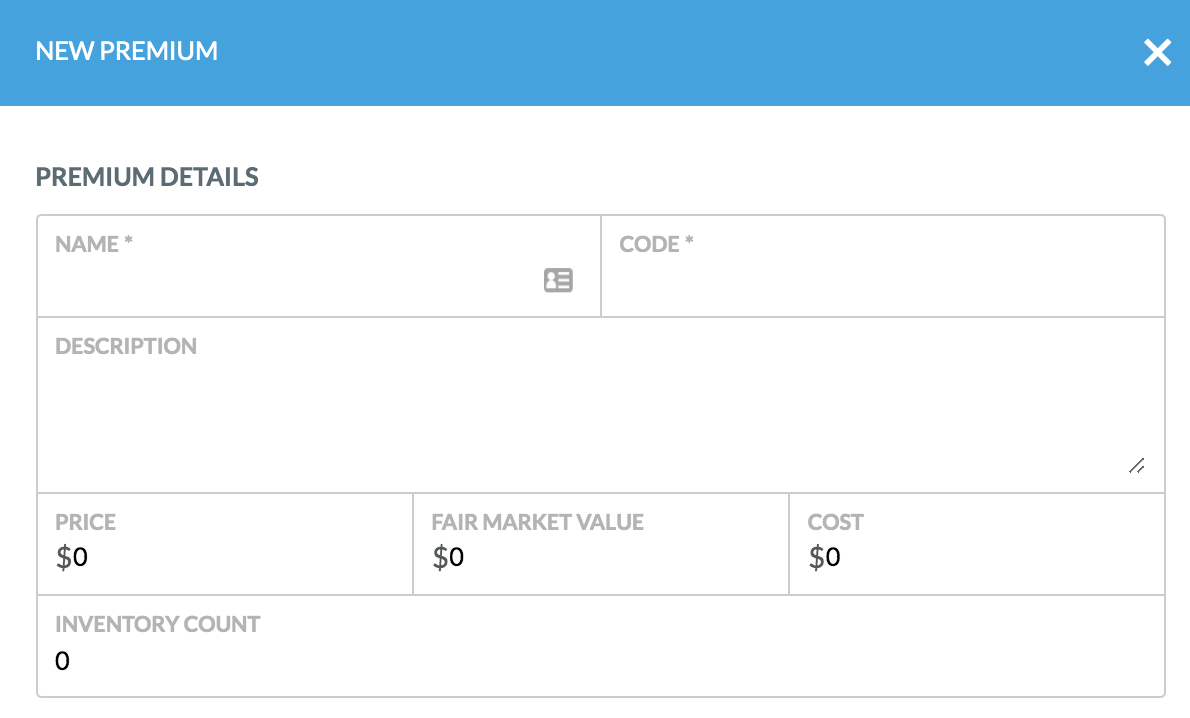 Name: Give your Premium a clear, unique name to make gift entry easier
Code: Each Premium must have a unique code to be used for bulk gift entry
Description: An option field to store an explanation of this Premium for internal staff
Price: The gift amount required for givers to receive this Premium
Fair Market Value: The amount by which the tax-deductible value of a gift will be reduced
Cost: The internal cost of the item for your organization.
Inventory Count: The number of Premiums after this gift is given.
Be aware that Premiums must be created prior to gift entry; they cannot be created from the Gift & Contact Import tool. Once Premiums have been created, they can be used when creating or editing any gift.
Inactive Premiums
If a premium is no longer needed, find it on the Premiums screen and click on the edit icon on the far right. There, you'll see a checkbox denoting whether your Premium is active.

All new Premiums are set to active by default. Just uncheck the box and save to deactivate your premium, meaning that users will no longer be able to add it to any gift.