How much should I ask for?
It's one of the most common questions in fundraising. Ask for too much and you risk alienating a donor; ask for too little, and you are leaving money on the table. Each donor is different, so making the same ask of everyone just doesn't work, especially for a responsive nonprofit.
That's where Smart Gift Arrays come in.
To use Smart Gift Arrays in a Virtuous Giving form, you'll need to have an active Virtuous Giving account and you'll need to activate the Responsive Listener, which you can learn more about here.
Once the Listener has been deployed on your website, Virtuous will can begin to identify your website visitors and connect them with existing Contact records. When this connection has been established, then Virtuous can use everything known about an existing donor to customize the Gift Array on a Virtuous Giving form. If a user is unknown and they make a donation via a Virtuous Giving form, then that user will be linked to Virtuous, so that the next time the same user visits your donation page, they will see a Smart Gift Array.
How Do I Create a Smart Gift Array?
There are two ways to create a new Gift Array. You can manage Gift Arrays by navigating to the Forms tab under Online Giving in the Primary Navigation menu.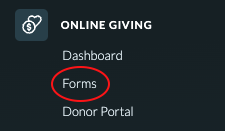 There, you'll see a button to create a new array.

Alternatively, while editing a Giving Form, click on the edit icon for the Donation Amount field, and you'll see the same option to create a Gift Array.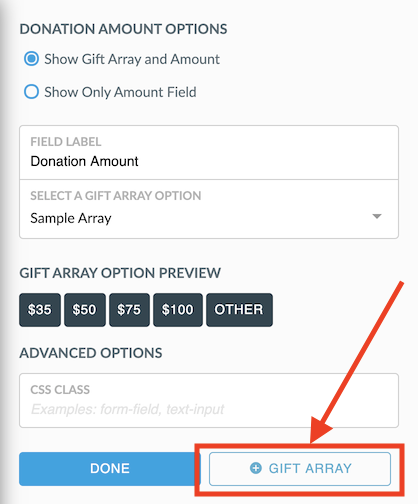 Either option will bring up the form to create a new Gift Array.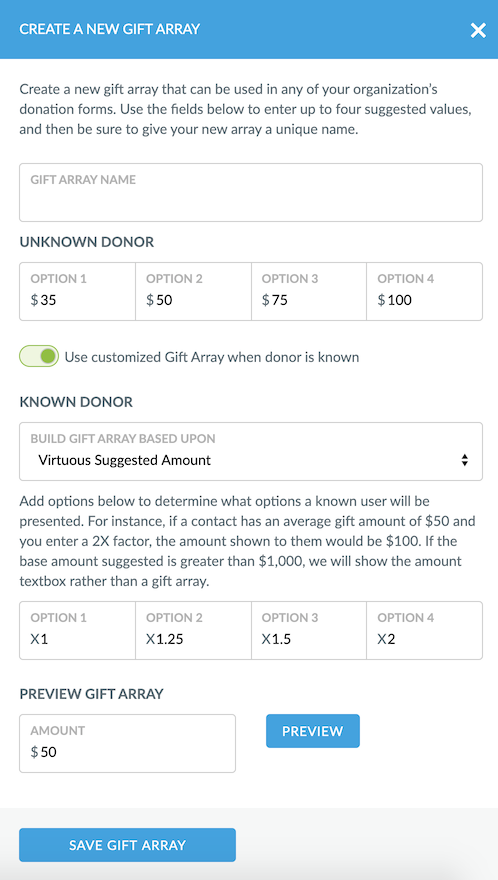 Give your new Gift Array a unique name, like "Standard Web Form" or "Giving Tuesday," in order to save the array. To begin, you'll need to set the values to be used in cases when an unknown donor views your Giving Form. Then, ensure the option to "Use customized Gift Array when donor is known" is turned on (it should be green) to configure a Smart Gift Array.
Each Smart Array is based on one of two values:
Virtuous Suggested Amount - The recommended Gift Ask calculated by Virtuous for each Contact. This is visible in the upper right when viewing a Contact record.
Average Gift Amount - The average size of a Contact's Gifts, based on their life-to-date giving history.
After selecting a base value, build your array by entering a multiplier into each of the four boxes. In the example above, the first amount is 1x the Virtuous Suggested Amount, the second, is 1.25x the Suggested Amount, the third is 1.5x the Suggested Amount, and the final value will be double the Suggested Amount.
To see how your Smart Gift Array will appear for various donors, enter an amount under "Preview Gift Array and then click on "Preview."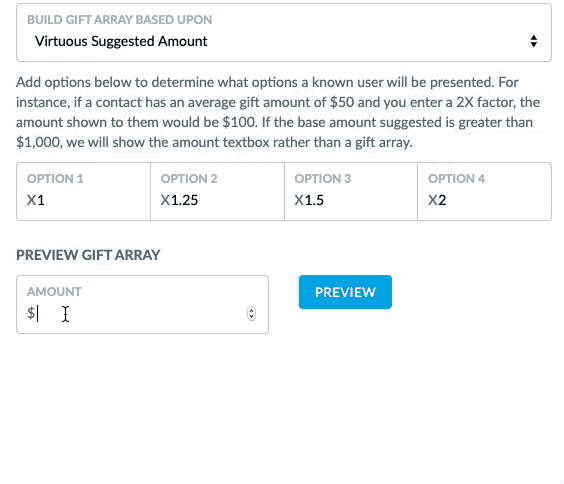 Once you have completed configuring your Smart Gift Array, click on "Save Gift Array" to add your new array and make it available for any Giving Form.
How Are Arrays Calculated?
There are a few rules that apply when calculating Smart Arrays.
First, Smart Arrays have a minimum of $25 and a maximum of $1,000. This means that if the base amount is less than $25, the default values (those set for an unknown door) will be used instead. If the base value is $1,000 (maybe for a major donor), then then instead of an array, a donor will just see a text box to enter a custom amount.
In order to avoid displaying some odd or specific values, Smart Array calculations are set to round up or down, as needed. Values are rounded as follows:
Amounts between 25-49.99 are rounded to the nearest 5 ($23.16 becomes $25)
Amounts between 50-149.99 are rounded to the nearest 10
Amounts between 150-249.99 are rounded to the nearest 25
Amounts between 250-499.99 are rounded to the nearest 50
Amounts between 500-999.99 are rounded to the nearest 100
Gift Array values are also subject to the Highlander rule, meaning that there can be only one of each value. So, if two values would be rounded to the same amount, one will be hidden.
For example, let's say that the calculated values for a particular donor, before rounding, end up as: $36, $56, $64, $72. After rounding, this would generate array values of $35, $60, $60, $70. Since each value can appear only once, the second $60 would be omitted.
Now that you know how Smart Gift Arrays work, go ahead and give them a try!