To get started with sending out letters via Automation, you'll need to create your letter content. You can do this from the Letters on Demand page by hovering over the left side bar, then selecting Marketing. Under Marketing, select Letters on Demand.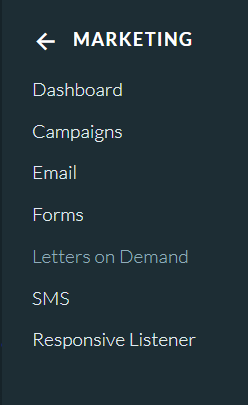 On the Letters on Demand page, you'll see a list of all the letter templates for your organization. To create a new one, look for the Actions menu in the upper right, click, and then select "Create Letter."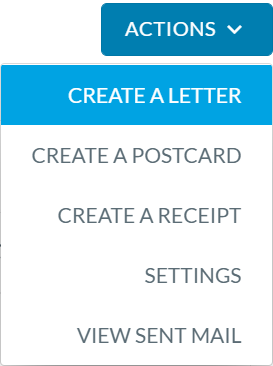 This will launch the Mail Wizard, which has five main steps.
Setup
On the setup screen, give your letter a unique name. You can also select a Campaign Segment to help track the success of your outreach.

Below, you'll see a toggle option to include a reply device. Toggle this on, and you'll need to specify which page should include the reply device.

Whichever page includes the reply device will be perforated 3.625 inches from the bottom of the page.
Once you have made a selection, click next in the bottom right to move to the Template step.
Template
The easiest way to create a letter is to use an existing template. The template selections displayed will vary depending on the reply device option selected. For example, selecting just a basic letter, without a reply device, will display one set of template options:

While opting for a multi-page letter with a reply device offers some different choices: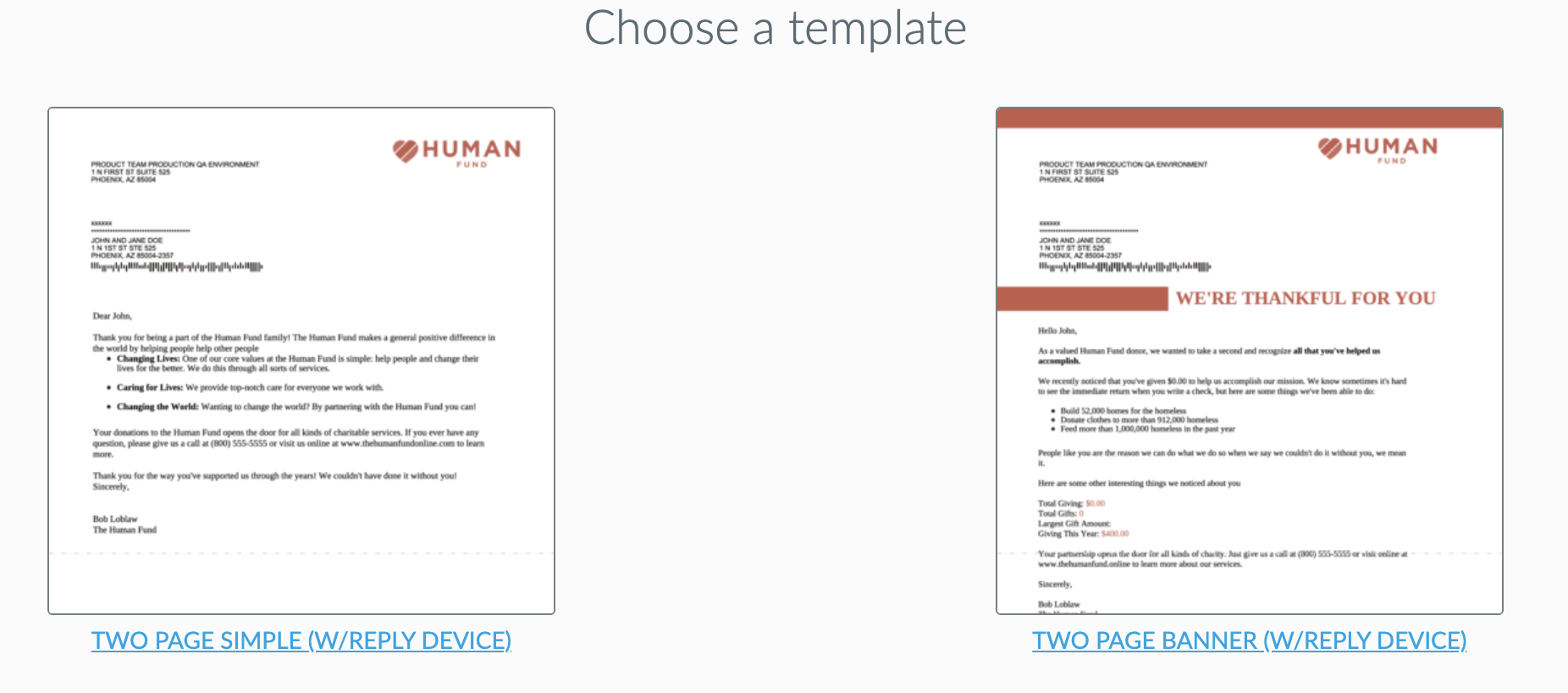 We strongly recommend starting with an existing template and then editing the content to customize it for your organization. If you would rather generate your own HTML content from scratch, then click on the "No thanks, I'll create my own HTML" link below the displayed templates.
Selecting a template or clicking on the "No thanks" link will advance to the Build step.
Build
In the builder, you will see your starting template, or a blank screen. The editor is a visual editor that generates HTML content in order to create each letter.
Use the tools in the toolbar near the top of the screen to insert and format your content as needed. You'll see several options for customizing the font, colors, and styling, much of which can be accessed from the Format menu in the toolbar.
When selecting a color for your font or background, you'll see a small color picker with a selection of common colors to choose from. Click on any color block to select that color.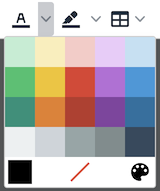 To add a custom color, click on the palette icon to bing up the color picker dialog box. There, you can enter the RGB values, a hex code, or use the tools on the left to fin the right color match and select it.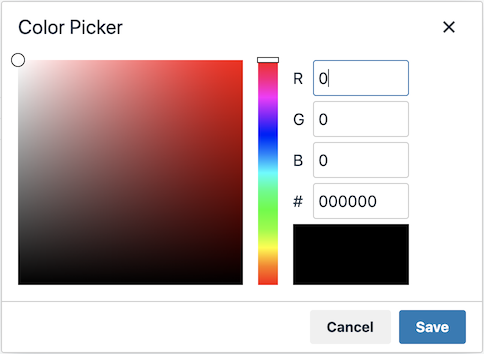 To add an image, for example, your logo, click on the image button in the toolbar.

If you'd like to replace the existing logo in your selected template, you can also right-click on the image. Either will bring up a dialog box for adding an image.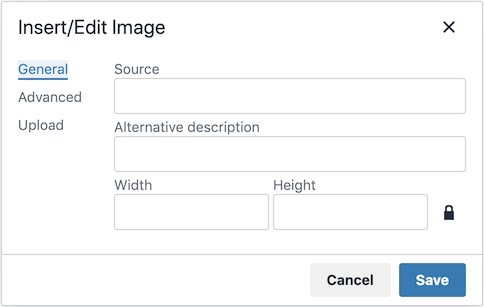 You can choose to add your image by entering the URL for it in the Source field. This means that your image must be available online. If you are using your logo, you should be able to find the URL for it from your website's source code. Make sure you are using a valid url that is hosted on your site (not a Google Image or Dropbox file, for example). Your URL should look something like this:

Use the Width and Height fields to re-size your image as needed to fit your receipt. Make sure the lock symbol shows as a closed lock so your image will be re-sized proportionally.
To upload an image file stored on your computer (or on a networked drive), click on the "Upload" option and you'll see the option to drag-and-drop your file or browse for an image file.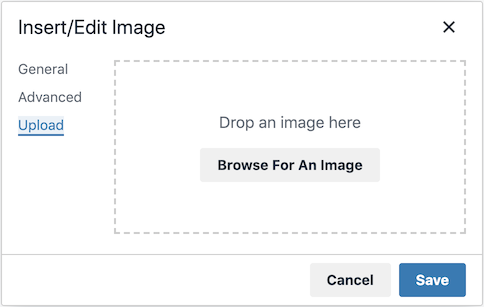 Once your file is uploaded, it will be converted to a URL, which will display in the Source field. Use the Advanced options to add styling, padding, and even add a border to your image.
Once you have added your image, set the styling, and confirmed the size, click on "Save" to save your image and continue editing your letter.
Once added, you can resize your image by clicking and dragging any of the corners of the image.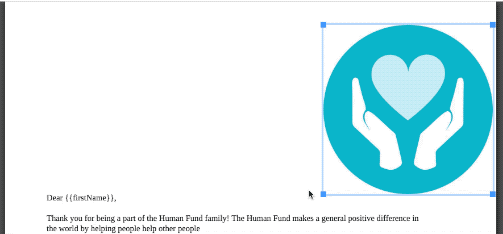 Use the Merge tags available in the toolbar to personalize your letter. You'll have the option to include a number of default Contact and Individual fields, including giving statistics, and even merge in data from Contact or Individual custom fields.
If you already have HTML content that you'd like to use in generating your letter, you can paste that directly into the source. Make sure your HTML is formatted for a print document, and not an email, however. If you have a letter that you have created in Microsoft Word, for example, you can save it as an HTML file, then view the source code and then paste it to create your letter. You will then likely need to use the editor to fine-tune your letter before it is ready to use.
It is recommended that you periodically save to avoid losing any work. Just click on the Actions menu in the upper right and click on "Save." Click "Save and Preview" to see a rendering of what your actual letter will look like, with address blocks inserted for mailing.
Review
Once you have created and saved your letter, click on "Save & Review" in the lower right to move to the Review step. You will see a preview of your letter, which you can also download and print. Make sure the design of your letter looks correct - this is your chance to make sure that your letter will look exactly the way you'd like when it is sent to your recipients.
Your preview will include your return address block and recipient address block, and all of the elements present on your actual letters.
If the changes need to be made, click on the "Prev" option in the lower left to go back to the editor and modify your design.
If your letter is ready for prime time, click "Next" in the lower right to continue.
Publish
The final step will ask you to confirm that you are ready to publish your letter.

Click on "Save & Publish" if you are ready to go!
A Note on Publishing
Only published versions of letters will be sent via Automation. If you would like to make changes to a letter that is being used in an active workflow, you can edit and save and even preview those changes as often as you like. Once you've made all of the changes, you will need to publish your letter again in order to have your changes take effect and begin sending your updated version.