Here are some tips for running and managing individual reports and finding custom reports in your database.
Running Custom Reports
When you create and save a new custom report, the report will be run right away. After that, you can navigate to the Reports page to see all of the reports visible to you, select, and run a report. Just click on the name of any report to run the report.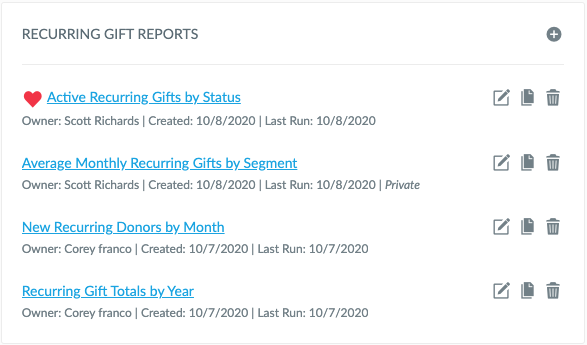 Below the name of each report, you will see the owner (creator) of the report, the date the report was first created, and the last day the report was run. Use the icons to the right to edit, copy, or delete any report.
If you hover over the name of any report, you will see a heart icon appear to the left of the report name. Click to set a report as a favorite. Favorite reports can be run directly from the dashboard, and will be listed in the Reports menu.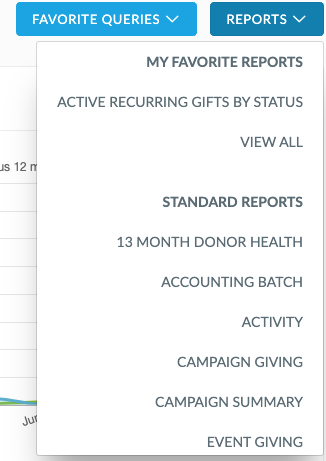 You can also click on "View All" from the menu to be taken directly to the Reports page.
To find a particular report, you can use the Filter options on the left. Use the Search bar to quickly filter by name.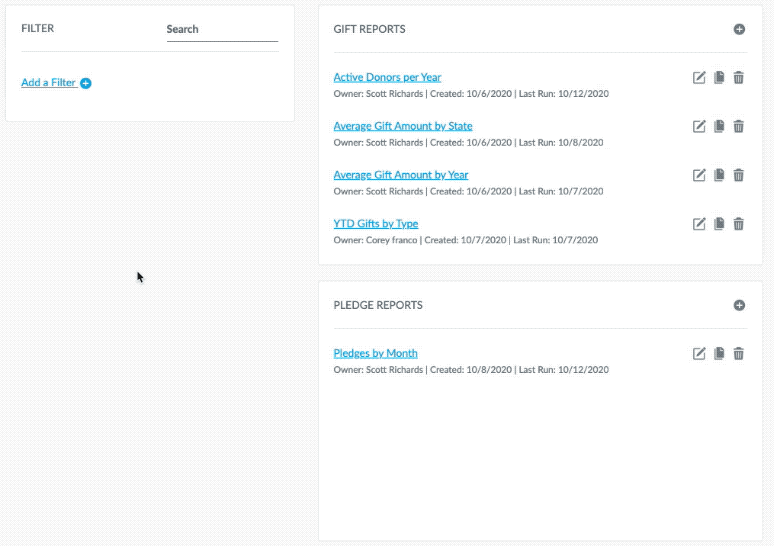 Modifying Custom Reports
Once you run a custom report, the results of your report will be cached, or locked, for one hour. This means that, even if the underlying data changes, you won't see your report change right away.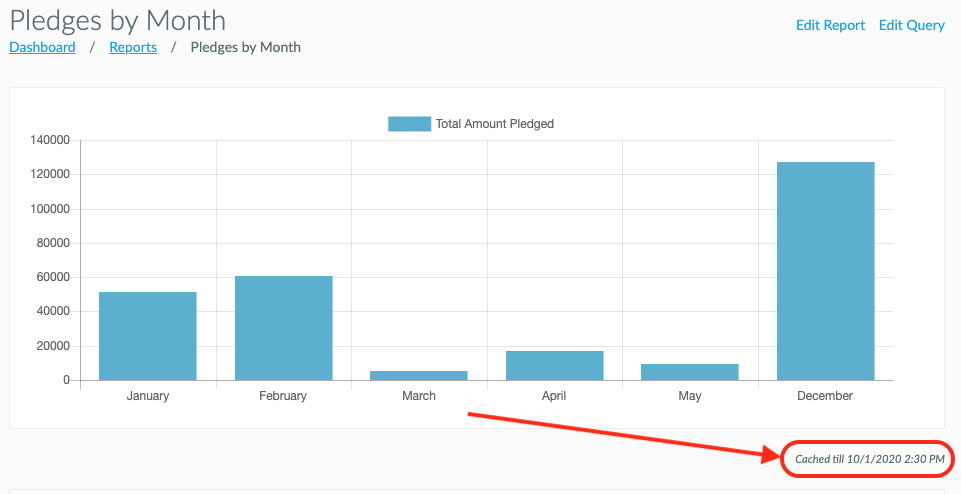 If you look in the lower-right corner of your report chart, or your report data, then you will see an indicator telling you how long your report data will be cached.
In the upper right of the above screenshot, you'll notice that you have two editing options:
Edit Report: Select a new chart type, change the selections for grouping and summary data, and add or remove data fields from the report details. If a new chart type is selected as part of these changes, then the chart will reflect any updates or changes.
Edit Query: Modify the query being used to filter your report data. Any query changes will not be reflected in your report while the results are cached.
How Can I Share a Private Report?
In some cases, you may create a custom report that is private, and then decide to share it with your team. The easiest course will be to make a copy of your existing private report.

When you create a copy, you can choose whether to share it with others or set it as private.