As every grant writer knows, tracking grant submission requirements and keeping up with financial documentation for awarded grants is a big part of any successful grant management process.
Grants are not just "free money;" grant awards are typically very specific. Most grantmakers require a specific project plan and budget as part of the application process, and money awarded is typically restricted to only those uses laid out in the application. Grantmakers will typically expect financial reports at regular intervals to ensure that money is being spent as stipulated in their granting terms. For grants paid out in installments, further award payments may be dependent on compliance with reporting requirements.
Award Terms
On the main tab of any grant, the Award Terms box in the lower left can be used to note any critical terms or reporting requirements for a grant. Click on the edit icon to enter information here. This information should be summary level; detailed information can be stored elsewhere on the grant record.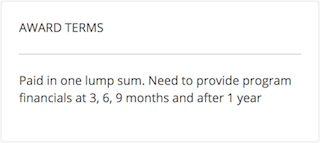 Notes
The Notes tab on a grant record functions similarly to the notes on a Contact record. Use this space to track any specific information or interactions related to the grant or grant application process. As an example, the director of a specific program at your organization may want to apply for a grant to fund a specific initiative. Let's say they manage the job placement program at a center for the homeless. They want to purchase new computers and equipment to outfit a new job training lab. As the grant writer, you may schedule a meeting with them to go over their project goals, budget, and plan. Use the Notes feature to capture all of the info from that meeting so later it can be used in writing the grant application.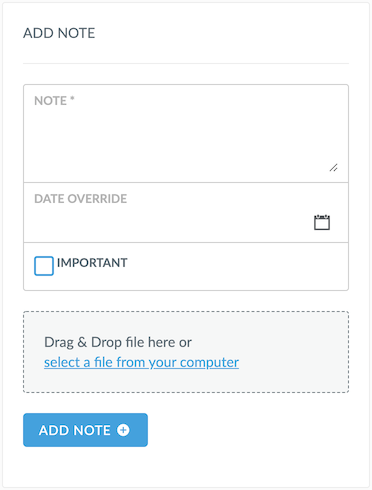 As with Contact Notes, Grant Notes can be marked as "Important." Just check the "Important" box when entering a note, and it will be displayed at the top of the main Grants tab in a red box. Use this to highlight critical information about any grant.
Documents
The Documents tab allows for storage of grant application paperwork, financial reports, and any other documentation related to a specific grant application or award. Grant awards will typically include documentation of award terms and conditions. While these may be summarized in the Award Terms section, use the Documents tool to attach complete documentation and keep it together with everything else related to your grant. For more, check out our article on attaching grant documents.
Tasks
While storing information on a grant is important, tasks can be even more critical to ensuring a successful process. Click on the Tasks tab on a grant to create tasks for yourself or other users within your organization. Tasks can be used to track submission deadlines, request financial or other data from other departments, and track follow up reporting milestones for awarded grants.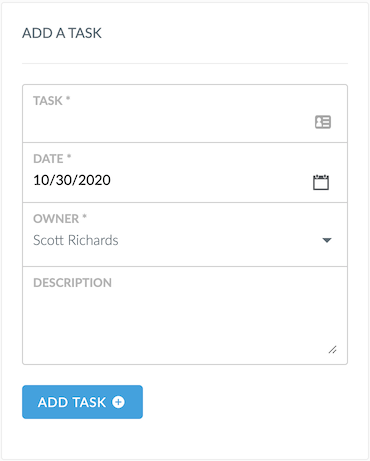 To create a new task, click on the blue "Add a Task" button on the left side of the tasks screen. When naming your task, be as descriptive and specific as possible, to make it very clear exactly what needs to be done.
Use tasks and all of the above tools to manage grants for your organization to make it easier to track tasks and keep up with deadlines and award requirements.