Text messages are a great way to connect personally with your supporters. And sending mass texts, instead of (or in addition to) emails, can be useful for mobilizing your supporters to join in a volunteer event or other initiative.
Lucky for you, it's possible to send mass texts once you have configured SMS messaging for your organization.
To get started, navigate to the SMS page. Hover over the left side bar, then select Marketing. Under Marketing, select SMS.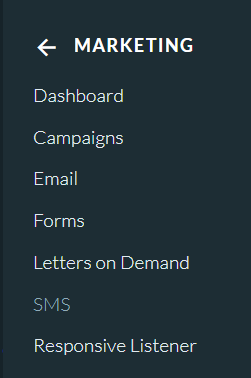 Sending Mass Texts
On the SMS screen, you'll notice that there are two tabs at the top of the screen. Click on Mass Texting and then you'll see a button in the upper right to "Create Mass Text." Go ahead and click that bad boy.

Select Template
You'll need to give your bulk message a name, like "Spring Volunteer Push." Make sure the name is clear so that anyone on your team will understand what it is. Then, select one of the existing SMS templates for your organization, You'll even see a preview of the message, so you can be sure you've picked the right one.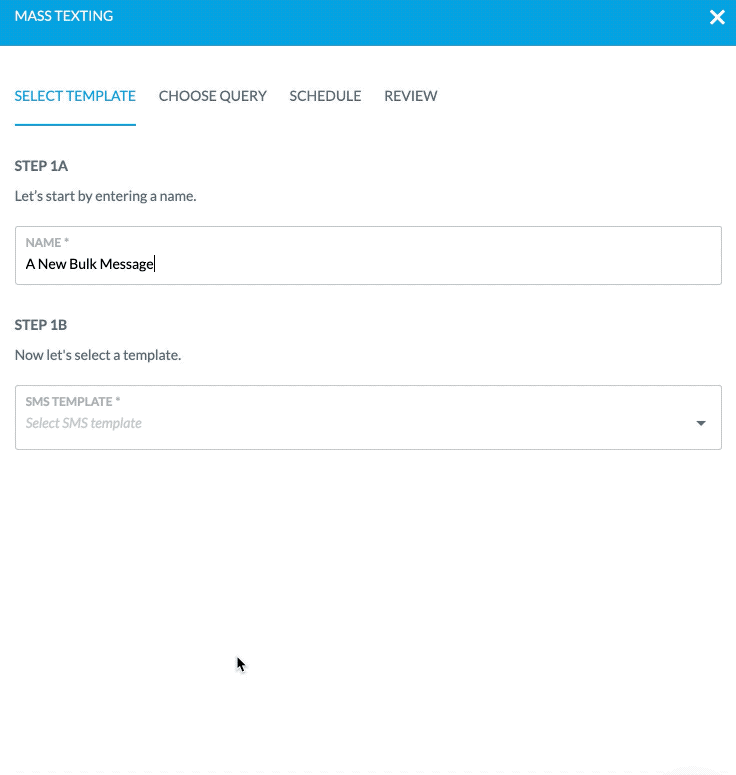 Once you've selected a template, click "Next" in the lower left to continue.
Choose Query
To send your message, you'll need to define your audience. You can select an existing saved Individual query, or create a filter right there in the wizard.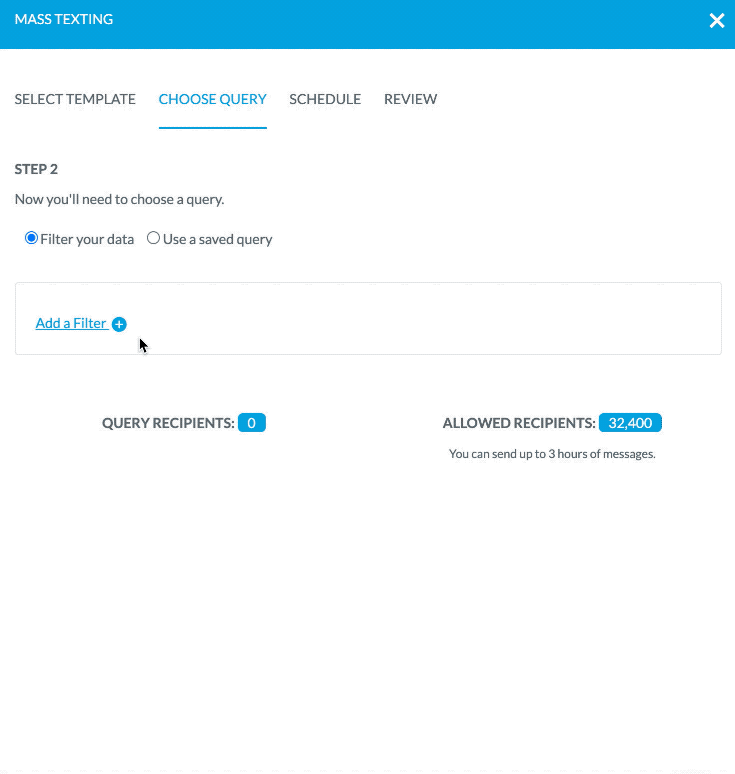 Once you select a query, or as you build out your filter, you'll see the total number of query recipients update. To the right of the recipient total, you'll see the maximum number of allowed recipients, with an indication of the total number of hours required. See below for more on the number of hours.
Once you have set your audience, click "Next" to continue to scheduling.
Schedule
The system default is to send your message right away.

If you opt to schedule your message to send in the future, you can use the calendar to select a date and then click on the clock icon to select a time. Note that this will be the time when your mass text will begin sending (more on this below).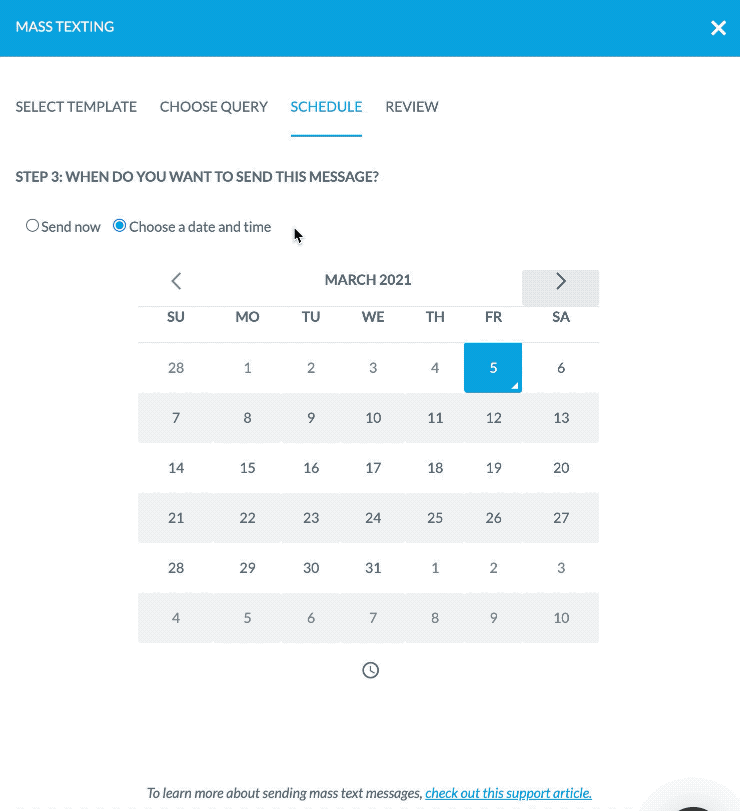 After you have selected a scheduling option, click "Next" one more time to move to the final step.
Review
On the "review" tab, you'll be able to review the settings for your mass text, including the total recipients and the time to send.

Click "Send" to begin sending your mass text, or schedule it to send in the future.
A Note on Maximum Sending Limits
When sending SMS messages, while it may feel like texting is instantaneous, there are limitations on message throughput. SMS messages are sent out at a rate of 3.3 messages per second ("MPS" if you want to sound cool and technical). So, sending a mass text message to 32,000 recipients will take up to three hours. If you are sending a scheduled mass text to 32,000 recipients, and you message is scheduled to send at 3:00pm, then your message will start sending at 3:00pm and will complete by 6:00pm, with individual recipients receiving their message anywhere within that time frame.
Bulk texts are capped at a maximum of 3 hours to ensure the best possible performance, especially in instances when some SMS messages are being sent via automation at the same time that a bulk message is scheduled to begin sending.
This is why you will see the maximum recipient count expressed as both a total number of recipients and with a maximum number of hours.
I Sent my Message! Now What?
Once you have sent—or scheduled—a mass text, you can review it from the Mass Texting screen. Click on the Actions drop-down to the right of your mass text to view sent messages.

This will take you directly to the Sent SMS Messages screen and filter for all of the sent messages from your mass text. You can read more about reviewing sent SMS messages in
this handy article
.