According to the Knoster model, there are 5 key elements that are required to successfully navigate change in an organization: Vision, Skills, Incentives, Resources, and an Action Plan. Missing one of these elements can sometimes result in false starts or frustration.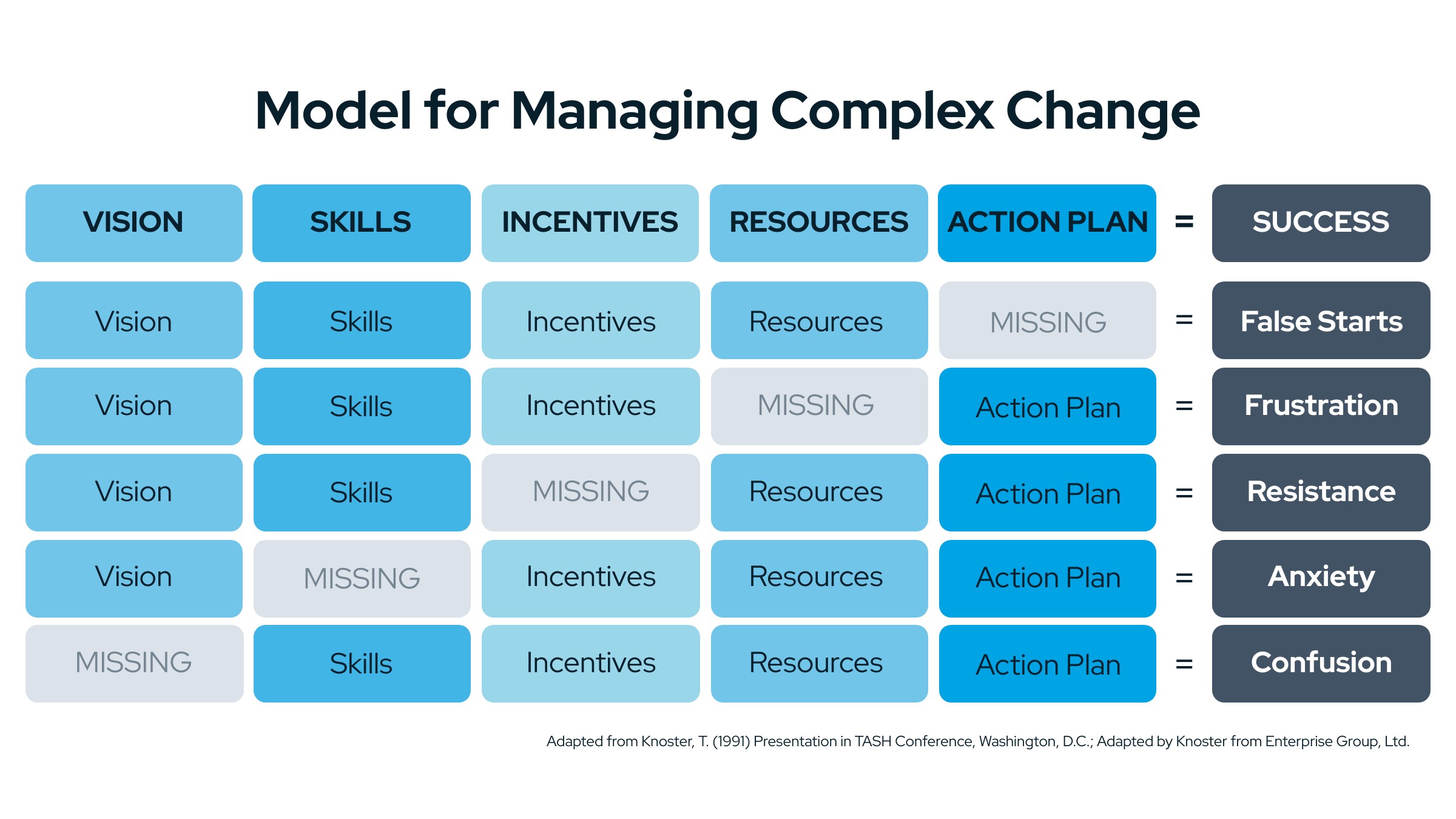 Nonprofits who manage teams using these 5 elements tend to have more success with organizational change. Let's take a look at what these elements mean for your transition to Virtuous.
Vision
Put simply, we will need to set a clear vision for what things will look like when your organization starts using Virtuous. The key here is not to hide or soft-sell the change for your organization. Maintaining transparency helps to ensure everyone is on board, and identify users who might need more hand holding, so you can focus efforts where they are most needed, right from the start.
Skills
Your team needs to develop a basic set of competencies on the system. We're here to help. We offer a library of training videos, support documentation, and live virtual training, all designed to give your team the skills required to navigate Virtuous successfully. But training only goes so far. To ensure success, make sure users are actively practicing in your sandbox and getting familiar with Virtuous structure and terminology. Doing so as soon as possible not only helps prepare your users, but also helps identify users or teams who may need additional support or training BEFORE you go live in Virtuous.
Incentives
While the Vision lays out what the day-to-day will look like, incentives are needed to clearly explain the benefits of moving to Virtuous. How will your organization benefit as a whole? How will each team/department/user benefit? Give your users a reason to embrace Virtuous. This makes it more likely that they will complete their user training and be excited for launch day.
Resources
This element is crucial and often overlooked. Make sure your users have everything they need to be successful. Do they have access to training materials? Do they know who to contact internally with questions about Virtuous? Identify a team member to be the point person for your move to Virtuous, as well as one or two "backups" who will be Virtuous super-users, so your staff has plenty of in-house support. You'll also have your Customer Success Coach here at Virtuous as your resource throughout your transition.
Action Plan
All of these elements should be tied together as part of a cohesive plan, with dates and staff responsibilities clearly laid out. A successful transition requires transparency, so make sure this plan is shared and accessible for your whole team. This plan should cover the stages of your transition and data migration, and include follow-up with users for the first 90 days of using Virtuous, to ensure success.
Next Steps
Your coach will provide you with additional materials to help you with managing this process, including a sample Action Plan and PowerPoint deck, and templates you can use to create your own materials to share with your team. Throughout the process, keep these five key elements in mind as you evaluate your team's progress. Central to the entire process is transparency with your entire organization, and a commitment to identifying potential opposition or roadblocks early in the process, so they can be addressed before becoming more serious issues.
We are excited to partner with you on making a positive change for your organization!