Automated and Recurring tasks are a great way to set up regular reminders for yourself or your team for some of those processes that just can't be handled with in an Automation workflow. Maybe you have a donor that just really likes to talk with you once a month or maybe it's helpful to have a reminder each week to update your notes on contact records. Whatever the reason, you can set up Automated and Recurring tasks to help you achieve your goals. (For help creating these tasks, check out this article). However, you may find that donor no longer wants that regular touch point or, maybe you've won the lottery and you're headed out to enjoy your own private island - either way, there may come a time where you need to change those tasks. Let's dive into how you can achieve that!
Changing or Deleting Automated or Recurring Tasks You Own
The first thing you want to do is go to the tasks page in Virtuous by clicking the tasks button in the upper right corner.

Once on the tasks page, if you're needing to just delete the Automated or Recurring Task, you'll click the trashcan to the right of the task to delete it.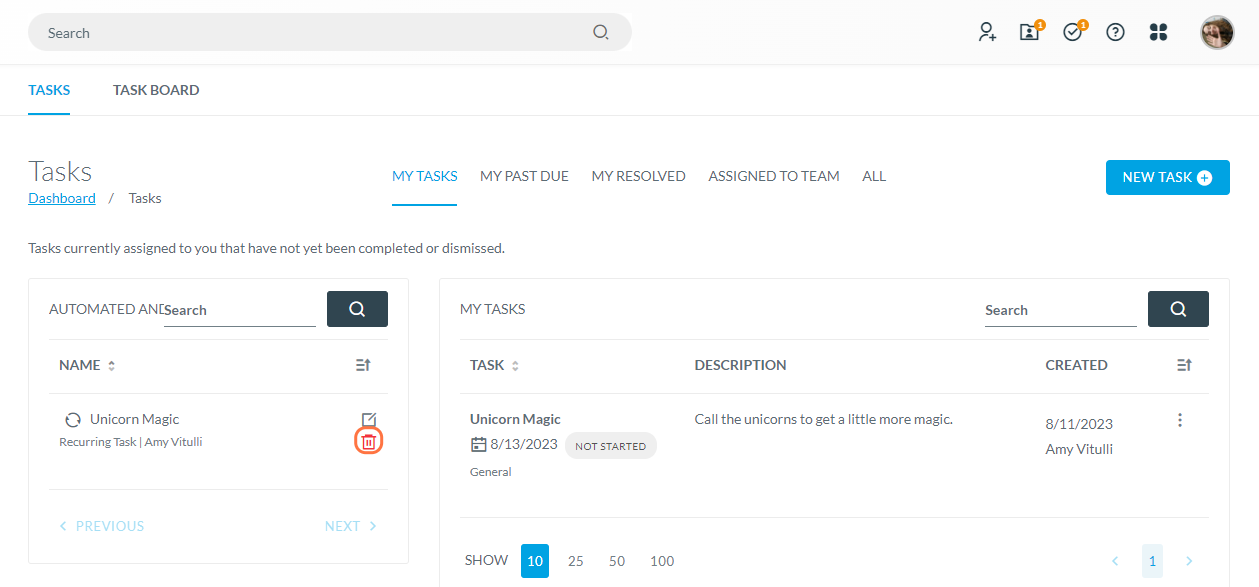 If you need to edit the task, select the edit icon next to the task and then update the necessary fields. You can edit: the owner, task type, task, description, start date, frequency, contact.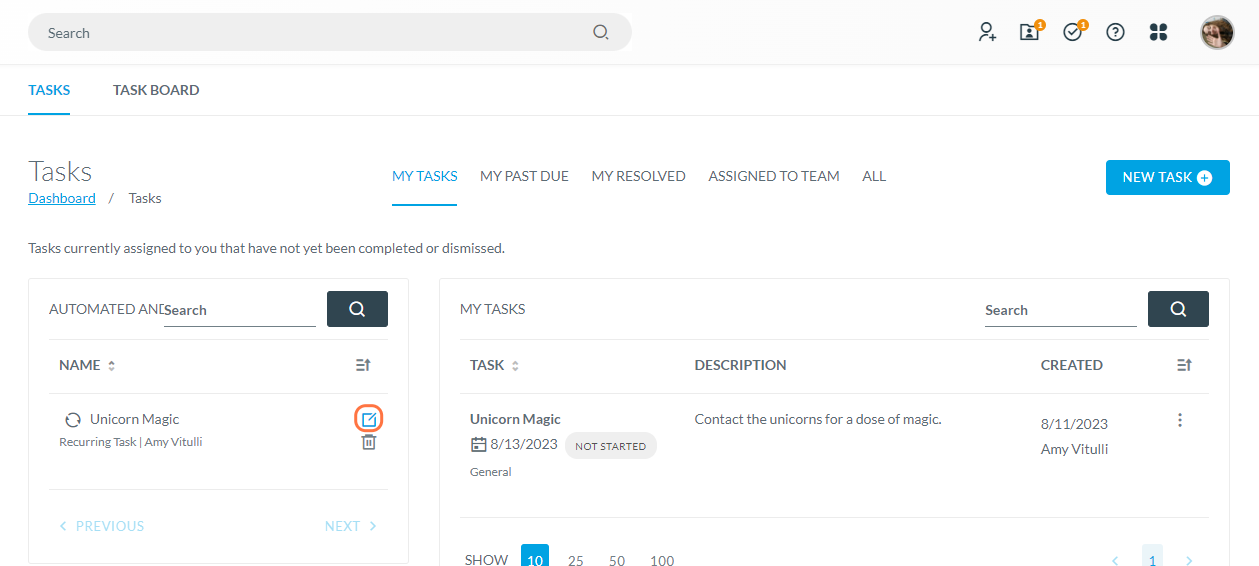 Updating and Reassigning Automated or Recurring Tasks Owned by Another User
If you are not the owner of a task and it needs to be updated, you will need special query type to edit or reassign automated or recurring tasks. This query type is automatically turned on for all admins. Any other user will need the Reminder Source box checked under queries in their permission group.
Go to the query page and select the Automated and recurring tasks query type.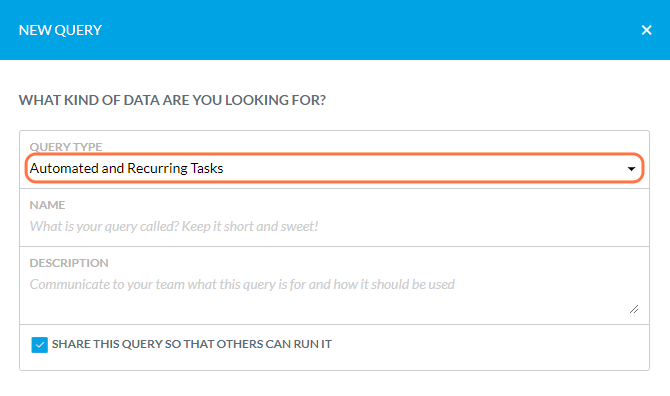 Next, you'll build your query based on the parameters needed to find the Automated or recurring tasks you're wanting to edit.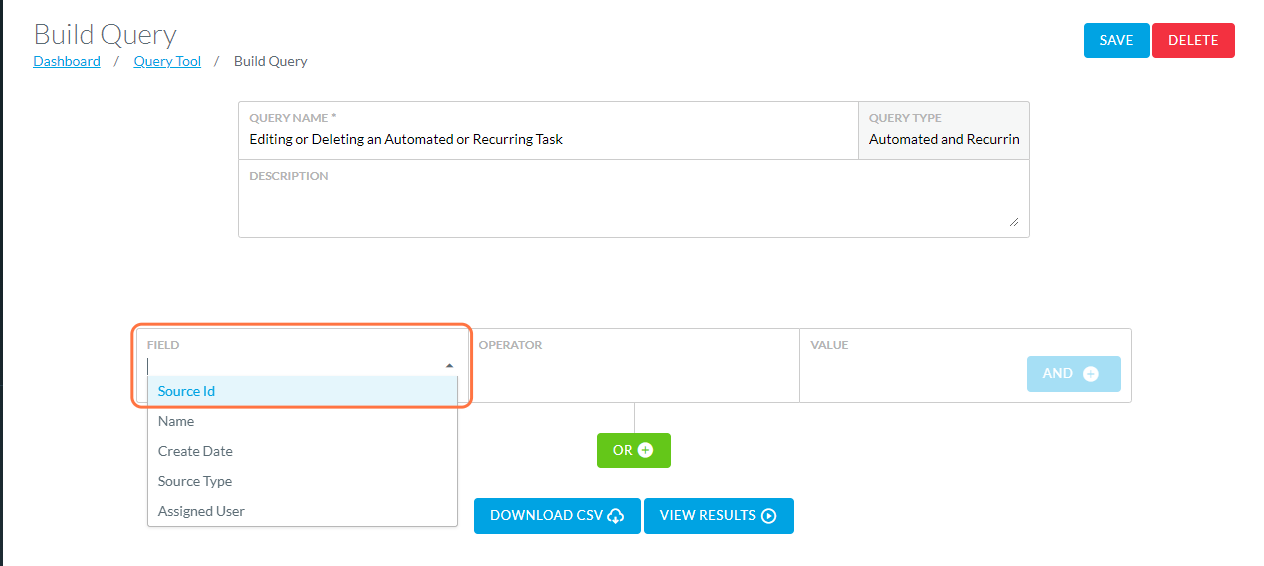 Then, if you want to edit a single task, select the edit icon to the right of the task.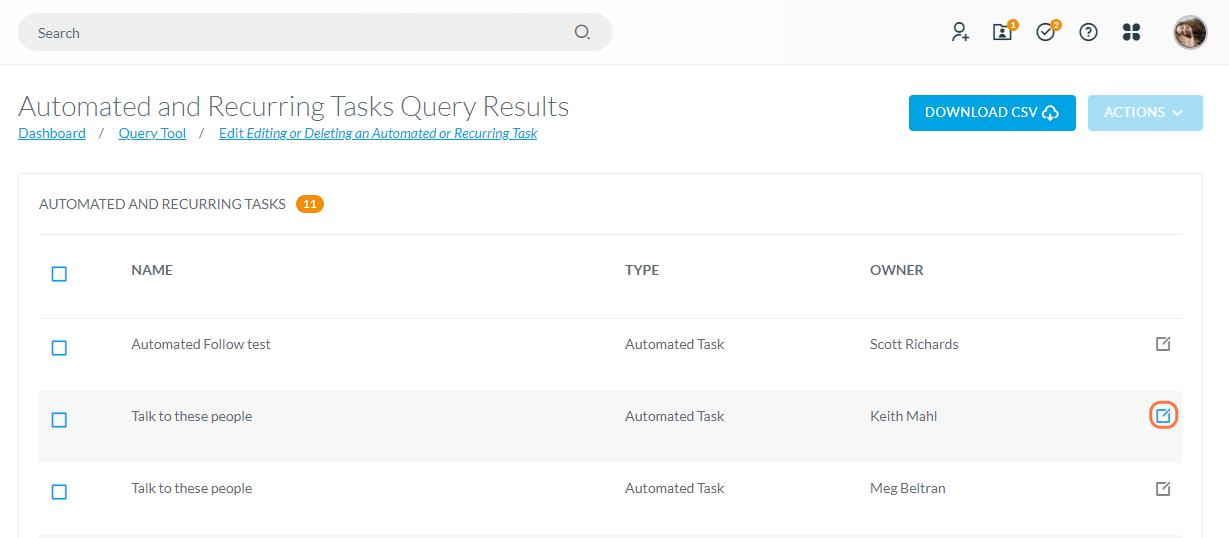 Or, if you're wanting to edit the tasks in bulk, select all of the items in the query, then select actions followed by edit tasks.

Now you're ready to take on your automated and recurring tasks!
Need more help?
What Can I Do on the Task Board?