To manage Email Lists, hover over the left side bar, then select Marketing. Under Marketing, select Email.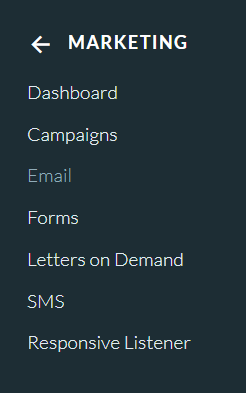 On the Email screen, select Actions > Manage Lists. If your organization previously used the Email Groups feature, all of your existing Groups will be converted to Lists.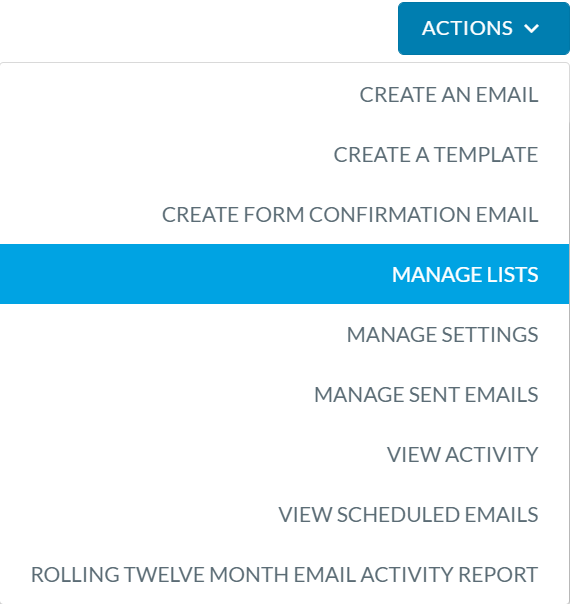 Note: Organizations may have a maximum of 25 Email Lists.
Click on "Create a List" to do just that. Email lists require a Name and a Description. These can both be seen by your recipients, so make sure your copy is donor-facing. Users may choose to designate some Lists as "Default" lists, which means that they will always be displayed on the Subscription Preferences page for your email recipients.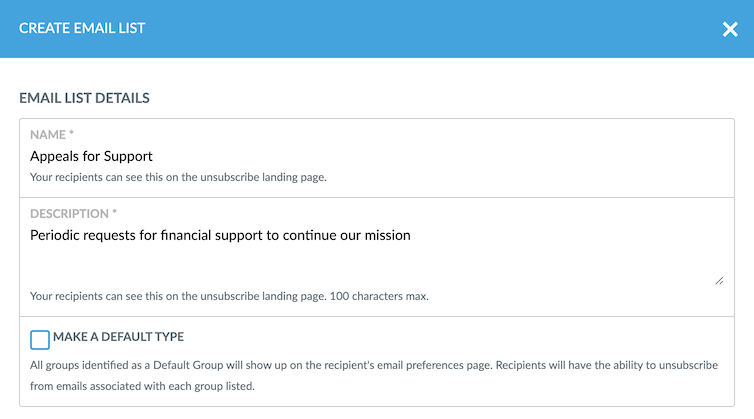 Once you have created a list, you may add Individuals to your list either one-at-a-time, on a Contact record, or in bulk, via an Individual query.
On a Contact record, look for the Email Lists box in the lower left. There, click to add any Individual from the record to an Email List.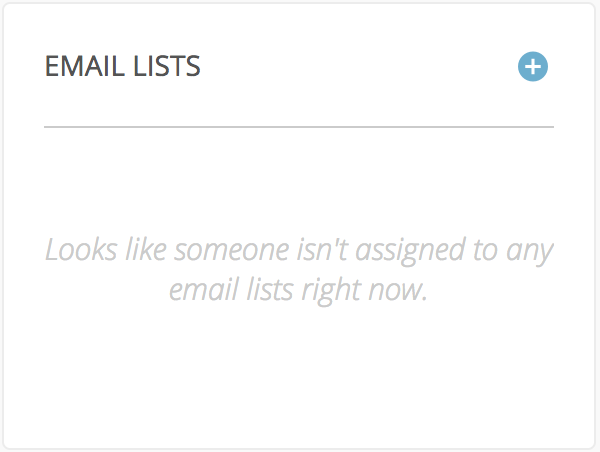 Click to select the desired Individual and then select the correct List to add them to. It is possible to select more than one Individual, and to select more than one List.

Once Individuals have been added to a list, click to edit their list membership and either remove them from the list, or unsubscribe them from a particular list. Unsubscribed Individuals must be kept on a list in order to track their unsubscribe status.
Individuals may also choose to unsubscribe from a list once they receive an email. When editing an email, select the "Special Links" option from the text box toolbar to be able to insert an unsubscribe link anywhere in your email. There are three options:
Global Unsubscribe: This link will allow recipients to unsubscribe from all future emails, regardless of the Email List used. (This includes email receipts).
Group Unsubscribe: This link allows recipients to unsubscribe from the specific list used in sending them the email being created. So, if you are sending an email to the "General Appeals" list, an Individual can unsubscribe from future "General Appeals" emails, but may receive emails sent to other lists.
Subscription Preferences: This link allows a recipient to see a list of the Email List for the specific email they have just received, as well as any default Email Lists, and unsubscribe from any or all of them, whichever they choose.
Unsubscribe actions can also be seen from the Sent Emails screen, when viewing Email Activity.
Sending an Email
When creating a new email, users will be required to specify an Email List. This list will be used as the default for sending the email. On the Target step when sending an email, users will see three options:

Selecting the Send to List option will allow you the option of including or excluding specific records based on a Contact or Individual query, allowing for greater flexibility when sending an email - just click the "Show Advanced Options" link.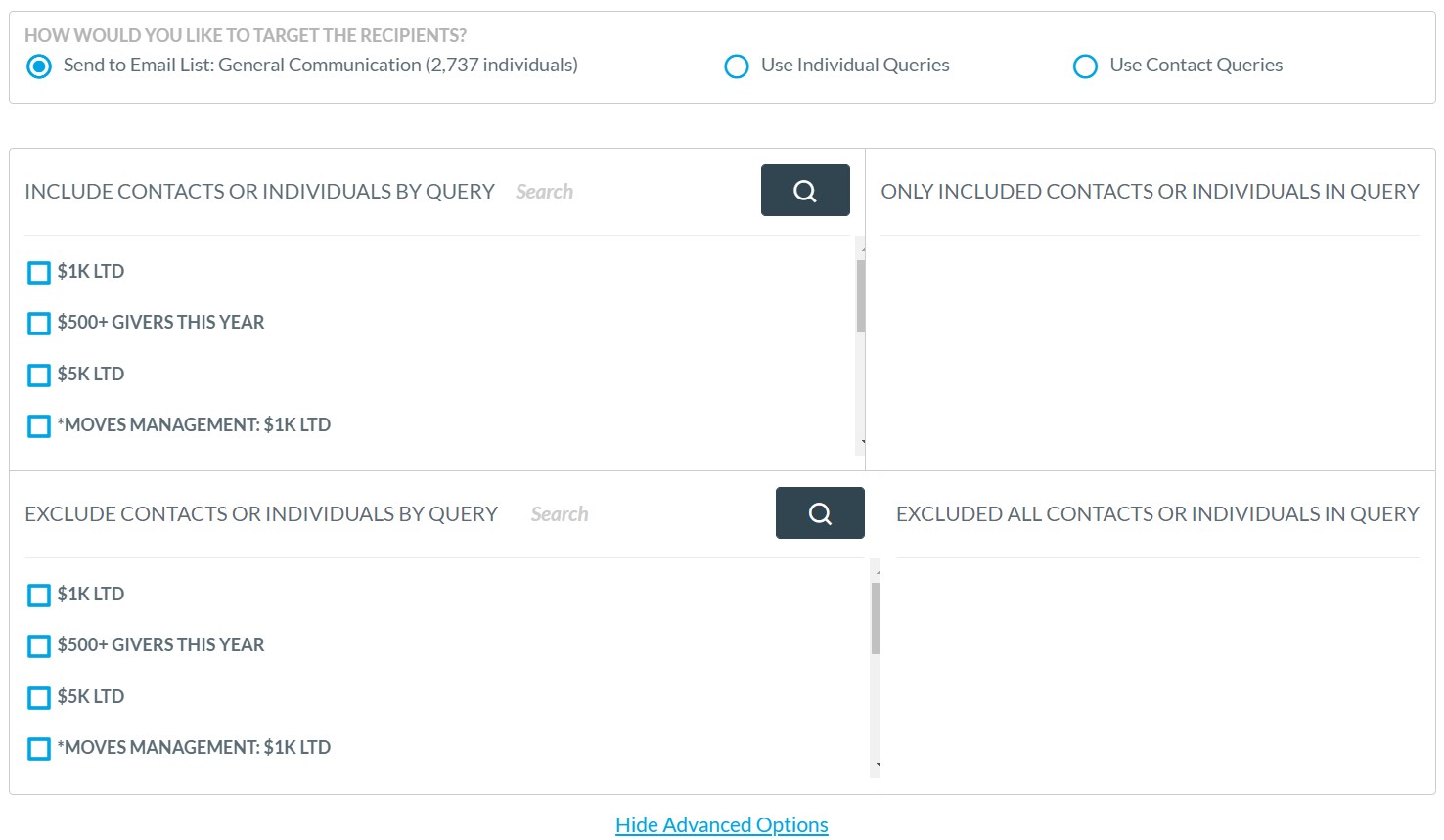 When sending an email via a list, your email list must be created a minimum of 15 minutes prior to sending your email. It is recommended that you create your email list before creating your email, to allow time for the list to be generated.
Choosing to send to a Contact query will allow users to select one or more Contact queries, and then specify which Individuals within the included Contacts should receive the email:
Primary: Only the primary email address for the Primary Individual will be used.
Primary and Secondary: If there are email addresses for both the Primary and Secondary Individuals on any records, both will receive the email.
All: All Individuals with an email address will be sent the email.
Sending an email using a Contact query will add all of the Individuals receiving the email to the Email List specified on the email, making it easier to manage future sends.
Choosing to send to an Individual Query will allow users to select one or more Individual queries. All Individuals should receive the email. Sending an email using an Individual Query will also add those Individuals receiving the email to the Email List specified on the email.