When most users think of Virtuous Automation, the first thing that comes to mind is sending timely email communications to their givers. Email is a great way to connect with your supporters, and using Virtuous Automation makes it even easier to connect and free up staff time to focus on more personal connections.
To add an email to any workflow step, click on the "Add an action" button.

This will bring up the Action Details form. Select "Virtuous Email" from the drop-down list to set the type.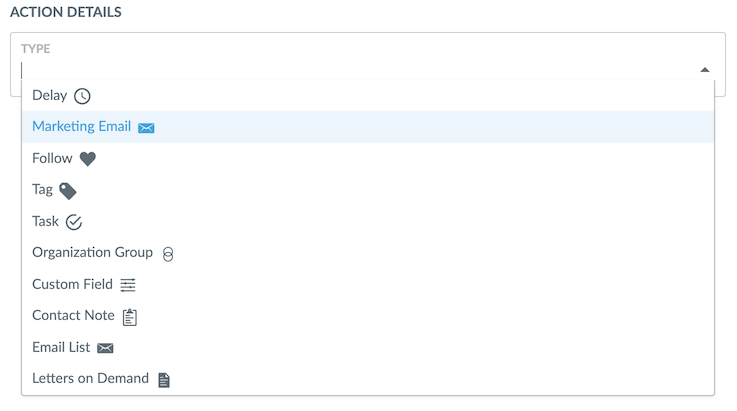 Next, you will see several options for configuring your email.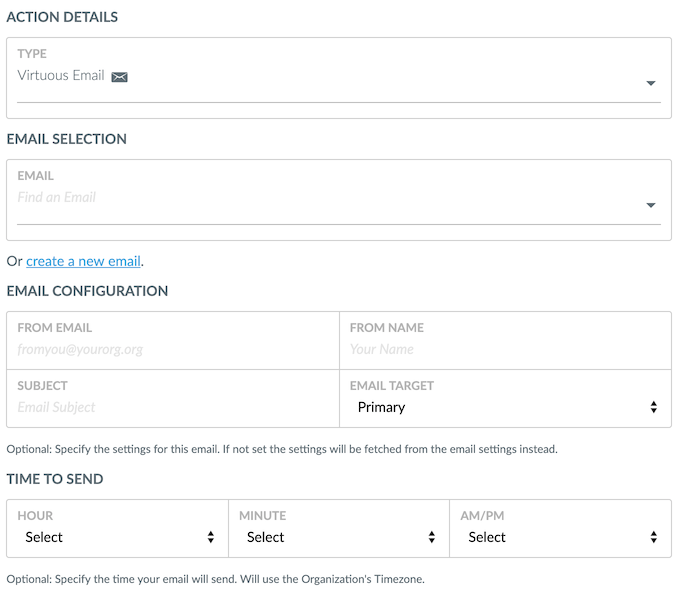 Email Selection
Begin typing in this field to search for the email you'd like to use for this particular action. It is strongly recommended that you create your email before building your workflow. If you have not created your email already, you can click on the "create a new email" link to be taken directly to the email editor. Note that this will not allow for the selection of any of your existing email templates; you will need to design and build a new email from scratch when choosing this option.
Once you have selected an email to use in your workflow, Virtuous will automatically create a copy of your email as a "Workflow Version" of the existing email. This is necessary because activity tracking is different for workflow emails, which can be sent out several times per day, each day, as compared to regular bulk emails, which are sent out once and only once.
Email Configuration
When creating an email, users have the option to enter information for a custom sender. Sending emails from a specific team member, as opposed to a general email from your organization, can be much more personal and helps build a stronger connection with your givers.
Since Virtuous will create a new Workflow Version of your email, entering in information here allows you to set a custom sender, which will take precedence over anything that was set on the actual email. You an also enter a new subject line, which can help make sure that all of the subject lines for the emails in your workflow are consistent in theme and/or tone.
Contact workflows will have an additional setting for the Email Target. By default, when a Contact is enrolled in a workflow and is sent an email, that email will be sent to the primary email address for the Primary Individual on the record. This shows as "Primary" in the Email target drop-down box. Select "Primary and Secondary" to send the email to the primary email addresses for both the Primary Individual and the Secondary Individual on any enrolled Contact. And select "All" to send an emails to the primary email address listed for every Individual on any enrolled Contact. In each of these scenarios, the Primary Individual will always receive your email; changing the selection simply chooses who else will receive the email in addition to the Primary Individual.
Since Individual workflows already target specific Individuals, there is no need to select an Email Target for these workflows.
Time to Send
Virtuous Automation is a process that runs once per day, each day, and generally in the very early morning. This is generally agreed to be a poor time of day for sending emails, so use this space to set a time of day when you would like your email to be sent. If no values are entered, then your email will be sent when Automation runs for the day.
If a workflow is run manually and the send time for the day has already passed, then any emails will be held and sent on the following day, at the correct time of day.