Just because workflows are automatic doesn't mean they can't be personal. Go beyond email and give your donors something tangible with Letters on Demand. Today's donors live in a multichannel world, so make sure your workflows reflect that.
To add a letter or postcard to any workflow step, click on the "Add an action" button.

This will bring up the Action Details form. Select "Letters on Demand" from the drop-down list to set the type.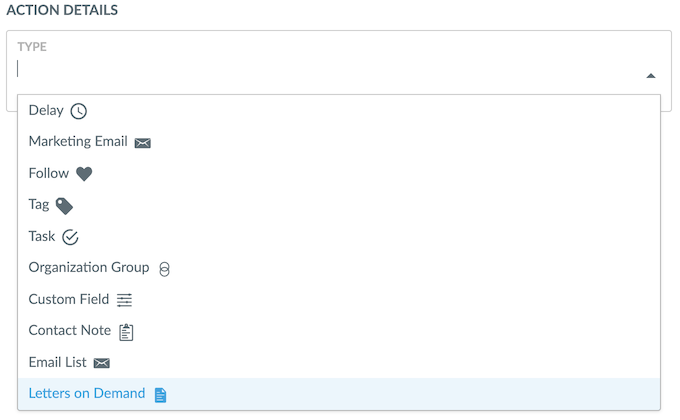 Then you'll be presented with additional options for your Letters on demand action.

First, you'll need to specify whether you are sending a letter or a postcard. Once you have made a selection, you'll see the drop-down on the right update, and you can click to select the letter or postcard design you would like to use.
Click on "Save Action" to add your mail piece to your workflow.
Note: ALL letters will be run through an NCOA before being sent. This means that the mailing address the receipt is ultimately sent to may be different from what is stored in Virtuous.