Notes are the structure for documenting a past interaction with a supporter on their contact record. There are a few ways that you can add contact notes within Virtuous: manually one-by one or in bulk, via automation, or upon completion of a task.
Manually Adding a Single Contact Note:
It's easiest to add a single contact note directly from the contact record, by navigating to the Notes Tab or using the Quick Note feature in the Overview Tab.
Once in the Notes Tab, you'll enter all of the relevant information.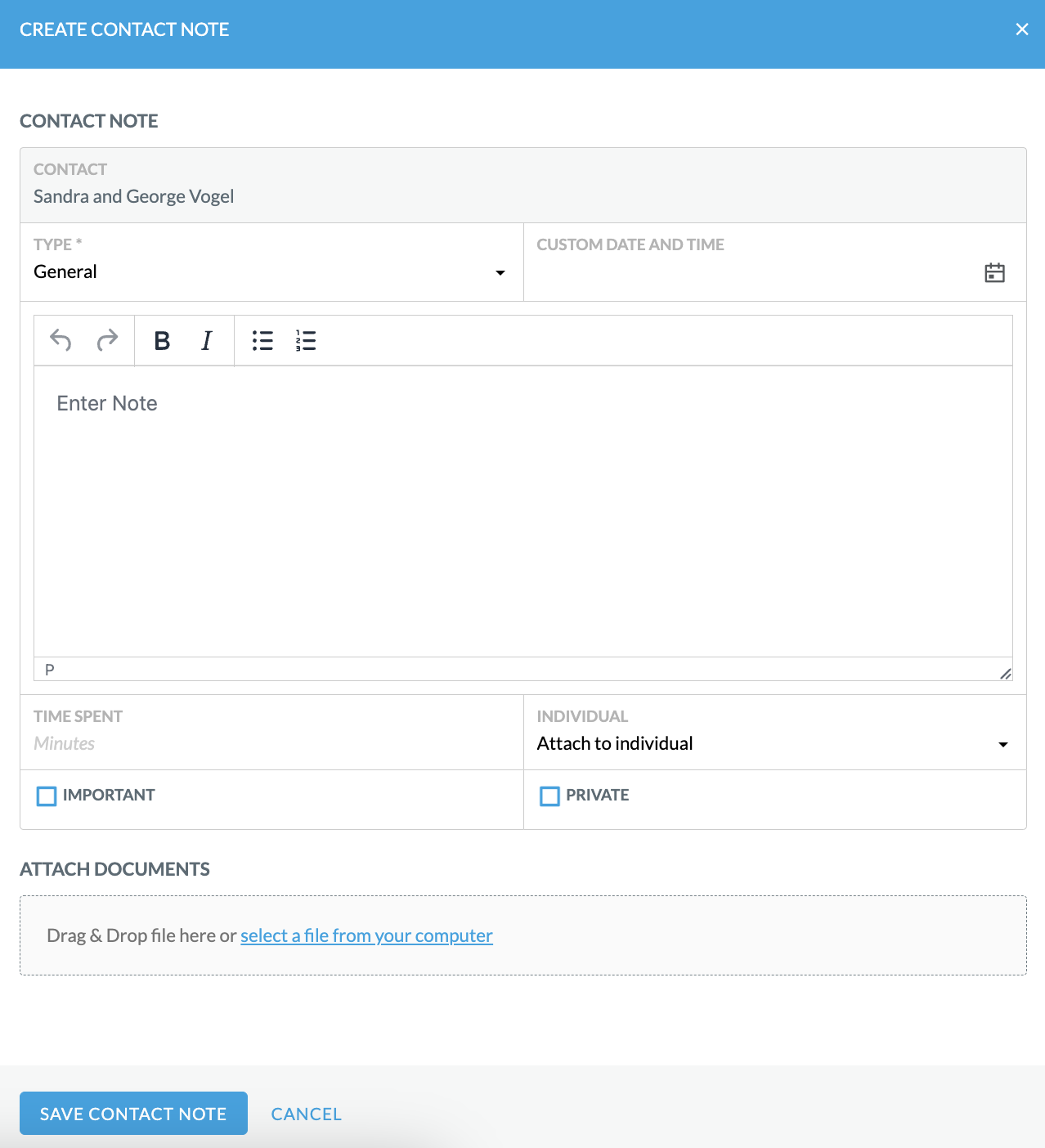 Note Type

(required): This dropdown lists the active note types, both standard and

custom

.

Date Override: If left empty, this field will record the date and time that the note is entered. If another date is desired to override the time stamp on the note it can be entered here.

Time Spent: This field is measured in minutes and allows for time tracking of interactions. For example, a Major Gift Officer that logs all interactions via contact notes can query for the amount of time spent personally interacting with a donor.

Individual: A note, while housed on the Contact record, can be attached to a specific individual. If it is attached to an individual, the note will indicate who it is attached to.

Important: Marking a note as important will reflect in two places, the overview tab of a contact record and during the gift processing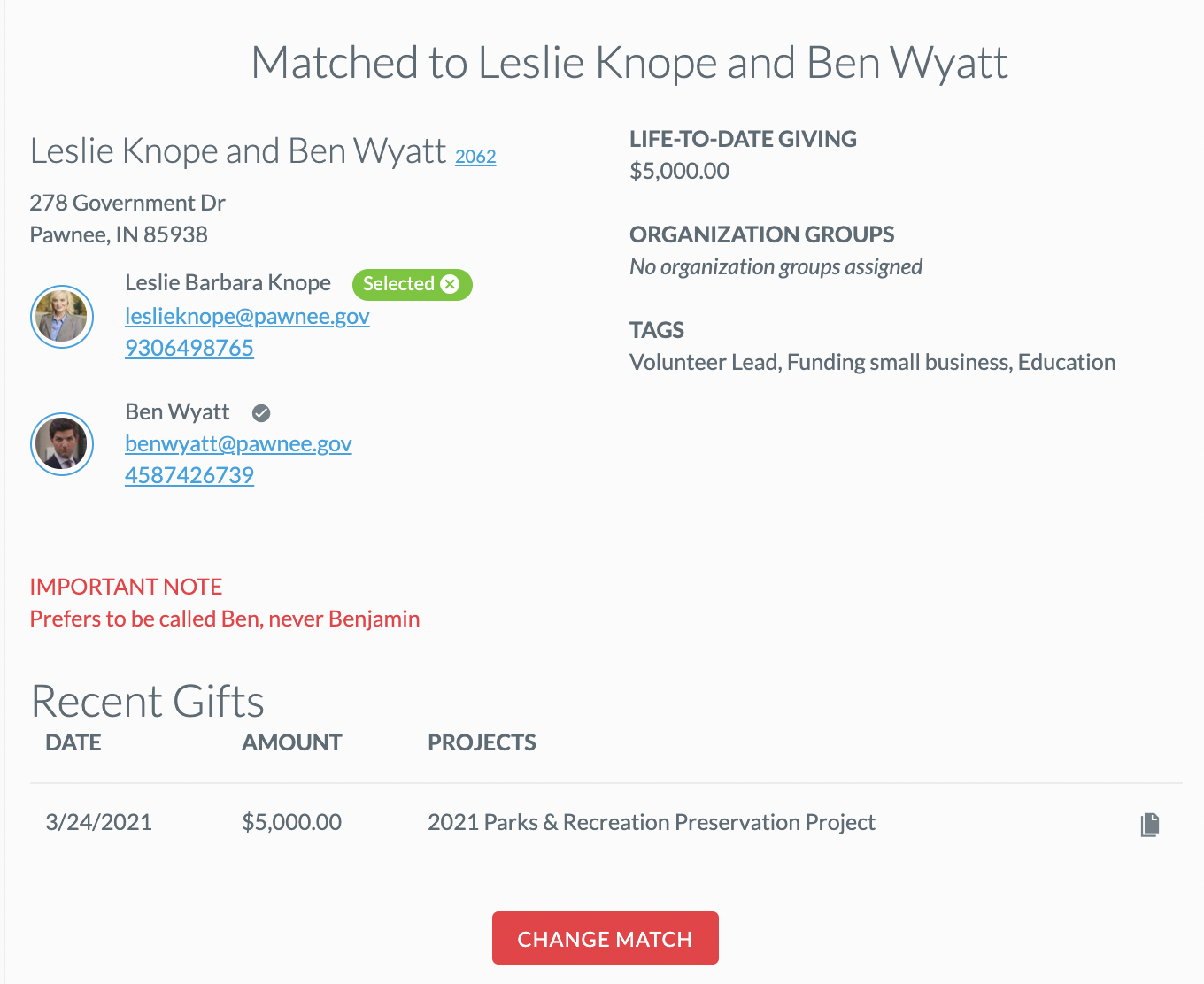 Private

: Marking a note as private will record it on the contact record with limited users being able to see it. If a note has been marked private it will have a lock icon to the right of the screen. Only the user that entered the note or those with 'view private'

permission settings

will be able to see the note. All other users will have that note completely omitted within the notes tab.

Note (required): This free text field is where the bulk of your entry goes, we are adding a note after all 🙂

Trainer tip: if your note extends beyond the viewable space, you can always scroll down OR click and drag to extend the field.
Files: You can add a file that supplements your contact note by dragging and dropping a file into the note or navigating to the file from your computer.


The Quick Note feature in the Overview Tab is just like it sounds, it's a way to quickly add a note with just the required fields, the Note Type and the Note itself.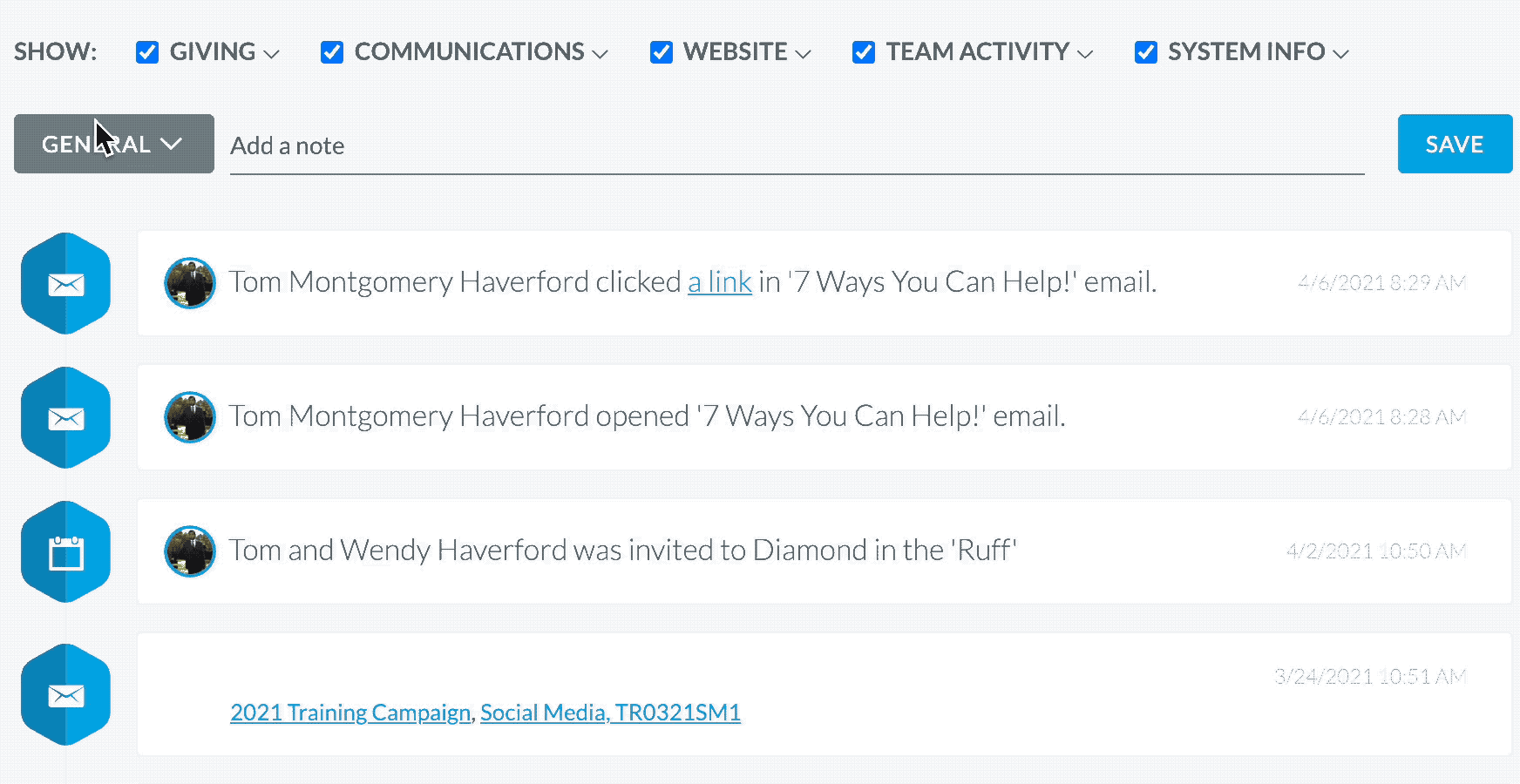 Manually Adding Contact Notes In Bulk:
You can add an identical note to multiple contact records from a query or your
contact queue
.
If you are using the results from a contact or individual query, you can click into the actions button and select Add Note To Contacts.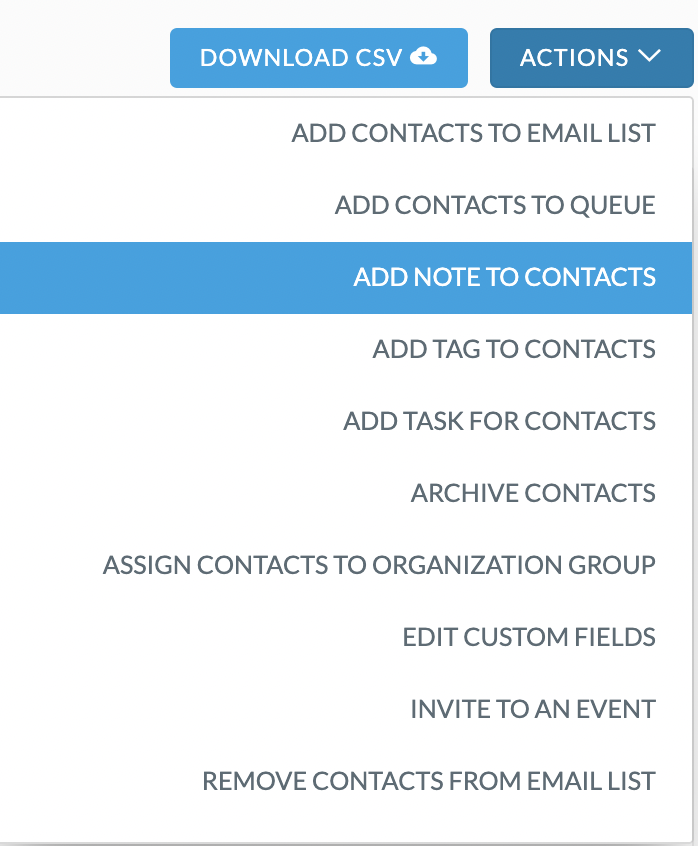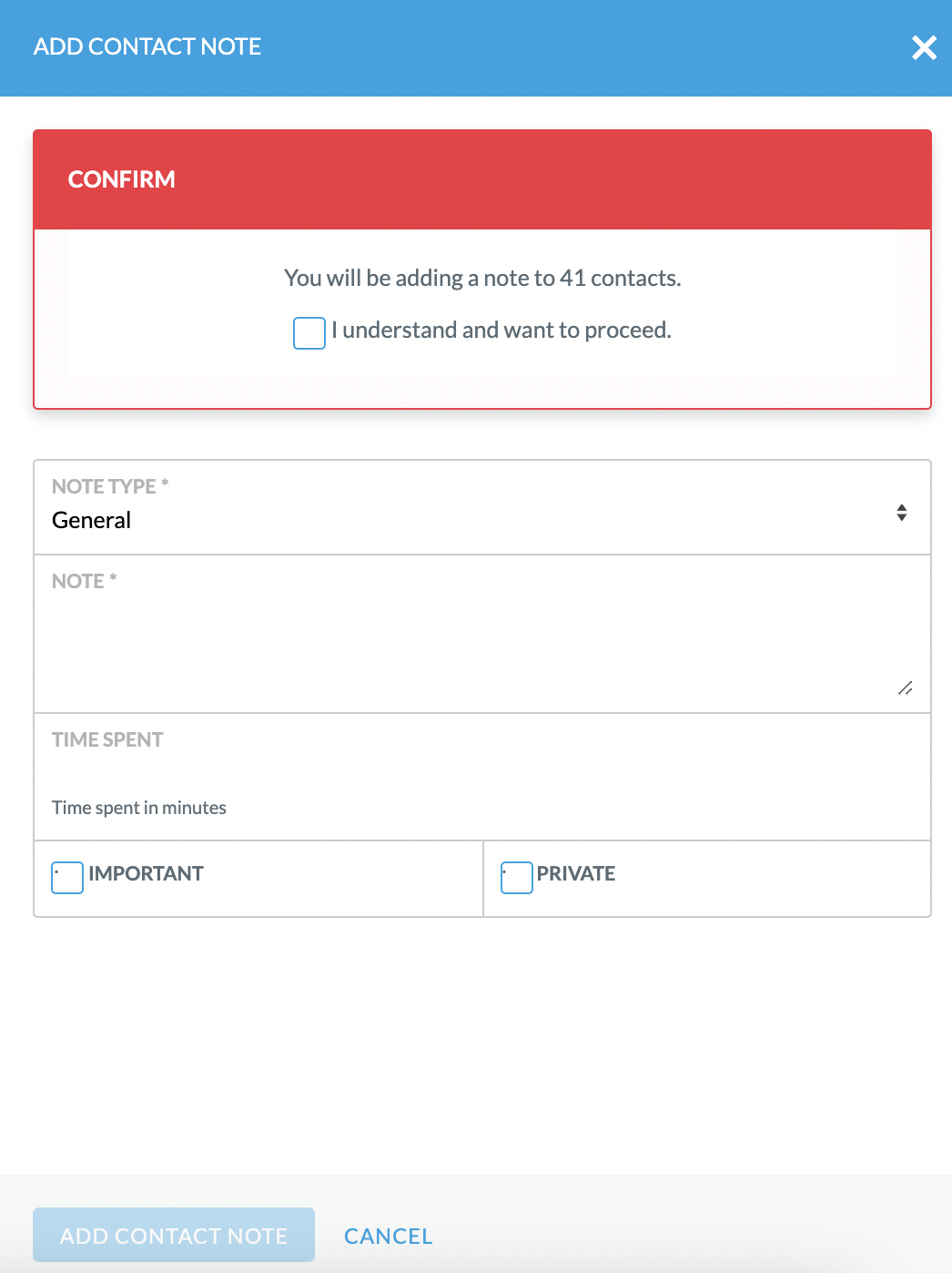 Once you've, confirmed you want to complete a bulk action, filled out the appropriate fields for your note and clicked to Add Contact Note you will have a popup that lets you know Virtuous is working on your bulk action. It's important to not alter the query until the bulk action is completed.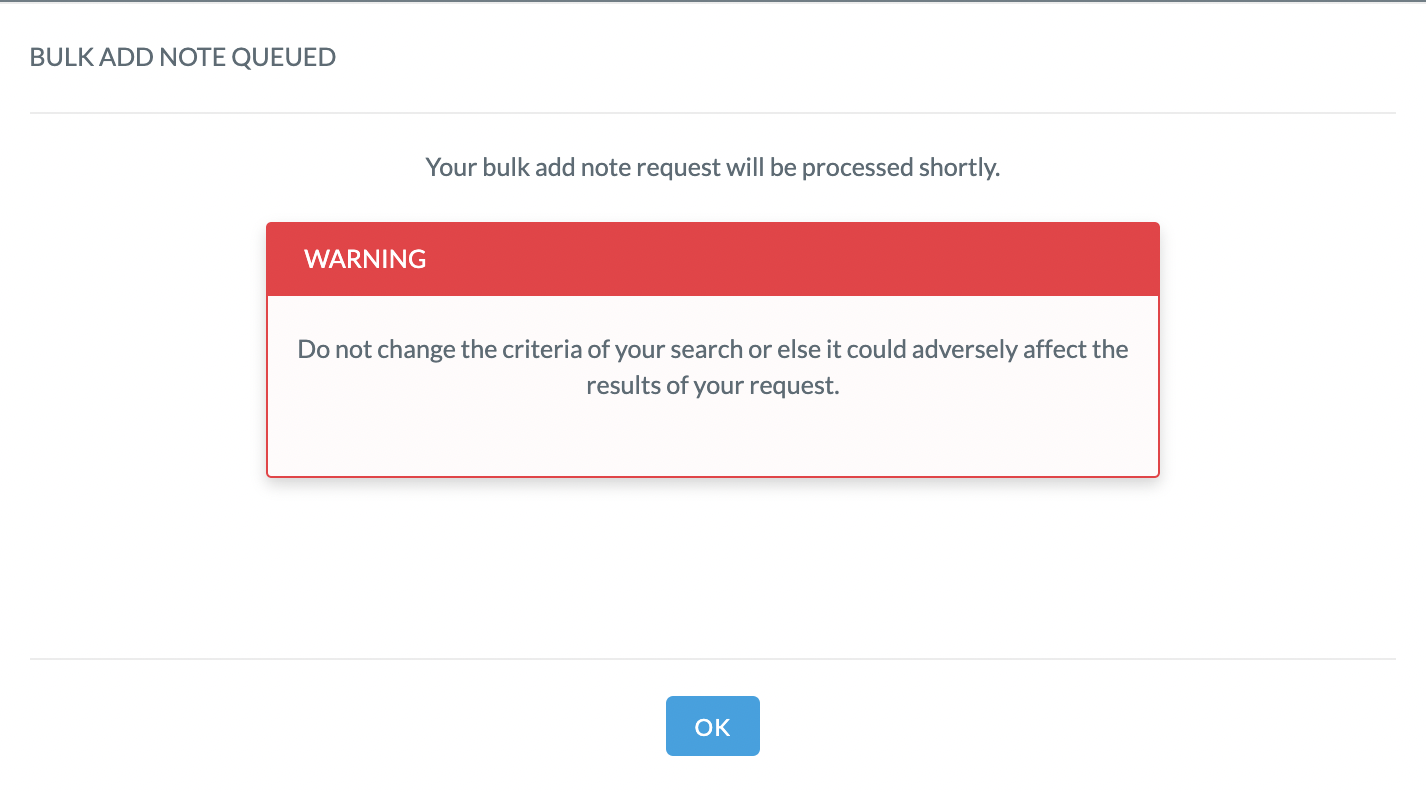 While Contact Notes are housed on the contact level, you will notice that the results from an individual query will allow for adding contact notes in bulk. This does not attach a note to an individual, the note will merely be added to the contact record that the Individual is housed within.
Adding contact notes via automation:
Adding contact notes upon completion of a task:
You can create a contact note when
completing a task
that's tied to a contact record.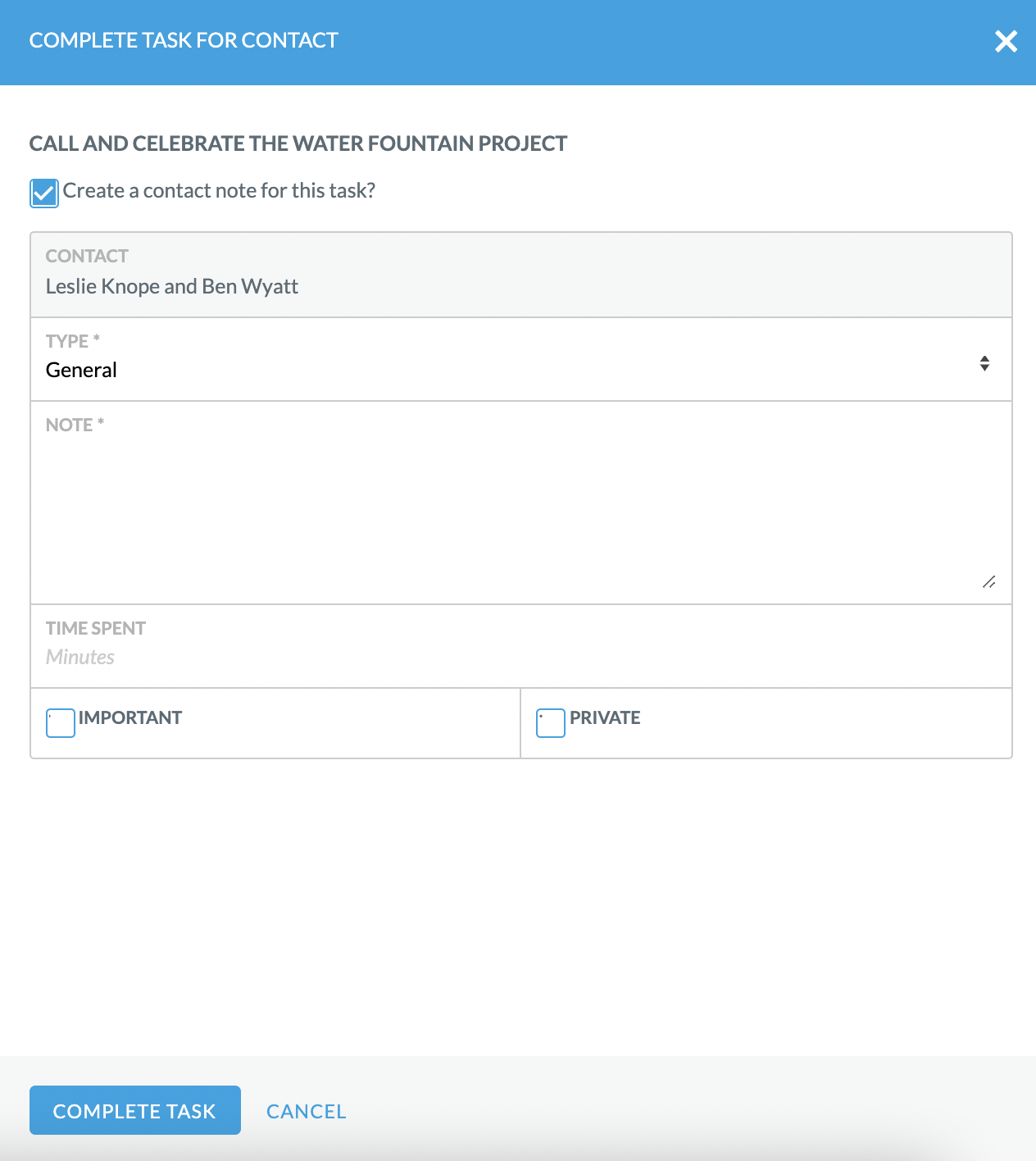 If a contact note is created during the completion of a task, the note will reflect that by automatically including the task information.

Now, you've created Contact Notes to log interactions, you can use the Contact Note query type to pull reports of this data of the Activity Report to check in on your team's communication with donors!