Often times, a query is built to be shared and utilized for other functions in Virtuous. Sometimes, you want to keep it your special secret. Either way, you can make that happen.
Saving Your Query
There are a few ways to save your Query.
In the query builder, you'll see a Save and Delete button in the upper right hand corner.

Select the Save button to save and continue working in the query builder.
You'll also see a couple buttons below your parameters: Download CSV and View Results.

By clicking View Results, you will save AND run your query.
Sharing Your Query
When you create your query, you will have the option to share your query so that others can run it:

Check this box if you want to share your query. Do not check this box if you want your query to be private.
By checking this box, your queries will show up in the "Team Queries" tab on the Query Tool screen for other users to see (and edit).
Don't Make Your Teammates Angry
Team Queries function like Google Docs. When you edit the query, you're editing it in real time, so if you change it and run it, those changes apply to that same query the other user will run. If you see a Team Query you like, copy it before making any changes! To the right of their query, select the blue copy icon.
This will allow you to create your own version of that query without making changes to theirs.
Exporting Data
After you run your query, you can download the results by clicking the Download CSV button in the upper right hand corner.

You will be given options for which fields to include (and exclude) in the CSV file.
Bulk Actions
Bulk Actions are a great way to edit the same field on all of the records in the output to reflect the same value, or add something to those records.
To execute a bulk action on your results page, click the checkbox next to each record, or click the big checkbox on top next to the headers to select all records on the first results page. To select all records from your query output (beyond what is on the results page), click "Select all X items in query results."

For example: You may want to add a Major Donor tag to all donors who have given more than $2500 Life to Date. You can run a Contact Query with that parameter, then go to Actions > Add Tag To Contacts. Find the Major Donor Tag and then select Add.
Add Your Favorite Query To Your Dashboard
On the Query Tool screen, hover over your query of choice to make a heart appear. Click on the heart to add the query to your dashboard. After you've clicked and added it, the heart should appear in red.

Now, when you go back to your CRM dashboard, you'll see your Favorite Queries button in the upper right hand corner. Select that, find your query, and select it to run.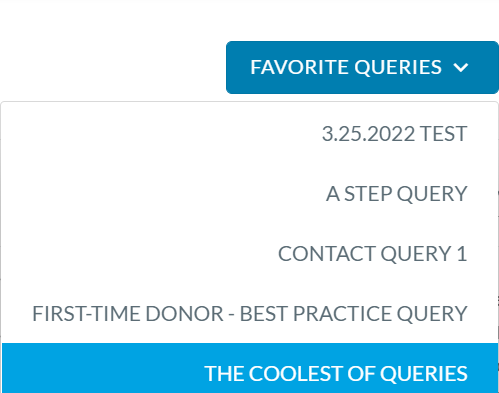 Other Next Steps
Queries provide the qualifying parameters for other Virtuous functions like receipting, segmentation, automation and even reports. You can save your queries now and use them later for these functions!