Get Outta My Reports, Get Into My Dashboard
OK, everyone loves a good sequel, and since we're not getting many new Hollywood movies these days, Virtuous has you covered. We've got an exciting followup to the smash hit, Custom Reports. And like most Hollywood sequels, we've decided to go even bigger this time around.
For starters, in this release, we've added four new report types:
Contacts

Gift Splits

Planned Gifts

Projects
This means you'll have even more options for analyzing data. We've also added the ability for you to aggregate data in multiple ways in a single report. Now, you can select up to three options.
​

Like any good blockbuster, we've even got a plot twist! Remember how custom reports required creating and saving queries?
Well, not any more.
Now, you won't have to create a query for every report. Instead, you can choose to use filters in your report. At any time, you will even have the option to edit your report and switch to using a query, or back again.
​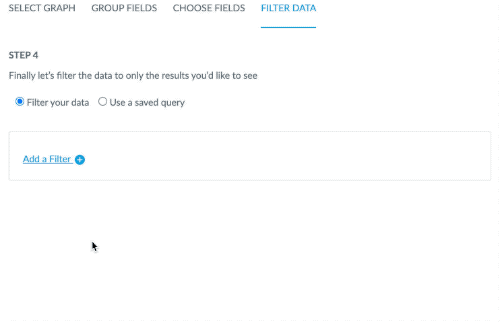 And what good sequel doesn't have a big finale?
Now, you'll be able to add add the chart from any custom report to your dashboard as a custom widget!
​

Yes, custom widgets!
*Oprah voice* "And you get a widget! And you get a widget! Everyone gets a widget!"
And like any good movie nowadays, if you want to bring the experience home, you can. Custom reports now include a new option to download any report chart as a PDF.
Now that we've taken this movie metaphor about as far as we can go, if you want to learn more about these features, check out our updated article on building custom reports, or this handy little walkthrough on creating custom dashboard widgets.
Tasks, All Folks
This is an improvement that we know many of you have been asking for. We've beefed up the Tasks page with some additional tabs, which will allow you to see more than just your own tasks!
​

The "assigned to Team" tab will display all tasks that you have created and assigned to other users, and the "All Tasks" tab will show...yep, you guessed it...all tasks, whether they are yours or others'. You'll also have the ability to use filters on the All Tasks tab to find specific tasks.
​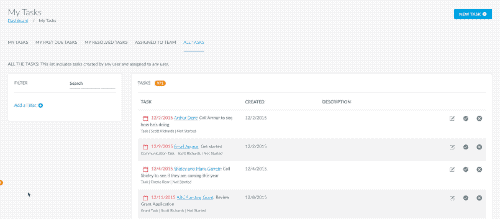 Users without permission to see other users' tasks will not see them included on the All Tasks tab.
With these new tabs, we've also redesigned the tabs screen to add some additional details, including task descriptions, and more visible icons to show task status. Open tasks — those that are not yet completed or dismissed — will still show a small calendar icon:
​

Resolved tasks — those that have been either completed or dismissed — will now show a blue checkmark, instead of being crossed out:
​

You'll also see the option to add task descriptions when creating new tasks on Contact records and when adding tasks as workflow actions.
Make sure to check out your tasks list today!
Hot Stock Tip
We love a good statistic, don't you? Especially one that tells a story.
Did you know that, according to a 2016 study by Fidelity Charitable, 80% of U.S. donors own appreciated assets (like stocks, mutual funds, or bonds) but only 19% of this population has donated such assets to nonprofit/charitable organizations?
This gap could be a result of how difficult donating stocks and securities can be. But what if receiving gifts of publicly-traded stock could be just as easy as credit card donations?
Well, you're never gonna believe this, but...
Now, it can be!
We've partnered with Overflow, a technology company that has automated the charitable stock transfer process. And now you can add a stock giving option to any Virtuous giving form!
Want to learn more? Well then, take a gander at this support article.
Want to get started right away? You can set up the integration here.
Say Hello to the New Support Page
Have you ever had trouble finding the right video or walkthrough article you need? Ever wished there was an easier way to find support resources?
Well, we did too.
So, we are ecstatic to announce our new support page!
​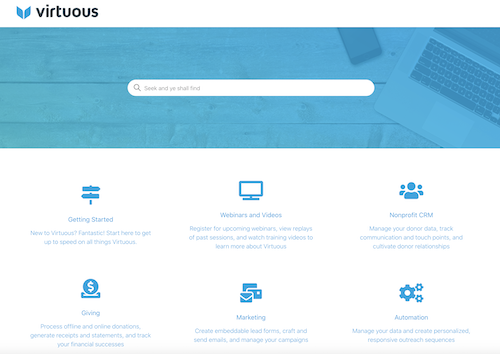 Now, you'll be able to see more articles at a glance, with easier navigation to move between categories. All with a powerful search to help you find just what you need.
Be sure to check it out, and let us know what you think!
OMG! 2FA and SSO!
We don't always take ourselves seriously around here, but we definitely take security seriously. We know how important it is to protect your donors and control access to their data.
In this release, we've added the ability for admins to require two-factor authentication (2FA) or require users to use single sign-on (SSO), either via Google or Microsoft.
​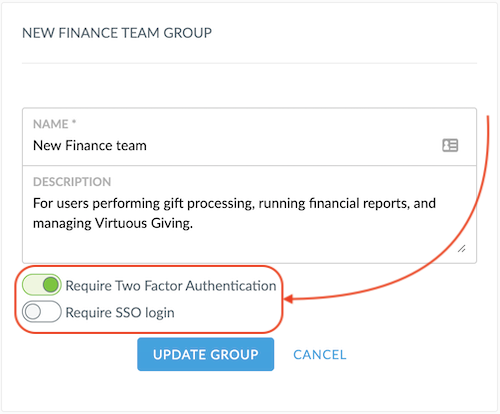 Admins will see toggle options when editing any permission group. On the organization settings page, admins can choose to allow Google, Microsoft, or both as options for single sign-on.
...And the Rest
As with every release, this month's update also includes a number of other fixes, tweaks, minor modifications, and assorted nudges. Among this month's assorted fixes:
Astute users may notice that we've added the Giving Tuesday logo to the icons in the Virtuous header. Besides the fact that we just like the way it looks, this icon includes a menu of links to resources to help you prepare for Giving Tuesday. Be sure to check them out so you are ready for the big day!

Admins can now set a default Organization Public Name and return address in your Organization Settings. This will be used when generating mailed receipts and sending Letters on Demand. Because entering the same data over and over again is SOOOO last year.

Safari users will be downright thrilled to know that we've squashed a bug that prevented them from selecting any checkboxes, which made exporting awfully tricky.

Reports: they're not just for CRM anymore! We've added our first Marketing report, which you can access from the Emails page. Just click on the Actions menu and you'll see the Rolling Twelve Month Email Activity Report, which tracks click rates and open rates, as well as total emails sent and total unique opens and clicks, over the past 365 days. Use this to measure the performance of your email communication and identify patterns. Or don't, I suppose, we're not the boss of you.

Some users reported difficulty with embedding multiple Virtuous forms on a single page. We've given our forms a talking-to and explained that they will just have to get along now, and they have promised to do just that.

We've made a few improvements to forms this month. Now, the Gender field is available to add to forms, and the State field can be set as required. And list-type custom fields? Yeah, you can require those too.

And while we're just here chatting about forms, now you can search for Projects with a Project Code, not just a name, when setting a Default Project for your form. Trust us, this may not sound like a big deal, but since Project Codes are unique as a rule, this change can eliminate a lot of frustrated typing.

Some of you may like to define a list of Projects to show on a giving form by listing them in the url. Which is TOTALLY FINE, by the way. Now, the order of Projects in your drop-down list will be determined by the order in which Projects are listed in your custom URL. That's right, folks: the power is in your hands!

So many cool marketing features! And here's another one! Now, in the Email Settings in marketing, you can set a spam threshold and a notification email address, so that you can be alerted when you exceed that threshold. Now you can monitor your sender reputation much more clearly.

We've fine-tuned our logic a bit when searching for Tags as you build a query, to make sure that the best matches are showing up right away. Because no one likes having to dig for the right tag, y'know?

Okay, so you've got a list of people in a spreadsheet, and you want to add them all to an email list. What do do? Well, now that's easy: we've added an Email List field to our Contact and Gift import templates, so now you can add Individuals to an email list with a single import. Less steps = more time for you.

We heard from some clients that workflow emails were being sent using the default sender for their organization, unless a custom sender was set in their workflow. But what about the custom sender set up on the email itself? What about them? What about their feelings?? Well, from now on, we won't be so insensitive; custom senders set in emails will be just fine for workflows.

We've added support for the "Matches" operator when querying for Anniversary in a Contact query. Because in this crazy world, sometimes you just want to use automation to celebrate two people in love.

Scheduled emails were showing as "delivered" in the activity feed on Contact records, which was a little confusing. So we've made sure that emails that have not actually been delivered yet don't show as delivered from now on.

Custom collections! Love 'em! They're great! And now they are even better, because you can set the field order when editing any collection. Whoo!

We've added new functionality to our existing Double the Donation integration. Now, when donors complete a giving form, they will see information about starting the gift matching process right away, right on the screen! And using the company match drop-down in a giving form to search for an employer will now include parent companies, opening up even more potential matches! Because more matches = more money 👍

The "Largest Gift Amount Overall" field was being included in exports twice. We've eliminated the bonus field going forward, since this was just a limited-time promotion.

New imports on the Bulk Data Tools page! We've added imports for Contact Note Types, Media Outlets, Grant Notes, and Project Notes. More data, less data entry? Yes, please!
And that's the list! As always, if you have any questions about these or other features, feel free to contact our team using the support widget in Virtuous, or drop us a line at support@virtuoussoftware.com.