You Got Your Statements in My Portal!
It's that wonderful time of year when the haze of the year-end giving push fades away, and then you realize that means it's time to get donors their annual giving statements. Wouldn't it be great if donors could just log in somewhere and see their statements? Without having to deal with bulk mail or email?
Well, hold on to your socks, lest they be knocked off!
By overwhelmingly popular demand, in this release, we've added support for delivering giving statements via the Donor Portal! Now, your donors can log in to their account, see their giving history, and download their statement.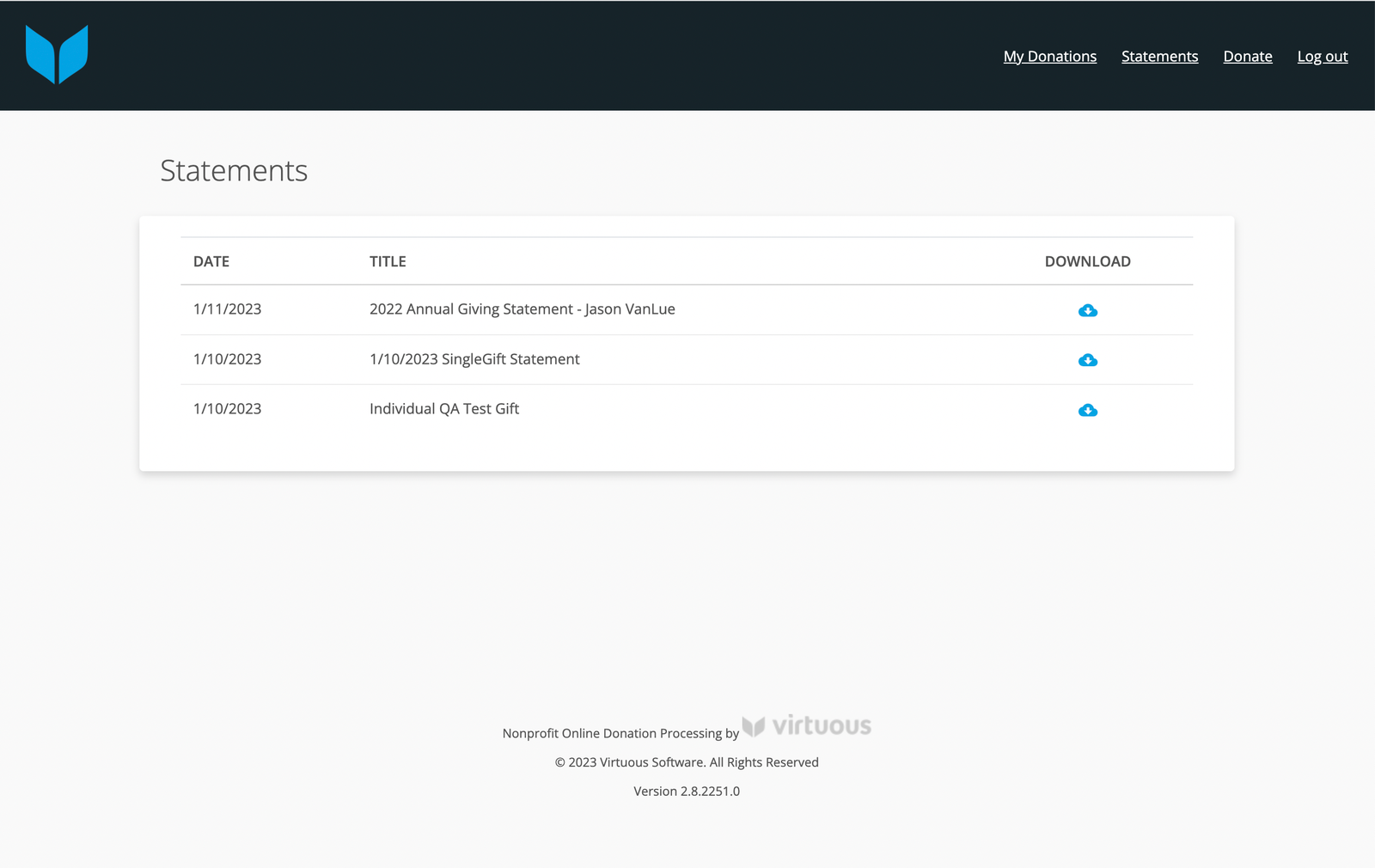 Ah, but how do those statements get to the Donor Portal? Well, we're so glad you hypothetically asked! (You totally did, right?)
As part of this new feature rollout, we've made a few upgrades to the process of generating annual statements. You'll still need to start by creating a Gift query for all of the Gifts you'd like to include in your statements. Then, from the results of your query, select all of the Gifts, click on Actions, and select the option to "Receipt Gifts," just as before. You'll see a refreshed view for generating your statements, with the same options to overwrite Receipt Dates (just leave the field blank to preserve the existing Receipt Dates), select the right output format and template, and everything else you'll need. You'll also see a new checkbox option to "Show in Donor Portal."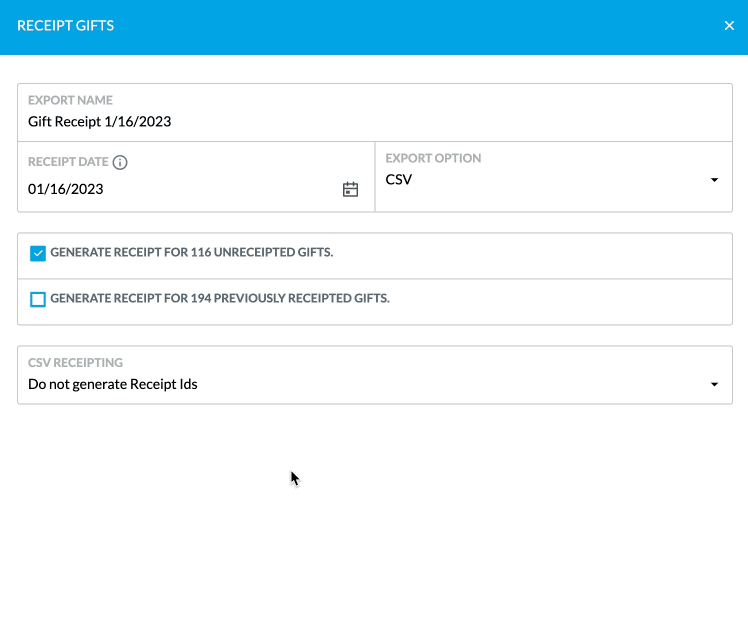 That's right; the power is in your hands!
BUT WAIT...(say it with me now) THERE'S MORE!
Yes, more! Because not only can you add statements to the Donor Portal when running receipts, you can also select any previously generated receipt—including single gift receipts—on a Contact record and choose to make it available in the Donor Portal.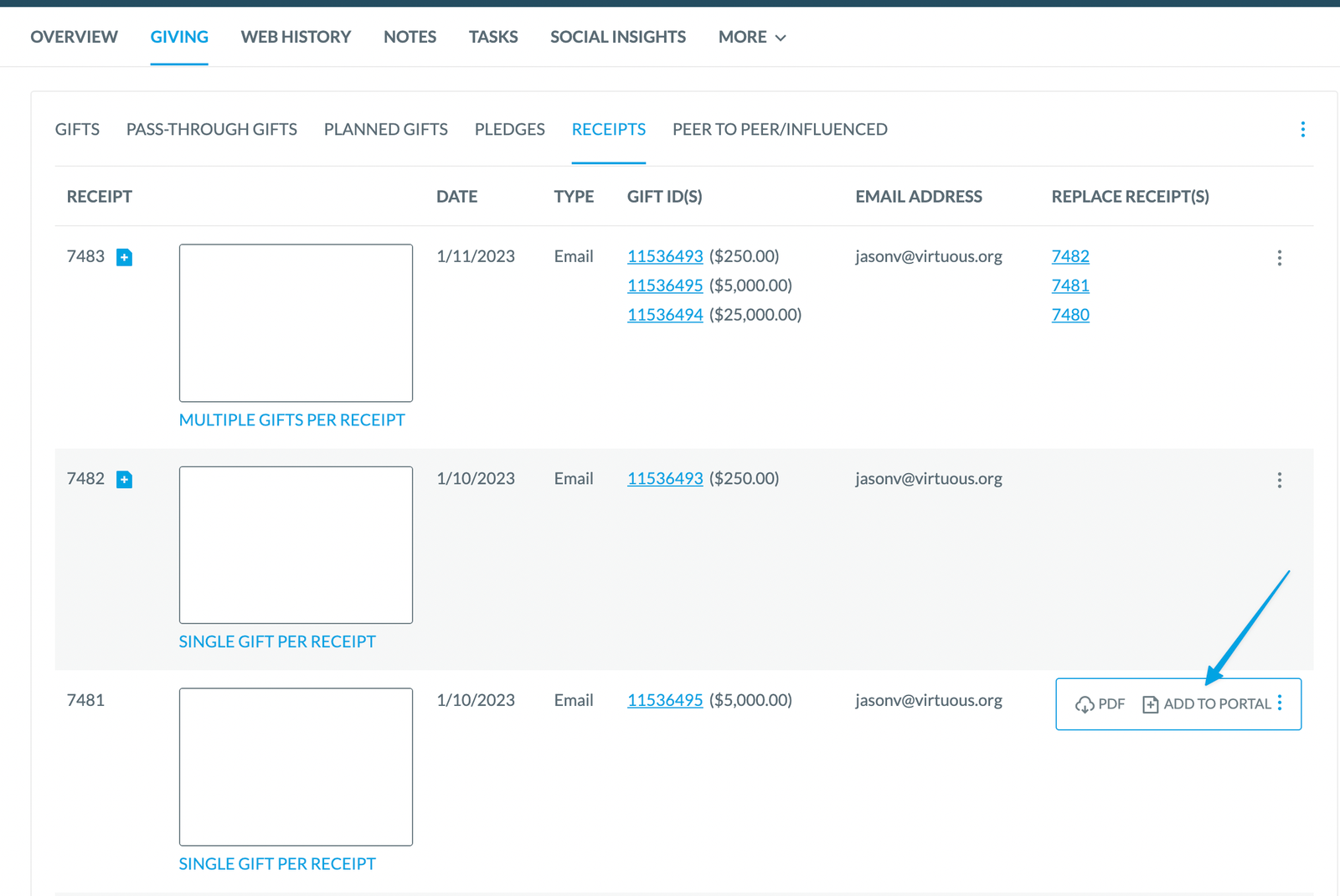 Need to remove an incorrect receipt from the Donor Portal? No problem! You can do that from a Contact record too.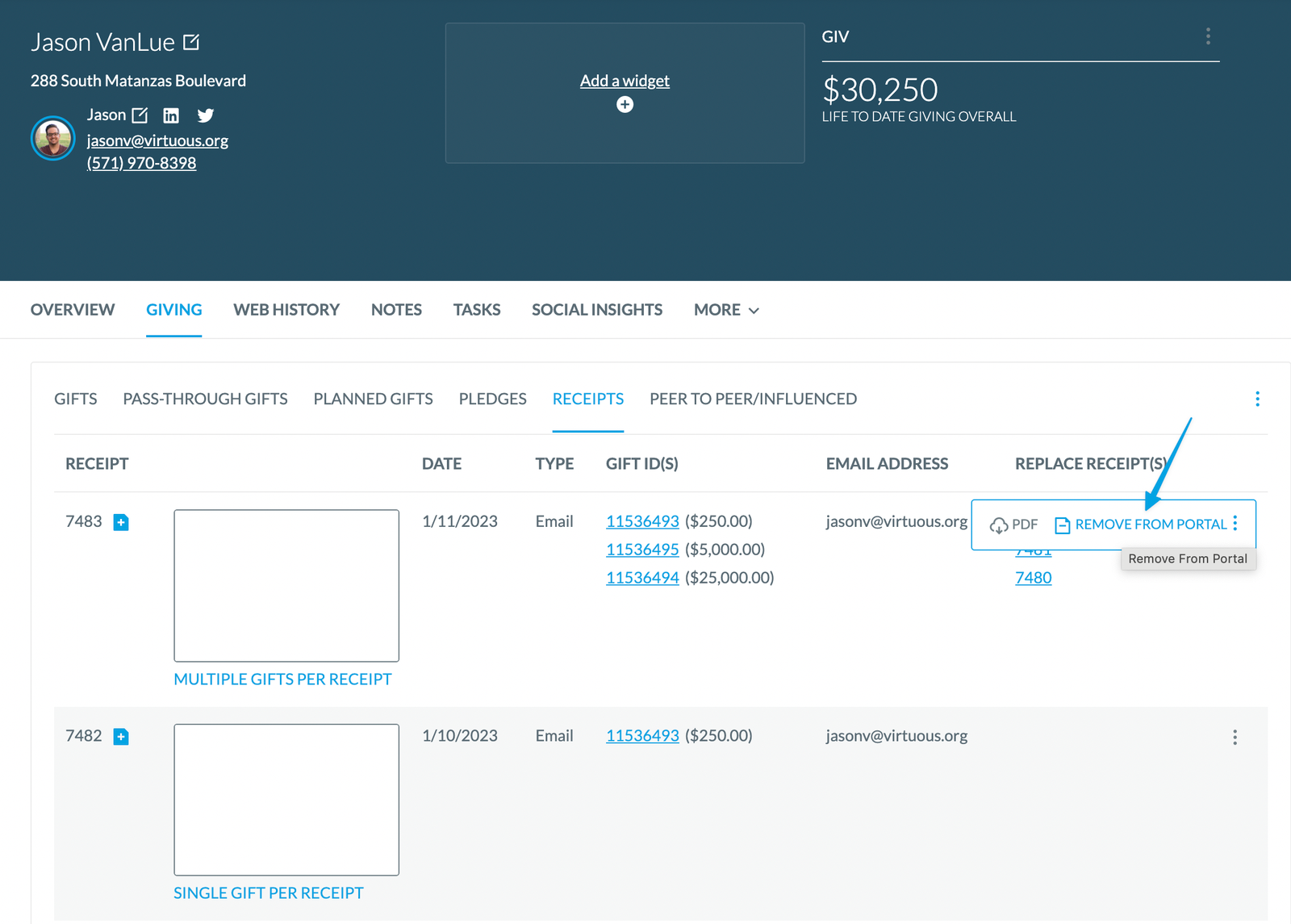 BUT WAIT (yes, really) THERE'S STILL MORE!
How can you let your donors know that they can find their statements in the donor portal? (Well, you could call every one of them personally, but that might be tough.) By posting an Announcement on your Donor Portal! From the Virtuous Giving settings, you can choose to display a message to anyone visiting your Donor Portal page.

The announcement will be displayed in a bar near the top of your Donor Portal page for as long as you choose to keep it active.

Use this to communicate key information to your supporters anytime.
Looking for more? You can learn more about generating annual statements by joining us on the next Virtuous Insider, this Thursday at 3:00pm Eastern!
Virtuous Email is SO Extra
Since the email features in Virtuous are pretty darn great, we thought, "why not just give folks MORE?" So we did just that.
By overwhelmingly popular demand, in this release, we have increased the maximum number of email lists. Sure, we could have doubled it and given everyone 50, or even quadrupled it; 100 seems like a nice, round number. But hey...go big or go home, right?
Each organization now has a maximum limit of 200 email lists! The sky's the limit!
And we didn't stop there! We've also added more stats at a glance when viewing Email Activity: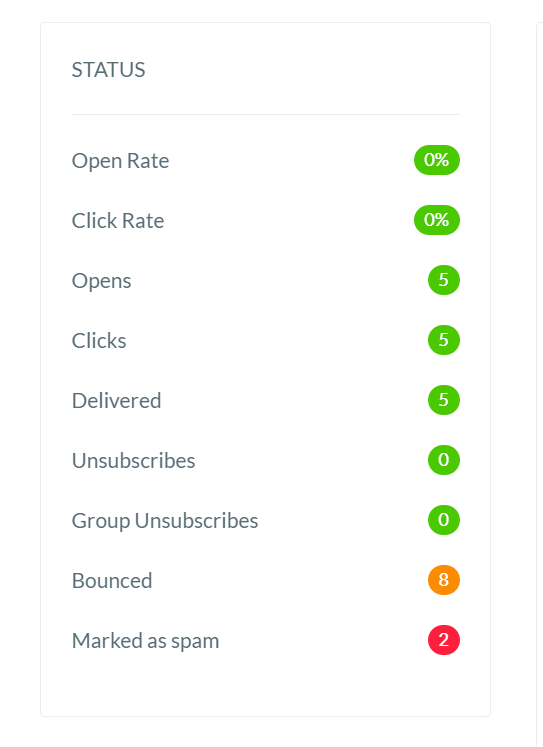 Now, it's easier than ever to see key data points for any sent email.
...And The Rest
As with every release, this latest update also includes a number of other fixes, tweaks, minor modifications, and assorted nudges. Among this month's assorted fixes:
We've made a slight change to our Quick Search functionality. Now, when selecting any recent search, you'll also see the objects selected that were active for that original search. So, if you searched "Hank Pym" and selected "Contacts" and "Projects" for your search, clicking on "Hank Pym" from your list of recent searches will again limit search results to Contacts and Projects. Whew, that is a doozy to explain, but just give it a whirl and you'll get the idea.

Last year, we significantly expanded our Zapier integration, making it easier to connect Virtuous with other systems without needing a team of expert developers. In this release, we've made a few small tweaks to the process of adding Tags to Contacts, and added clearer error messages for duplicate email addresses, to make integrating even easier. Because we like to play well with others.

For anyone using Ticketed Events, our team squashed a few bugs and made a few small tweaks to improve functionality. First, we've changed the "Is Active" setting for Add-ons to "Available on Ticket," and we've added a date picker for setting the expiration date on promo codes. We also fixed an issue where some users were not able to edit promo codes, and cleaned up their behavior a bit. Promo codes have seen the error of their ways and they have promised to cooperate from now on.

To maintain compliance with SPAM regulations, we have updated the functionality for collecting phone consent on forms. For organizations using SMS functionality, adding the Phone Number field to any form will automatically include the Phone Consent checkbox. The consent checkbox is optional for any organizations without an active SMS subscription. The consent text will now say, "I consent to receive SMS on this number," and cannot be changed. Hey, rules are rules, y'all.

API News! We've added the ability to query on all tasks via the API, and added support for custom form fields on the forms webhook. If you're not sure what all this means, that's OK. If you do k now what all this means and you'd like to stay in the loop on API changes, shoot us a note and let us knowso you can be included on our API updates mailing list. Whether or not you understand webhooks or APIs, if you just want to drop us a line to say hi, we're always good with that too.
And that's the list! Phew! As always, if you have any questions about these or other features, feel free to contact our team using the support widget in Virtuous, or drop us a line by emails support@virtuous.org.